There is no doubt that Martin Lenikus has a place among the most influential and prominent figures on the Viennese art scene. With the Collection Lenikus and as an initiator of a pioneering artist in residency program he promotes support directed toward young artists in Austria. We spoke with the versatile entrepreneur and with the director of the Collection Lenikus, Angela Akbari, about the collection's development, art spaces, and her new publication of the works in the collection.
Looking at the website of the Lenikus group one first notices the motto "Nothing is more risky than not to risk anything." Is dealing with art one of these necessary and rewarding risks?
AA: Each enterprise can learn from artistic practices, learn from the continuously changing challenges of our time in the sense of engaging with coincidences that evoke new insights, approaches, and procedures based on them. We understand this as lived "innovation". In art we deal, arguing with Dieter Mersch, possibly – at least it is a legitimate, fruitful thesis – with a very calculated and reflexive asset. Artists examine the limits of rationality, along with that which is barely expressible. On the margin of expression, almost as it were, at the brink, something creative can happen. Artistic creation requires the abandonment of oneself: to the world, to the materials, to art. Coincidences play an important role. With this in mind, the corporate group Lenikus is always ready to acknowledge risks yet is prepared if necessary to engage in viewing the sensible evolution of their possibilities.
Besides risk tolerance and individuality another of your guiding principles, do you have a personal story regarding your introduction to art and collecting?
ML: My "aha experience!" was with the early Helnwein works which made a strong impression on me as a young student, but were totally out of reach for me at the time. Nevertheless, that contact to art, the attraction it held for me, had been established. It is a great good fortune to be able to see, and to learn in the course of life to understand through seeing. We understand individuality yet we must perceive each case individually. For example, in a specific vineyard with its own specific conditions – location, light, air, soil, and much more – only specific grape varieties make sense. To recognize the conditions and to connect them with one's own vision, to find individual solutions, is always an exciting experience. To confront this challenge, to bring one's own concepts into a dialog, moves us forward and enables our projects to find their own unique, individual expression.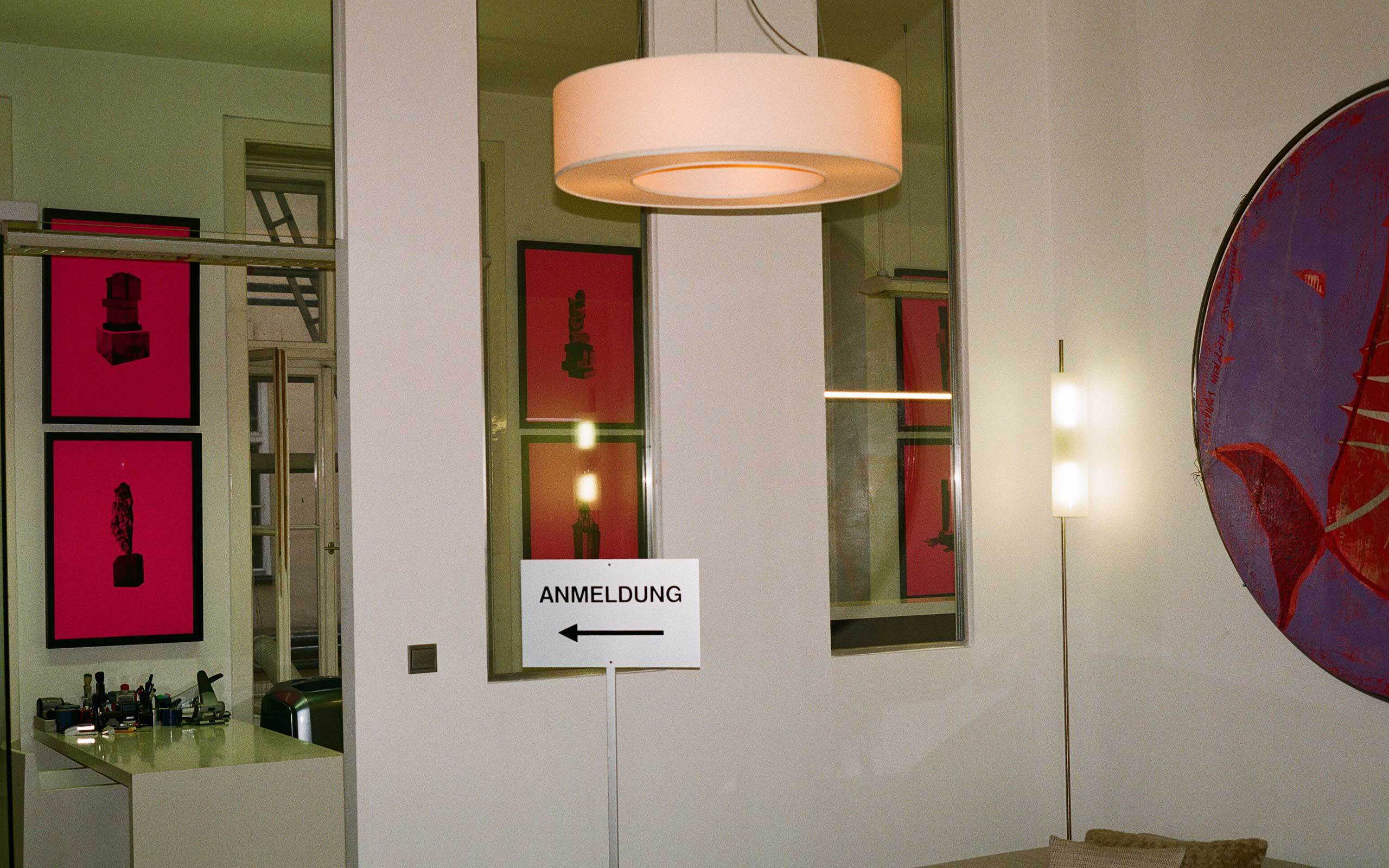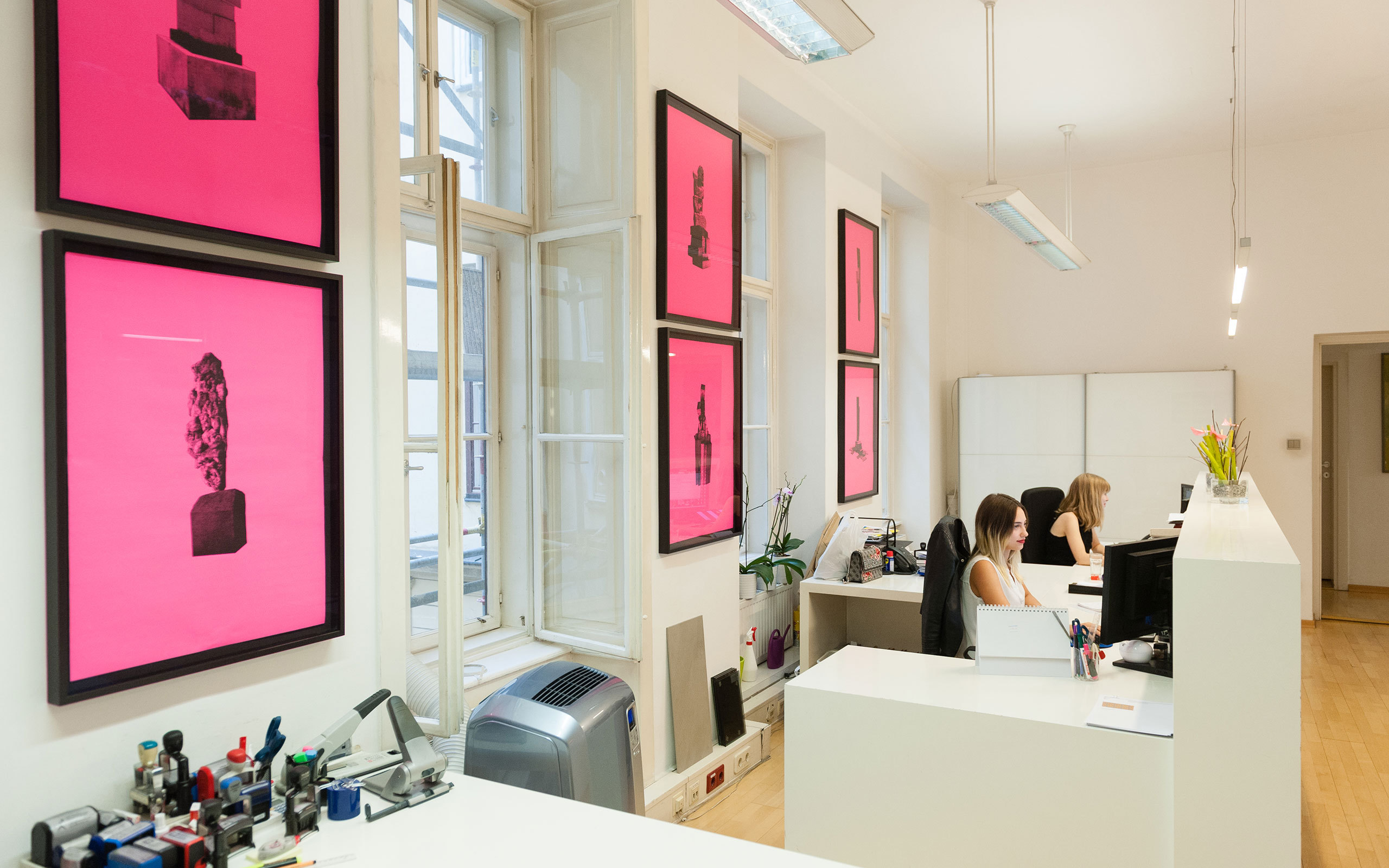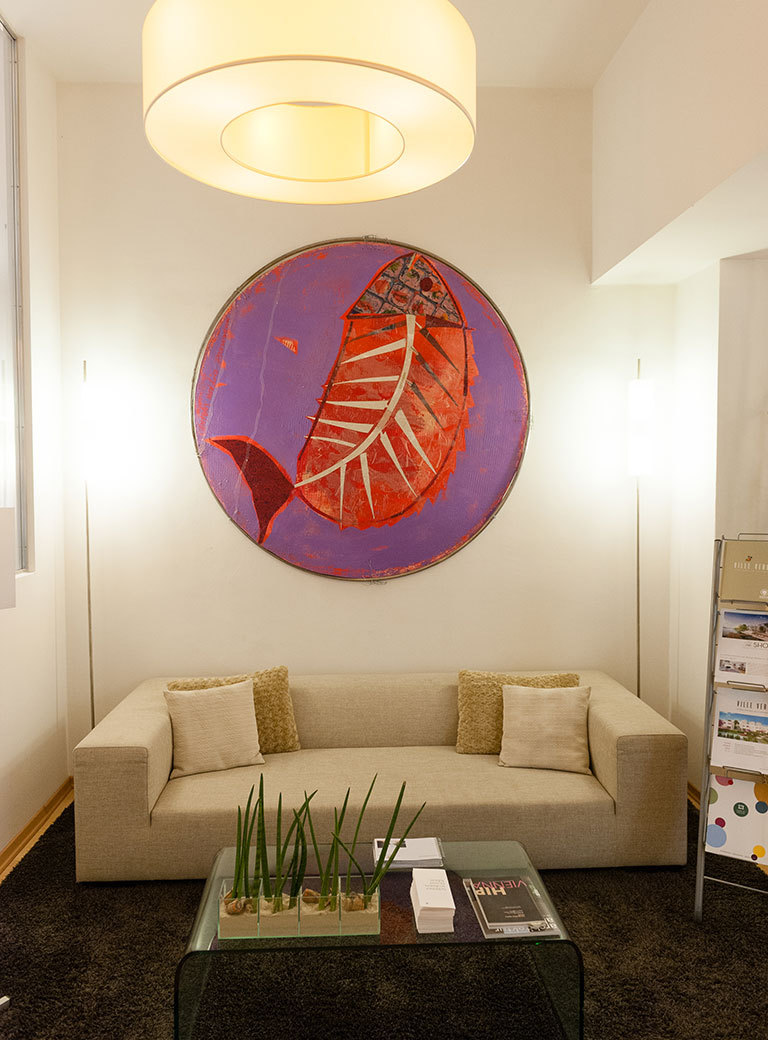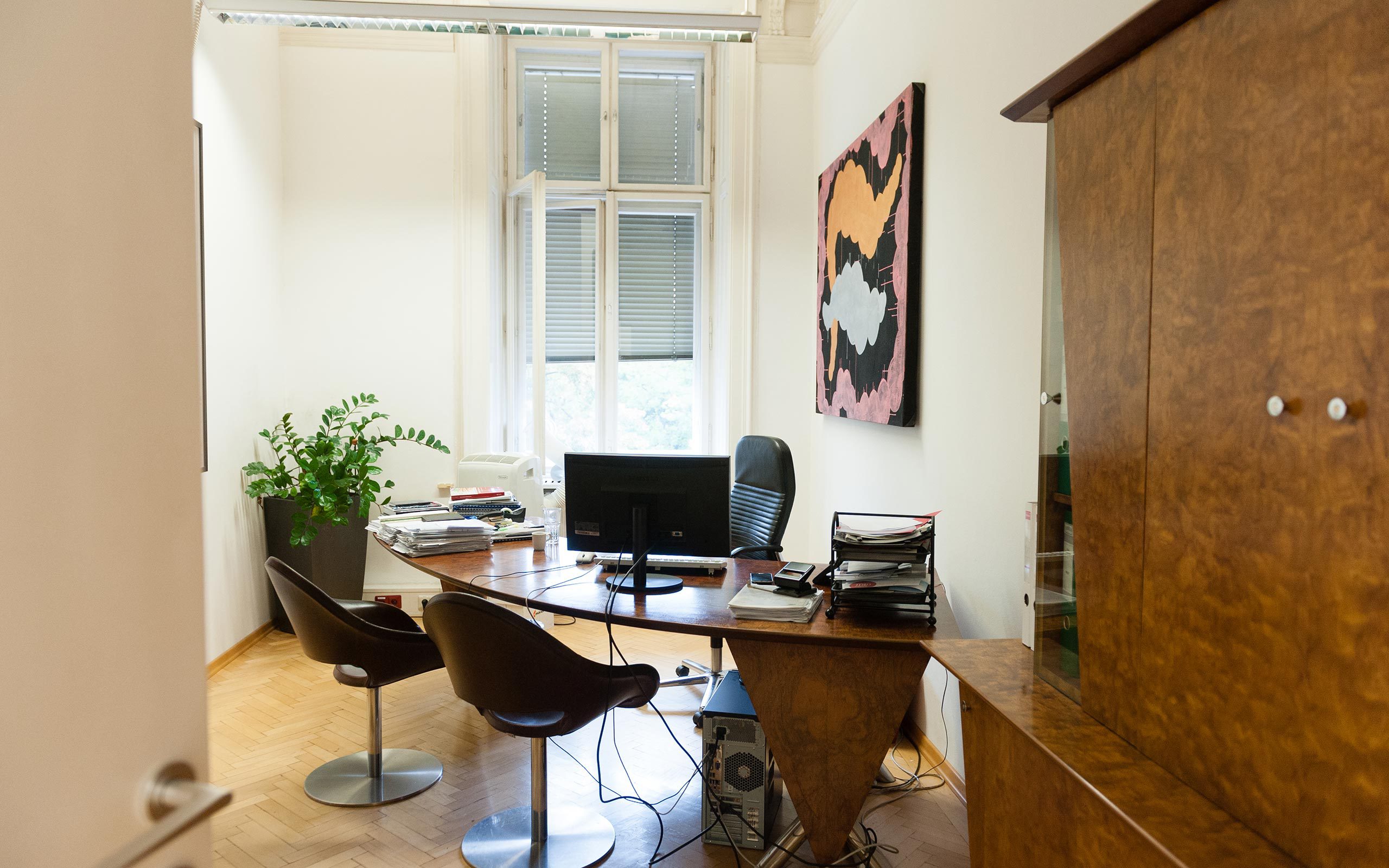 You started out with names like Otto Muehl, Gunter Damisch, and Arnulf Rainer, but then began to get more interested in much younger artists. What spurred this development?
ML: Because of limited budgets my first acquisitions were works by young artists. Later I was able to occasionally buy works by established artists. Emanuel Layr, at the time a very young gallerist, drew my attention to the lack of workspace especially for very young artists, and as chance would have it, I was able to help. Many artists who have since become established, worked free of charge for many years in the houses provided by the Lenikus corporate group at Bauernmarkt 1 and 9, including Svenie Deininger, Carsten Fock, Isabella Kohlhuber, Nick Oberthaler, Sarah Pichlkostner, Jannis Varelas, and Anna Vasof, to name just a few. Once in a while I visited the studios, I liked many works – not everything – and continued buying works of the artists working there. In the best sense, it just happened.
You built your collection together with the advisory council of Jasper Sharp and Francesco Stocchi. Angela Akbari functions as director for your collection. How is it to work with such respected experts? How is the work divided?
ML: For the sake of completeness I must name the other members of the advisory council: Christian Fink, Emanuel Layr, Cosima Rainer, and Eva Maria Stadler. They were all very important catalysts at different phases of the collection and I have appreciated their expertise. They all were at different stages of the collection very important catalysts and I have appreciated their expertise. Their support was essential for my development in art and for the activities of the collection. In the process, the art historian Angela Akbari did not always have an easy role in focusing the various points of view and in executing the necessary steps. In the course of time this task became even more complex: The cooperation with the University of Applied Arts and the Academy of Fine Arts in Vienna was such that the respective professors narrowed down the choice and nominated their favorites for the national Lenikus artist in residence program. It is fair to say that the collection allows for a multitude of positions and that establishes its charm for me. At the moment we are in the process of designing a new stronger concept for the collection in order to integrate the different areas of activity more completely, enabling our staff members even greater engagement in the arts in the future.
And how do you make sure that the collection retains a personal character despite this professionalization?
AA: In much the same way as a personality can have many facets the combination of which makes up an interesting person, the art collection of the Lenikus group, too, may develop its different forms, characteristics, and appearances by means of the unique coincidences it encounters. The text Planned Coincidence, Origin, and Focus of the Collection Lenikus by Nina Schedlmayer refers to this principle in the forthcoming publication.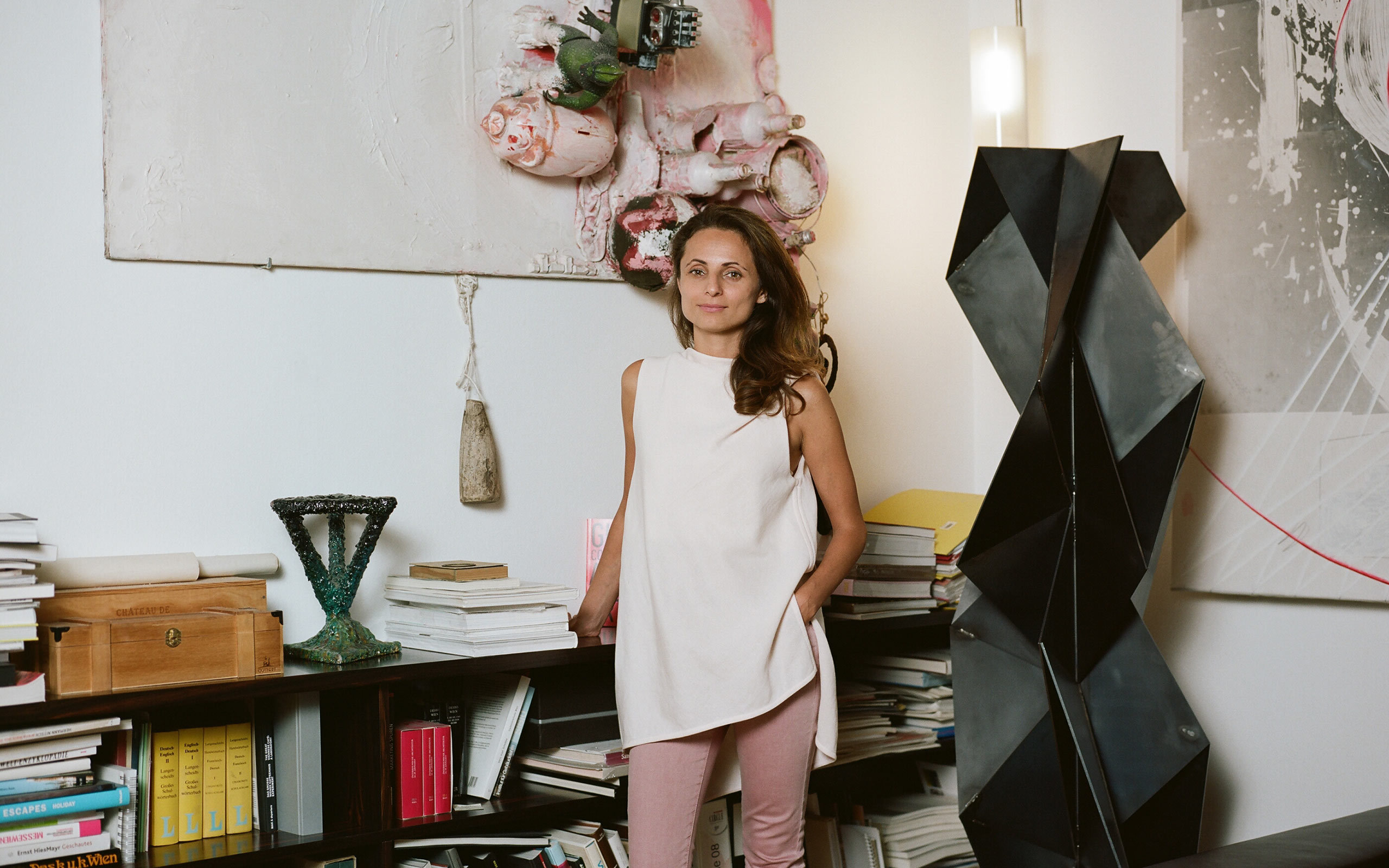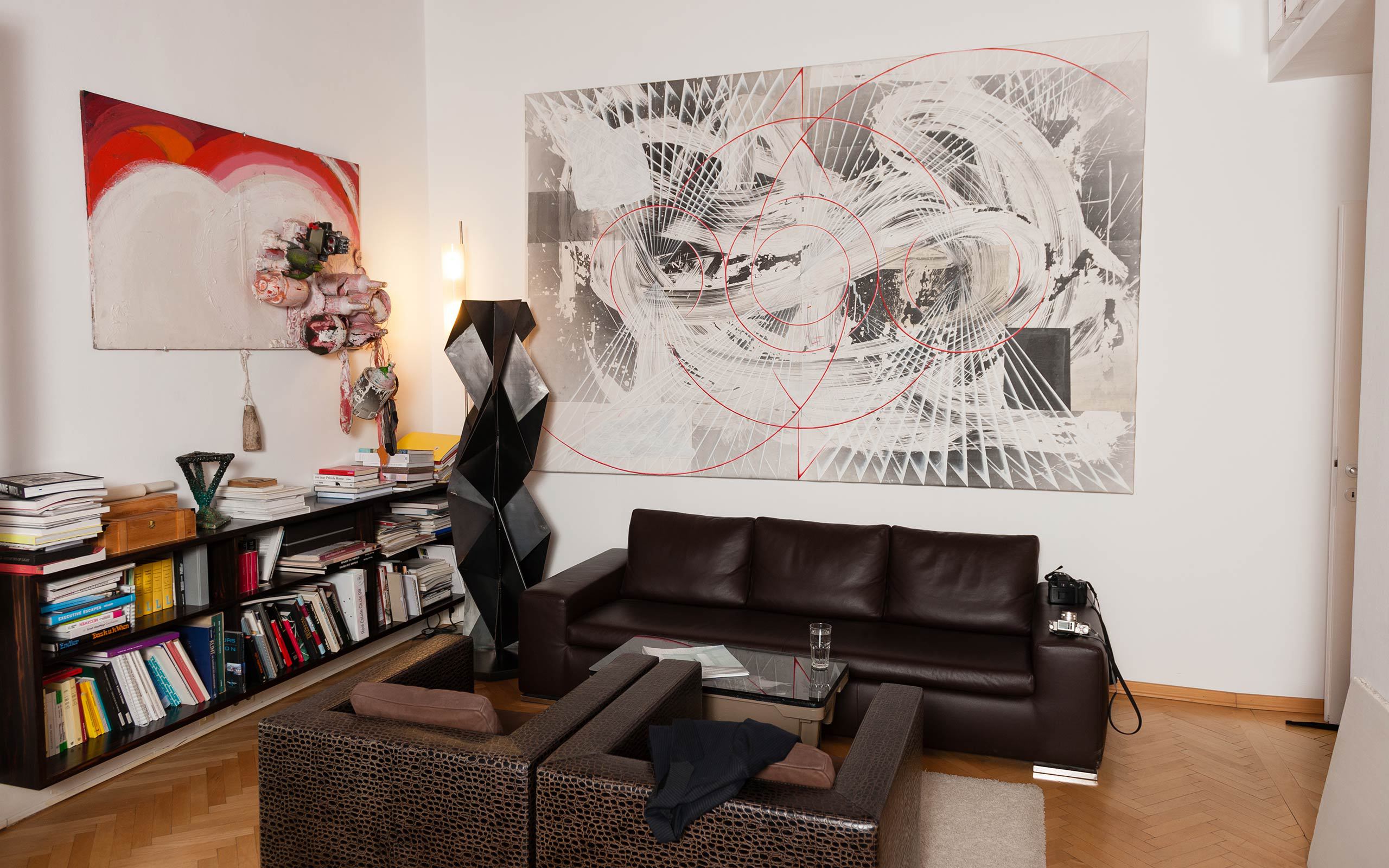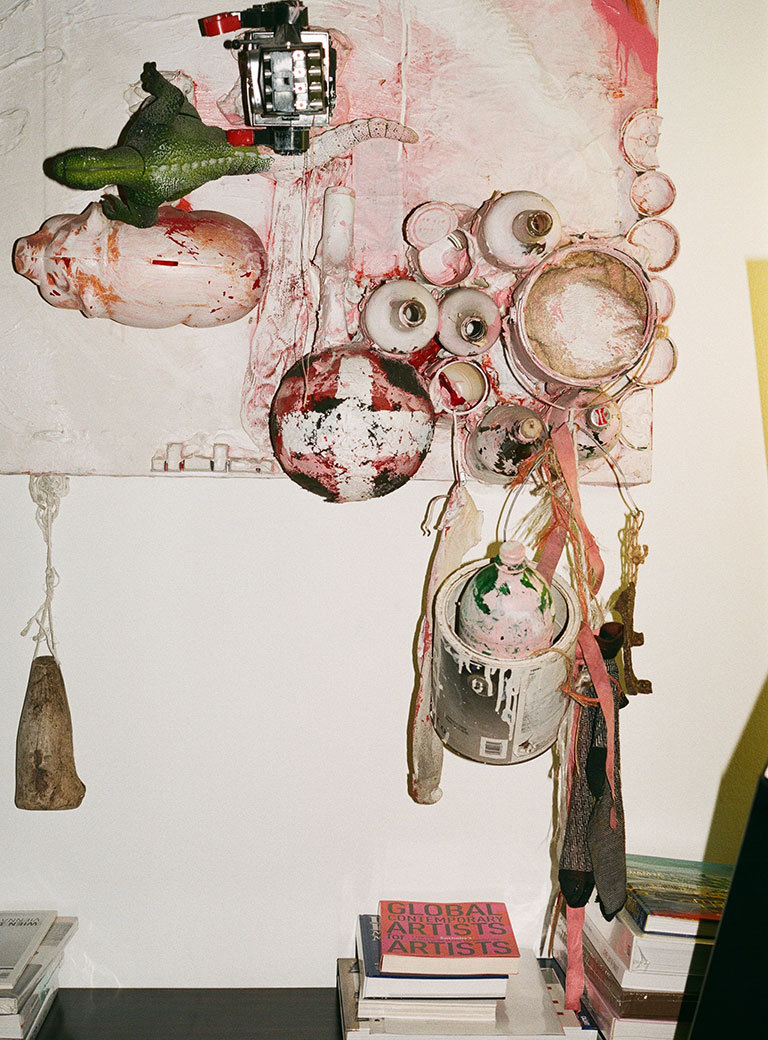 Do you have particular favorites in your collection? With which artworks do you live with every day?
ML: I love artists who with persistence and without compromise in their work grant me new inspiration every day, but of course I also have to have a connection with the subject and the execution. In general I don't want to name such "favorite pieces", because it is a process that changes continuously. If you leaf through our book, you'll find some of the favorites…
But there are surely things on which you have your eye on and which you would like to have in your collection. What acquisitions are planned? And which work of art would you like to own if you could wish?
ML: I am still looking for artists and designers for our real estate and hotel projects who work in the complex fields that deal with the connection between scientific insight, artistic practices, and socially relevant expression, but that has to be a really good fit and I have to wish to afford it. If you want to make me happy, it is very easy: Kardinal und Nonne and Die Eremiten by Egon Schiele and one Totem by Keith Haring. But I would very be happy with drawings by these millennium artists.
You have already mentioned the book Ephemeral Space: The Lenikus Collection which your collection has just published with Verlag für moderne Kunst. What triggered this book project?
ML: The idea for a classic publication about works of the collection and a description of the artist in residence program had existed from the time following Angela Akbari's return from her research trip around the world and had expanded the book's conception. The collection's particular feature – to use a musical term – is polyphony. One example among others: The invitation of the bar Du Bois by Cosima Rainer to Bauernmarkt 9, who has organized an exciting program for almost two years. To go back in time: Space Invasion by Elsy Lahner, COCO by Severin Dünser, and Christian Kobald, and many others should be named. Not always have all these projects had an influence on the acquisition of artworks for the collection, yet they have a very particular impact on the cultural life of the city and on my views on art. The book should be seen as an homage and I think all the artists and cultural workers who taking full advantage of provided opportunities have realized something unique.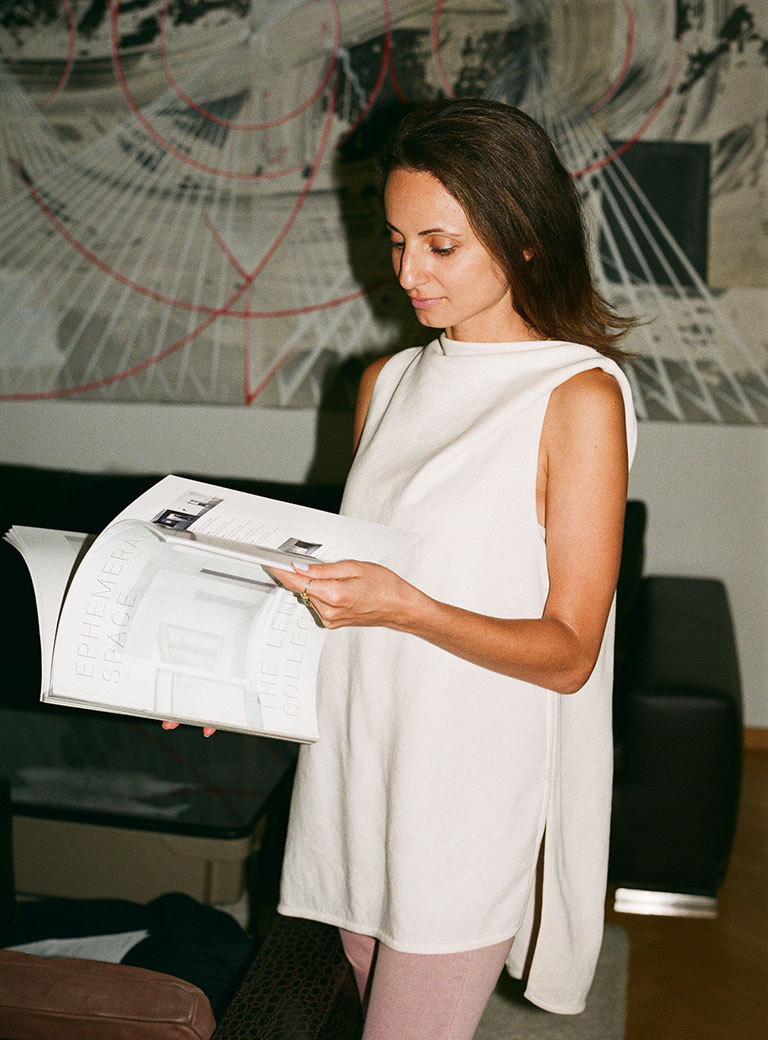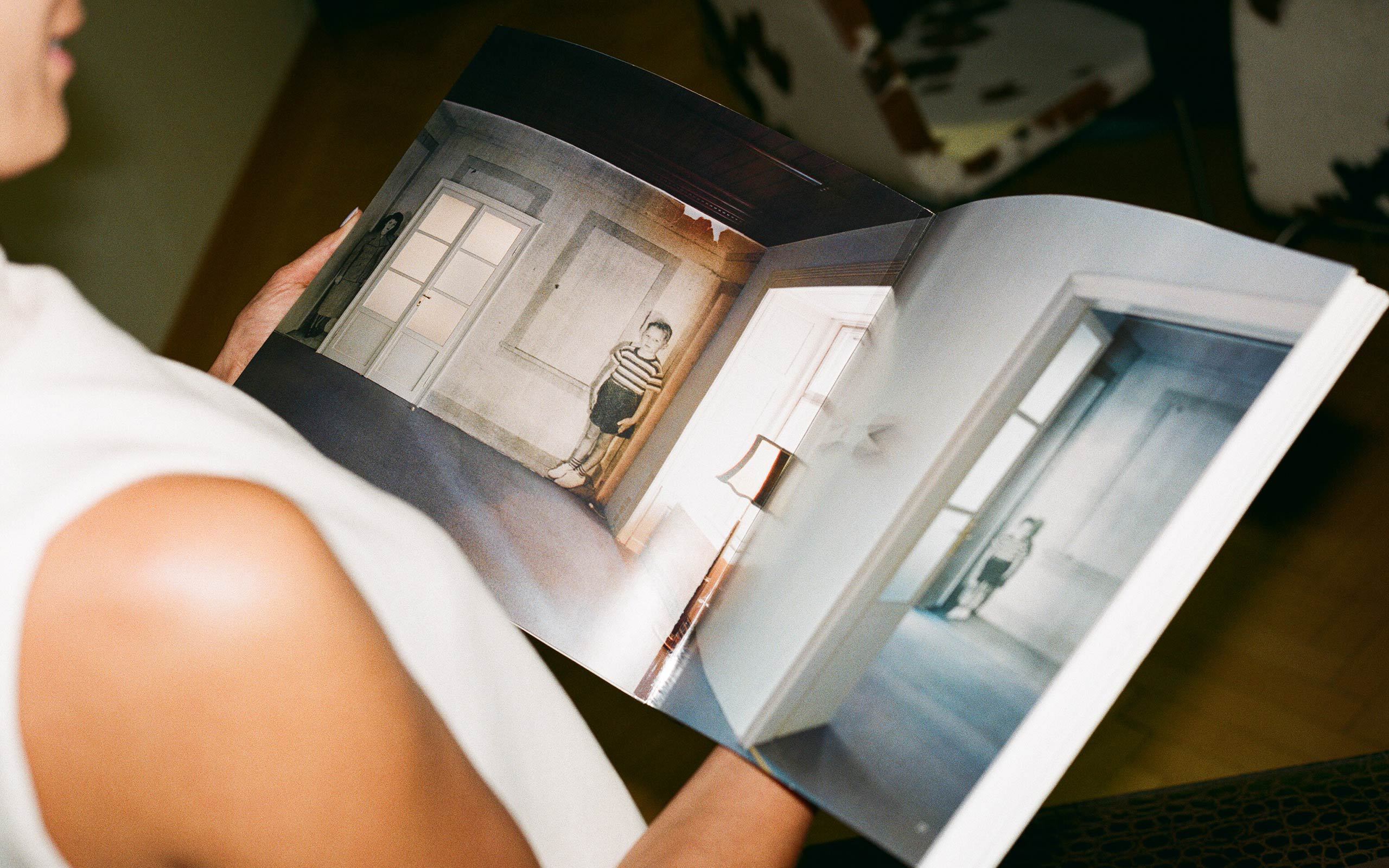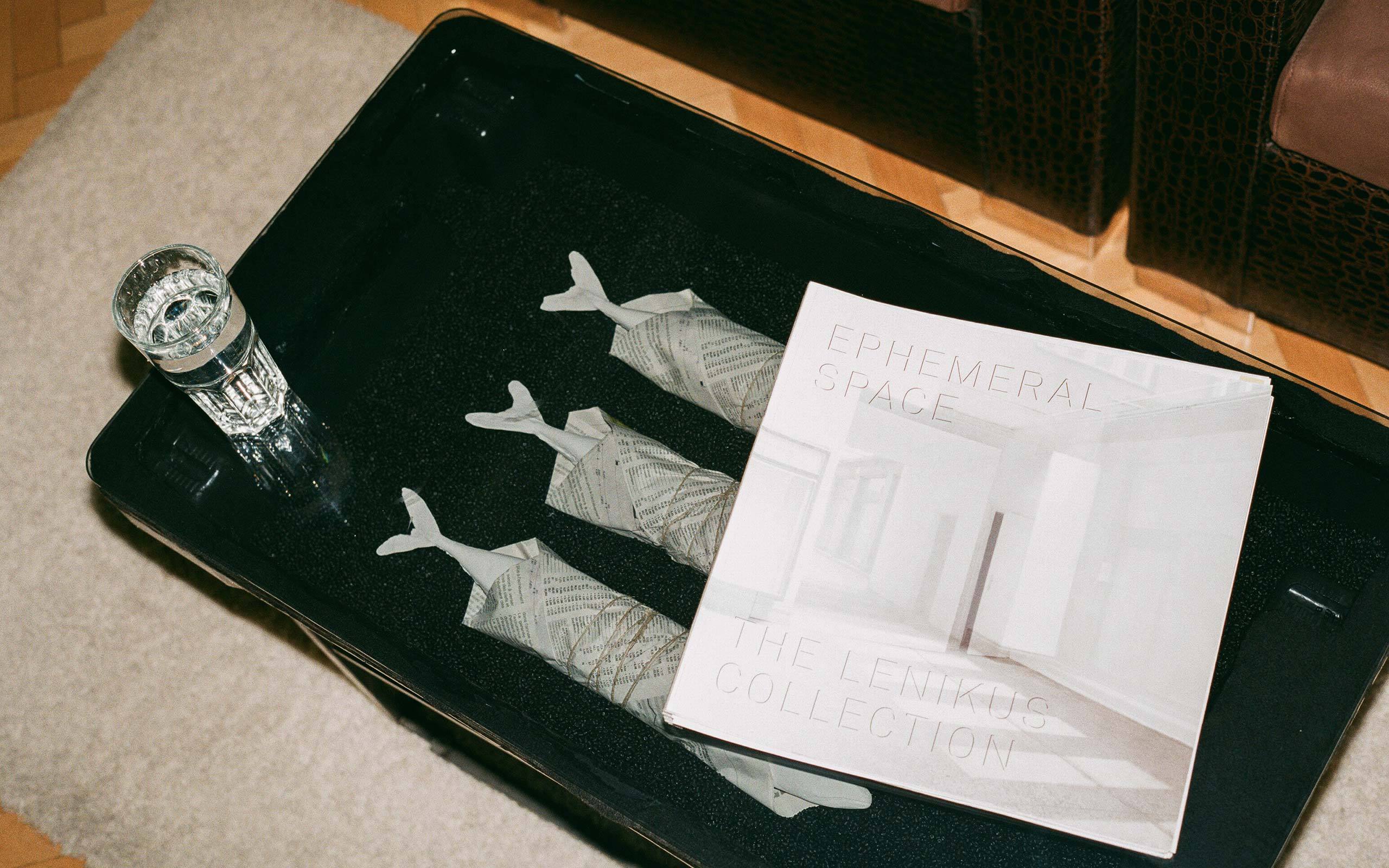 The book looks back on your long history of collecting and promotional activities. What highlights documented in Ephemeral Space are you particularly proud of?
ML: I am especially proud of the results of the design efforts by the fantastic graphic designer Christian Schienerl, which all who are interested will be able to see when the book is published in the fall.
A central aspect of the new book is space – the space that artists need to be able to work. How do you as an art collector and a real estate developer see the advantages of the concepts of interim use? What are the prerequisites for the success of such approaches?
ML: In Vienna we were the absolute pioneers! Nevertheless: Interim use projects are beautiful opportunities to give artists the chance to focus on their work and its presentation through the provision of space and at the same time, to avoid vacancies, this has to be considered thoroughly in order to be successful. On one hand consideration of content is important, at the same time, it is equally important that contractual conditions between the parties be clearly defined. The whole idea behind interim use is to keep Vienna's cultural life moving and to support creative artists in the process of building their careers. In my opinion, it is very important to activate vacant space. Every person, every company can develop their own ideas. For us the fine arts have been and are the relevant approach, at the same time, we are expanding our focus towards design and have also begun to support other initiatives in terms of space.
AA: One of the basic intentions of the publication of the Lenikus Collection is to give a very clear and hopefully attractive example of how much unexpected, surprising, and qualitative results can be obtained from "simply" providing space. For art, for culture, for the support of youthful enterprises – what will happen exactly is free and individualistic and difficult to assess – in a positive sense! It is wonderful that the corporate group Lenikus began early and I hope that there will be many more initiatives from both the private and public sectors.
Your portfolio is comprised of not only art and real estate; you are also active as a vintner and hotelier. Are there capabilities, inspirations, knowledge, and wisdom that are helpful in all these areas?
ML: Find your own way. Do what inspires you and is also useful to others. And never think that you have arrived or are wise!
Finally: Do you have specific recommendations which artists one should keep an eye on in the next couple of years?
ML: Look into our book which has brought together many of the future stars!