When Anna Jermolaewa is not traveling, the artist, with roots in St. Petersburg, lives and works in an apartment in an old building in Vienna. Here, surrounded by works of artist colleagues and a remarkable collection of Soviet era curiosities, she produces the conceptual, often critical and enigmatic humorous video and photographic works for which she is well known. We visited the artist and spoke with her about her world of ideas, the stories behind her art, and her rediscovered passion – painting.
Anna, you came to Austria as a young woman and have been working in Vienna for many years. Can you retrace for us your path from Russia to Vienna?
In 1989 I moved from Leningrad to Poland. Thanks to a Polish woman who helped me to escape, I was able to go on one of the shopping excursion buses to Vienna. Many years later, I made a video about her. Originally, I had not wanted to go to Vienna but to West Berlin and then on to America. And it is actually very funny that I have stayed here for so long and that I intend to stay even longer.
That was shortly before the so-called "Wende", the turning point. What moved you to choose to escape at that time of encouraging political change?
At the time I was a well-behaved student at a conservative art school, but out of school, I gravitated towards the dissident movement. My partner at the time and I were the co-founders of the first opposition party. For one and a half years we produced the party newspaper in my apartment. Although it was the time of Perestroika and Glasnost, we must have gone a little too far. One morning we were subjected to a KGB house search and proceedings in which we were accused of anti-soviet agitation and propaganda were instituted against us. When friends helped us to get an invitation to Poland we took the chance.
What caused you to stay in Vienna rather than going on to West Berlin as planned?
We first tried to seek asylum at the American embassy. When that did not work out, we stayed at Westbahnhof for one week without money and food. We next attempted to hitch-hike to Paris, but at the border at Salzburg, we were arrested and taken to the Traiskirchen refugee camp, therefore I stayed in Austria. I was granted political asylum, nevertheless, for the first five years, I just wanted to go back home. It was very hard in the beginning, since then however, I have become a great fan of Vienna.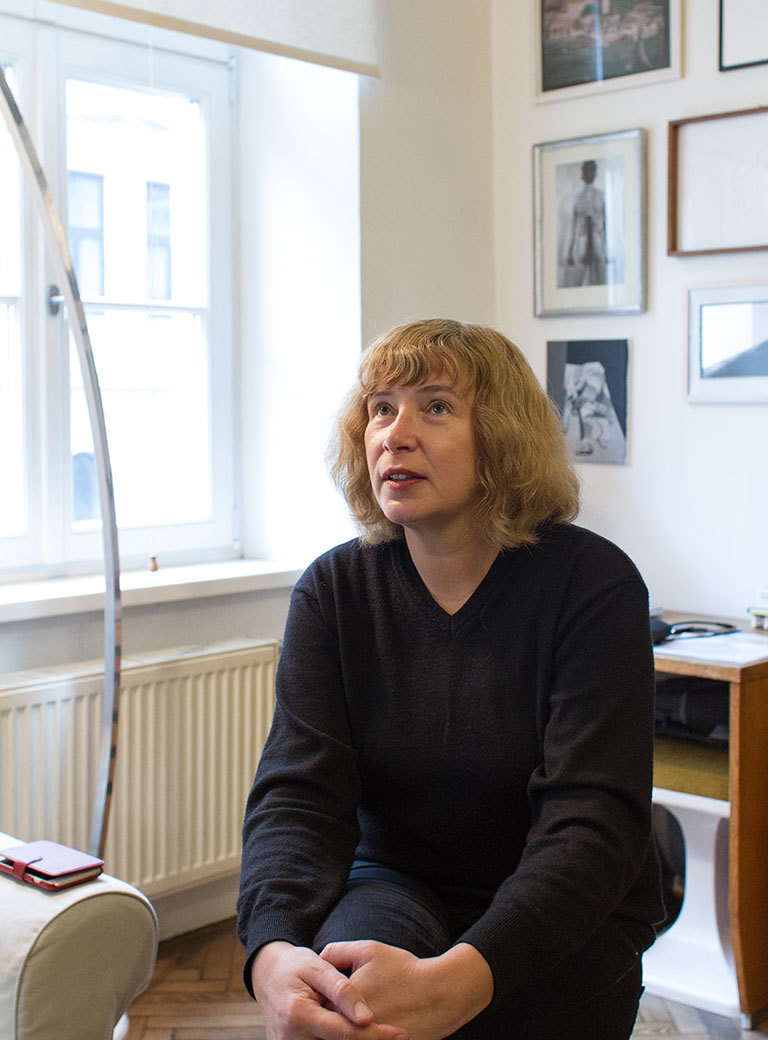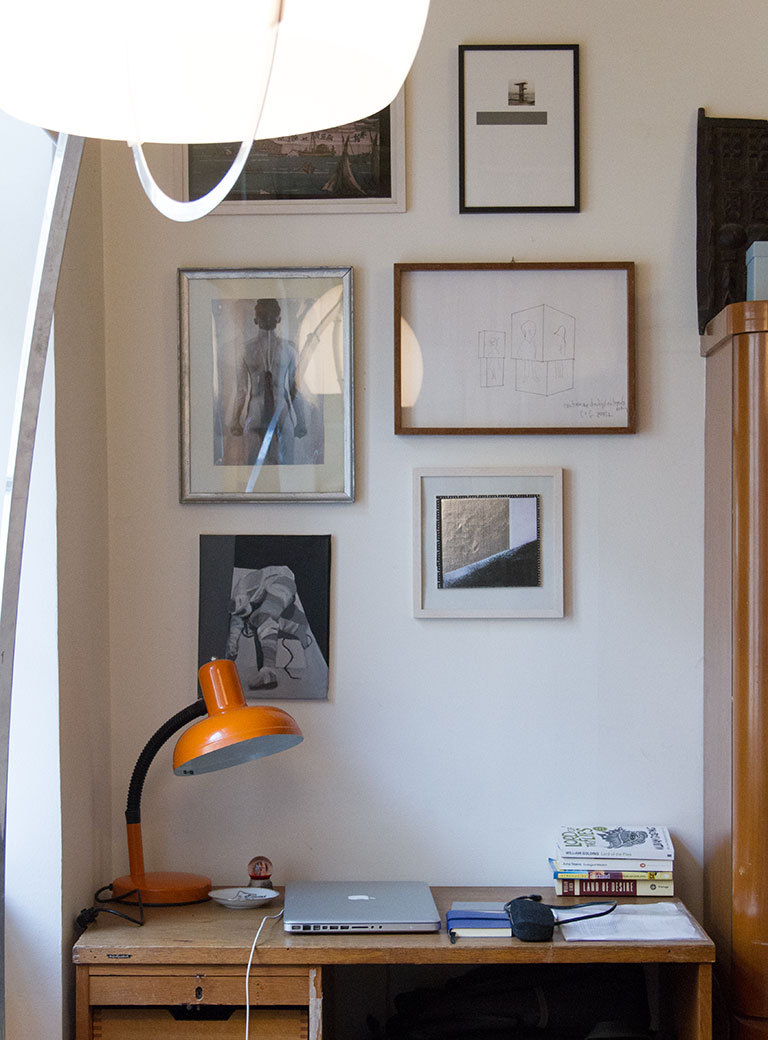 It seems that the change of place affected your development, moving from academic painting, through politics and art history on to a completely independent artistic process.
Of course, one leaves behind certain things with perhaps the intention of returning to them sometime later. For example, in retrospect, I hated my education as an academic painter, I became convinced that it was ruining my imagination. Those techniques however were so deeply ingrained in me that in Vienna I automatically continued to work in that way until I was able to separate myself from it and cut up all of my old canvases - now, the bag containing those shreds is in a collection.
So this step was necessary in order for you to turn to new things?
Precisely. It was after this liberation that I started photographing and filming, I was able to pass the entrance examination to the Academy of Fine Arts on the fifth attempt. That was the year in which the Academy renewed itself: The old fantastic realists retired and new people came – among them was Peter Kogler in whose class I studied. For the first time there was a class for new media! It was the ideal time for me to begin my studies and it also marked the time of when I first began to feel comfortable in Vienna.
What role did Peter Kogler and your class at the Fine Arts play in your development?
Peter is a wonderful teacher and a good friend. Under his guidance this class was like a family, everything was based on collaboration and support. That was very important to me. Fifteen years have gone by since we completed our studies there and we are still a clique. Some of my former fellow students are my best friends, and no work leaves the studio without us having discussed it together.
Can you describe your art for someone who isn't familiar with your work?
I would call myself a conceptual artist. I always start with an idea and only then do I look at what medium is most suitable for the realization of the idea. Within the process, regardless of the medium, I remain a realist. My topics are invariably drawn from actual experiences and observations encountered in my travels and never include anything fictitious. The idea is always of prime importance, the tools are secondary, I am firmly convinced of the validity of this approach, and this is what I teach.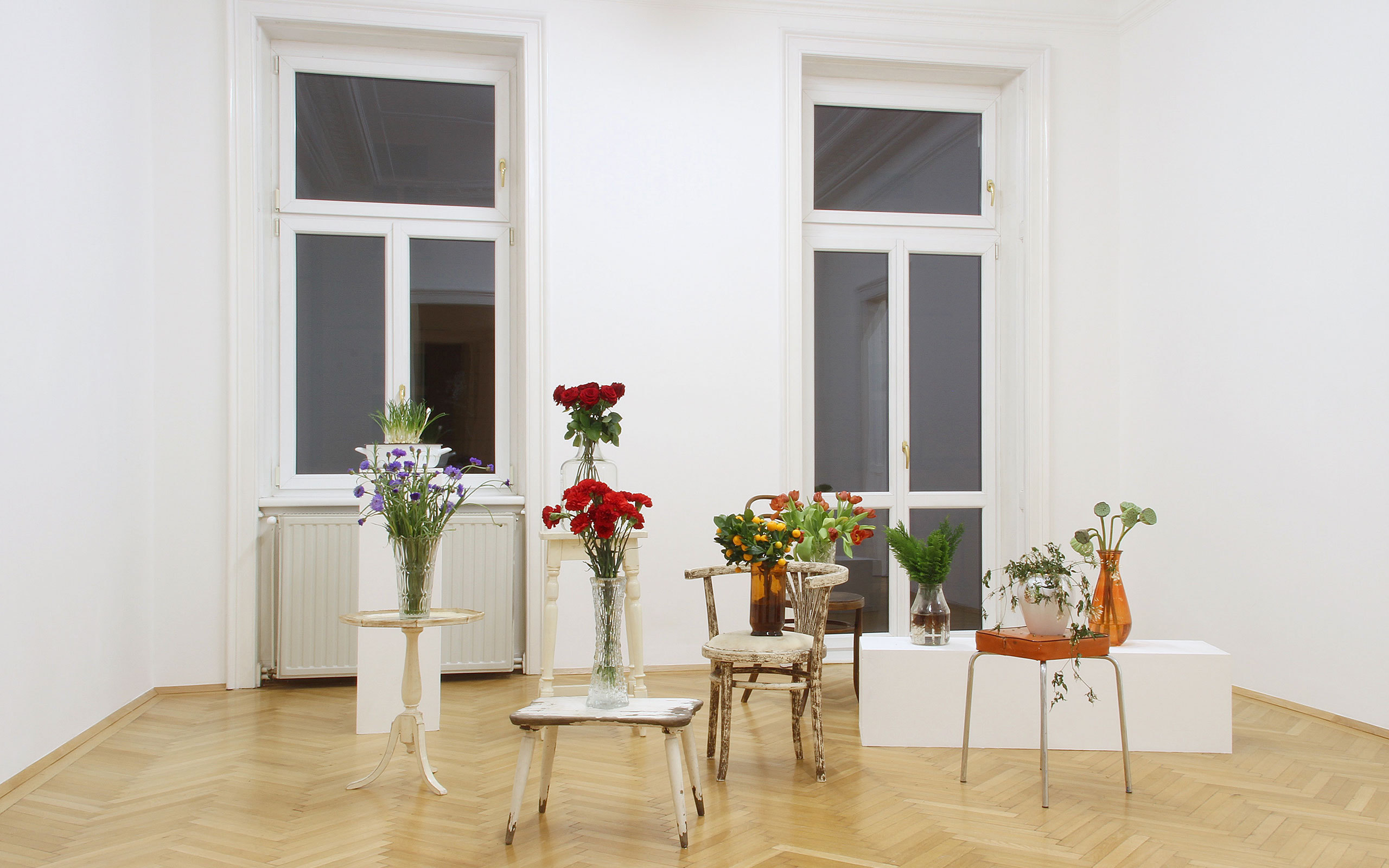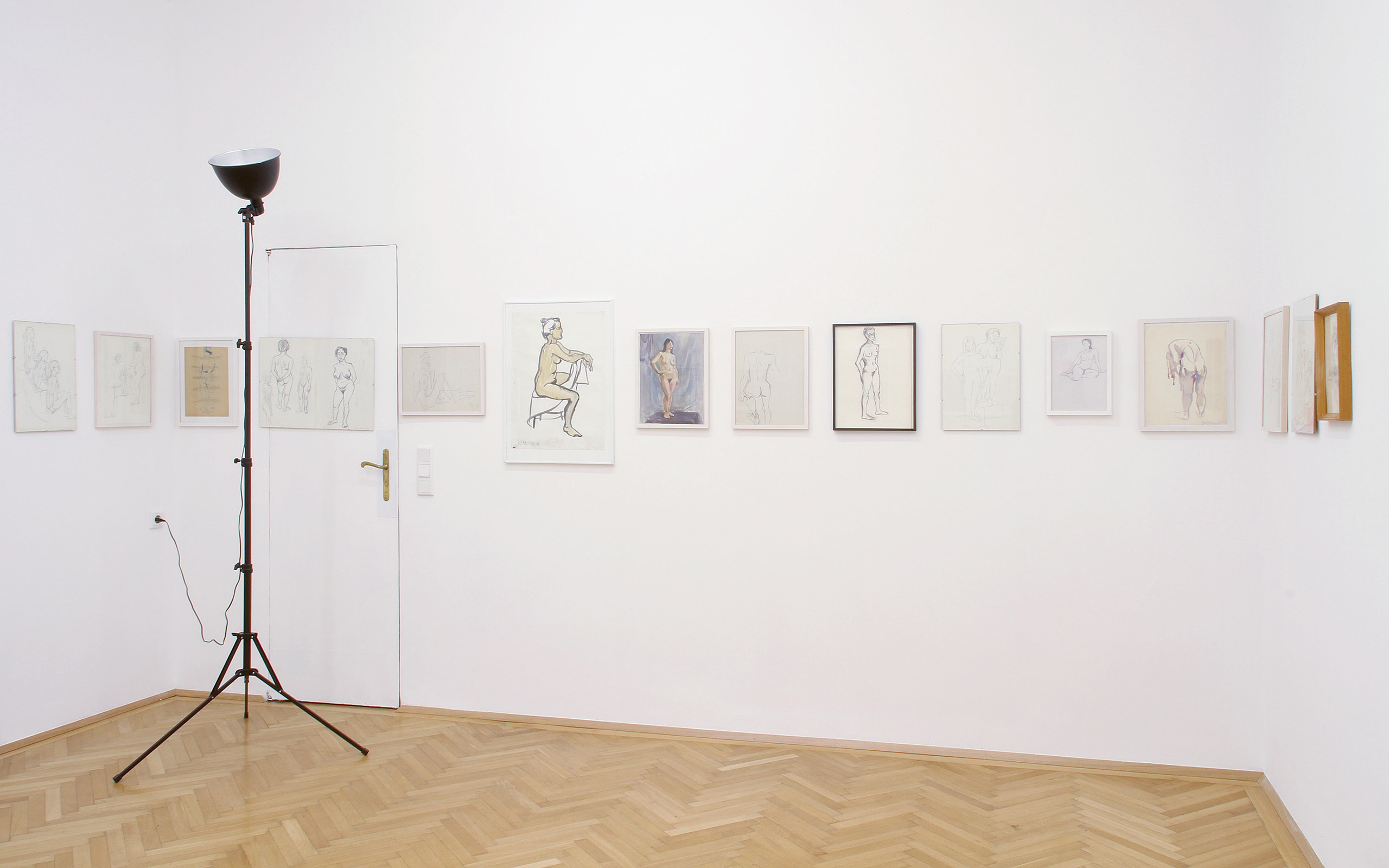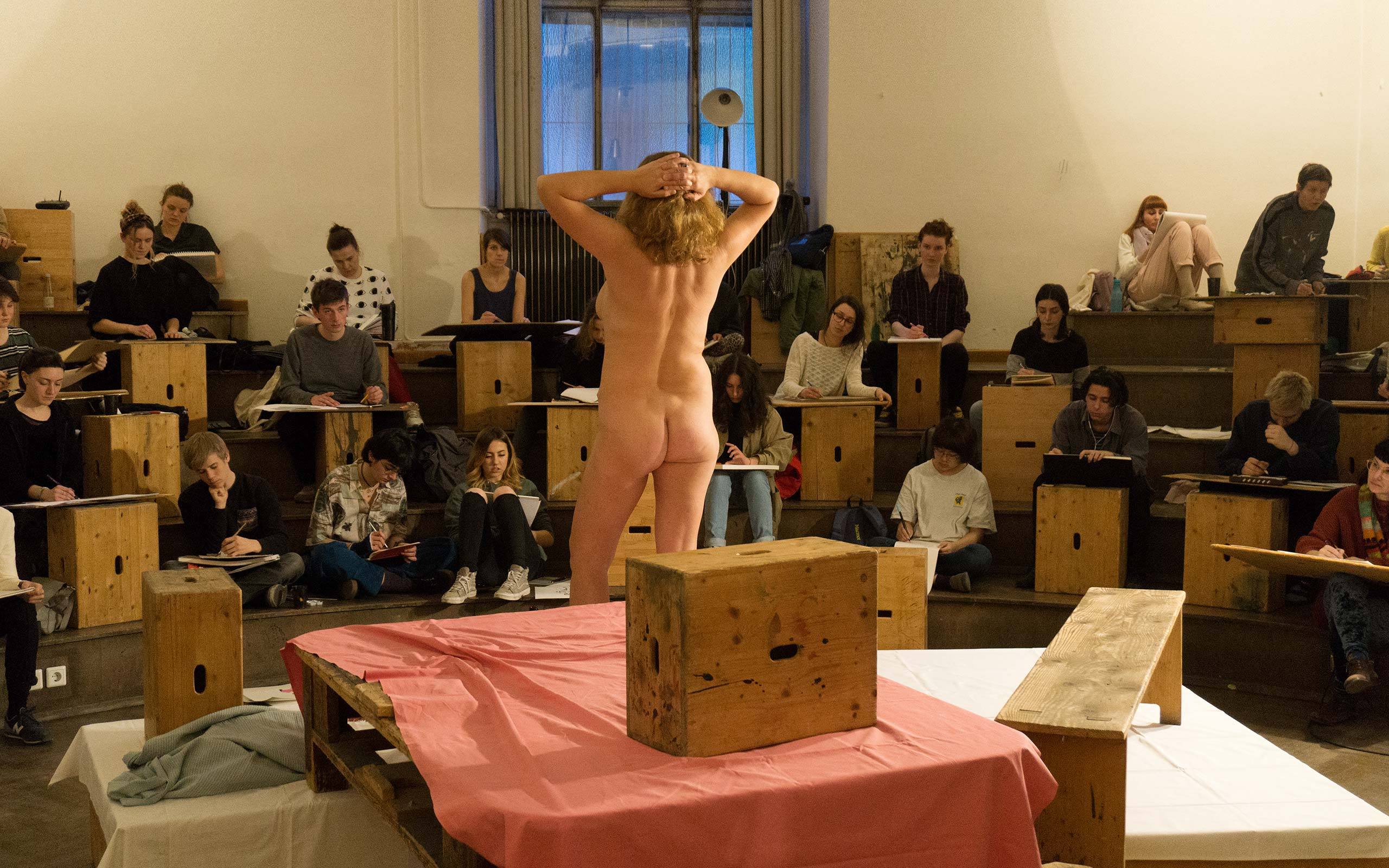 In your recent exhibition at Zeller van Almsick, you have also been showing works in various media...
Yes, the exhibition is a good example of my use of different media. There will be photography, film, and painting all thematically connected and shown alongside each other. In one room, for example, I juxtapose nude figure drawings from my earlier studies with a recent video in which from the position of the nude model, I observe the distribution of roles between object and subject. A second work deals with the so-called color revolutions, a series of non-violent regime changes that always proceed along the same pattern and color and frequently use a flower as the symbol of identification. I have actually established a "herbarium" of these revolutions.
Recently you have returned to painting again.
Yes, exploring the nude figure drawings of my earlier study times I was inspired to paint again. For a long time, painting was anathema to me, but after twenty years of editing videos it is liberating to paint again. The smell is wonderful, and in the evening, there is a sense of it being so much more satisfying to have painted a picture than to have worked on editing a video for ten hours! Painting has made me really happy. However, everything is still quite new, and in retrospect been newly rediscovered. Therefore I would like to give myself time to become clearer about some things.

Where do you draw the inspiration for your work?
Often it comes from quite mundane everyday things. Suddenly an object emerges that corresponds to a question that I am pondering. In my first video works for example I utilized kitchen utensils and my daughter's toys. I then use these objects as metaphors through which to tell a story. Even if one of my works looks like a minimal sculpture, it hides a story. One could describe it as "narrative minimalism". The pure form conceals a story, not as in Minimal Art where it is rather about "You see what you see."
So outwardly, the images that you present serve rather to convey their content?
Precisely. A good example for that is my work centered on flowers, which have become symbols for the revolutions we spoke about. Here the concern is not esthetically beautiful arrangements, but the political charge they embody.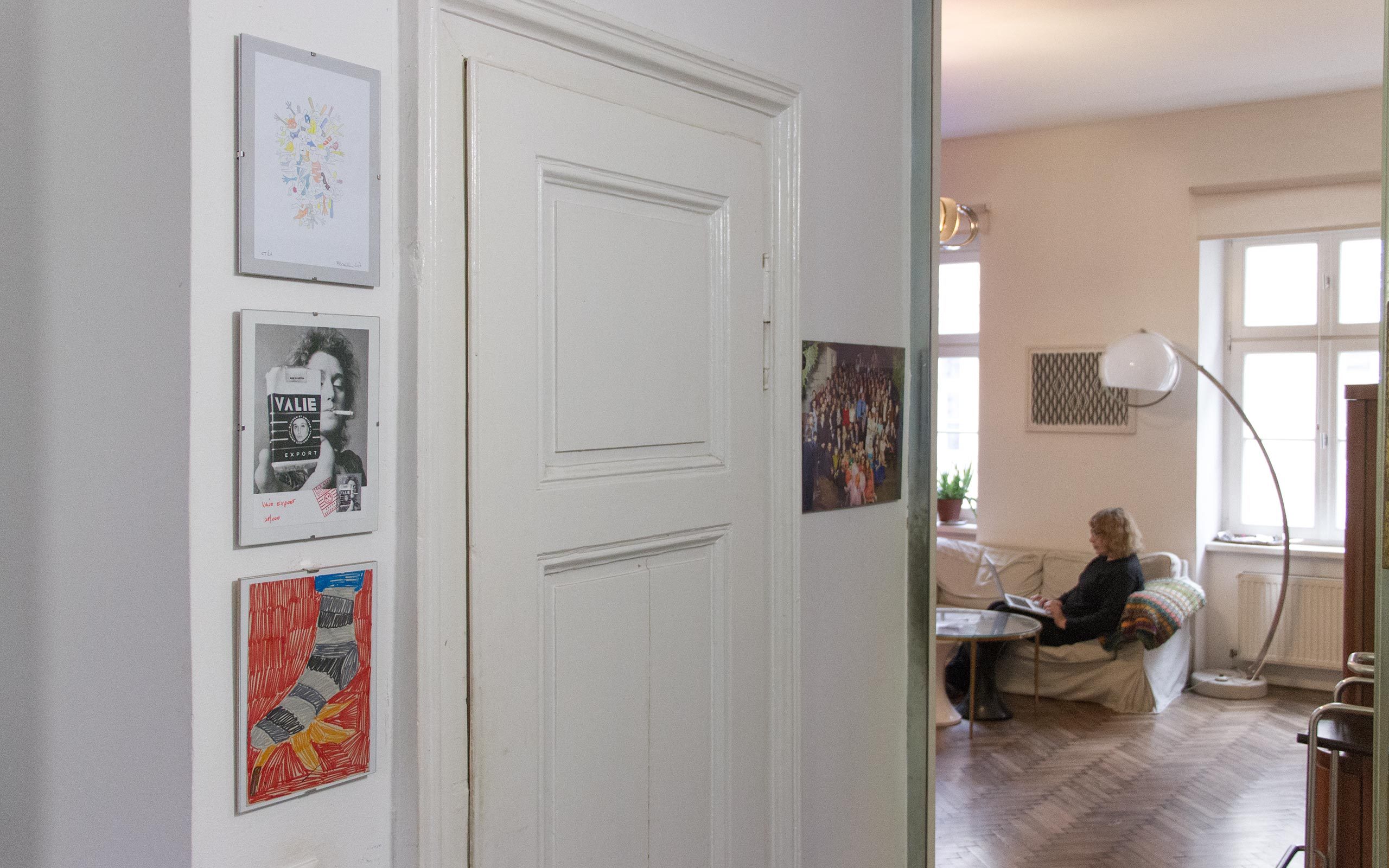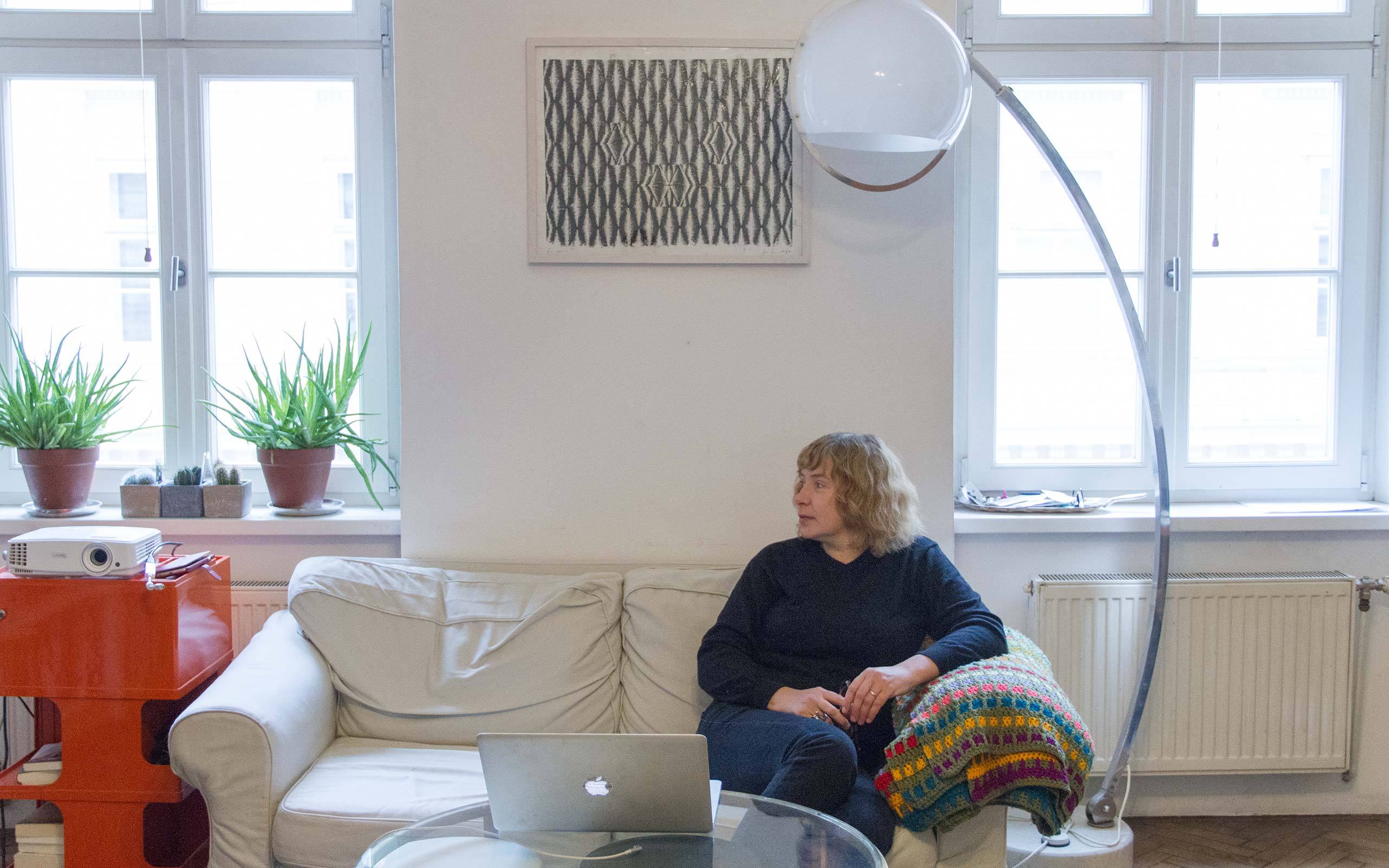 What is the meaning behind your work featuring the famous cats at the Hermitage Museum in Saint Petersburg.
With the cat portraits I have created a pleasant, almost kitschy surface of sweet cats. The story behind it is curious, the cats were acquired in 1745 to combat an infestation of mice and rats and at that time they enjoyed the status of coworkers. However the story also contains the tragic event of the siege of Saint Petersburg [which at that time had been renamed Leningrad] during which the animals disappeared, eaten by the starving inhabitants of the city who were struggling to survive. To this too do the sweet cat portraits refer.
Despite the various media that you have chosen, your artistic oeuvre forms a coherent whole. What is the connecting element?
It is about life conditions, about the conditio humana and the questioning of power structures. I would not even say that I am an especially political or apolitical artist. Situations that recount the life conditions of people can be found in the private and public realm. I came directly from politics to art. At the time, we had demonstrations, fliers, and our magazine. Now I use other methods, but I hope nevertheless to be able to sensitize, point to things and ask questions.

Are there personalities that have formed you or are forming you?
I certainly have heroes. They change constantly. Situationists like Guy Debord or forerunners of the Dadaists like Arthur Cravan have been among my idols. I was also very impressed by Pussy Riot. Pjotr Pawlenski, for example, is someone whom I observe intensively at the moment. He says that power mechanisms are the actual material of his works, and he recently set fire to a French bank after he had received political asylum in France. It has fascinated me to be so rigorous in what one believes without any concern for the comforts of life. I consider that very honest. Furthermore I am inspired by many filmmakers like Agnès Varda, Roman Polański, John Cassavetes, Werner Herzog, Rainer Werner Fassbinder, and at the moment especially the women filmmakers of the Berlin School.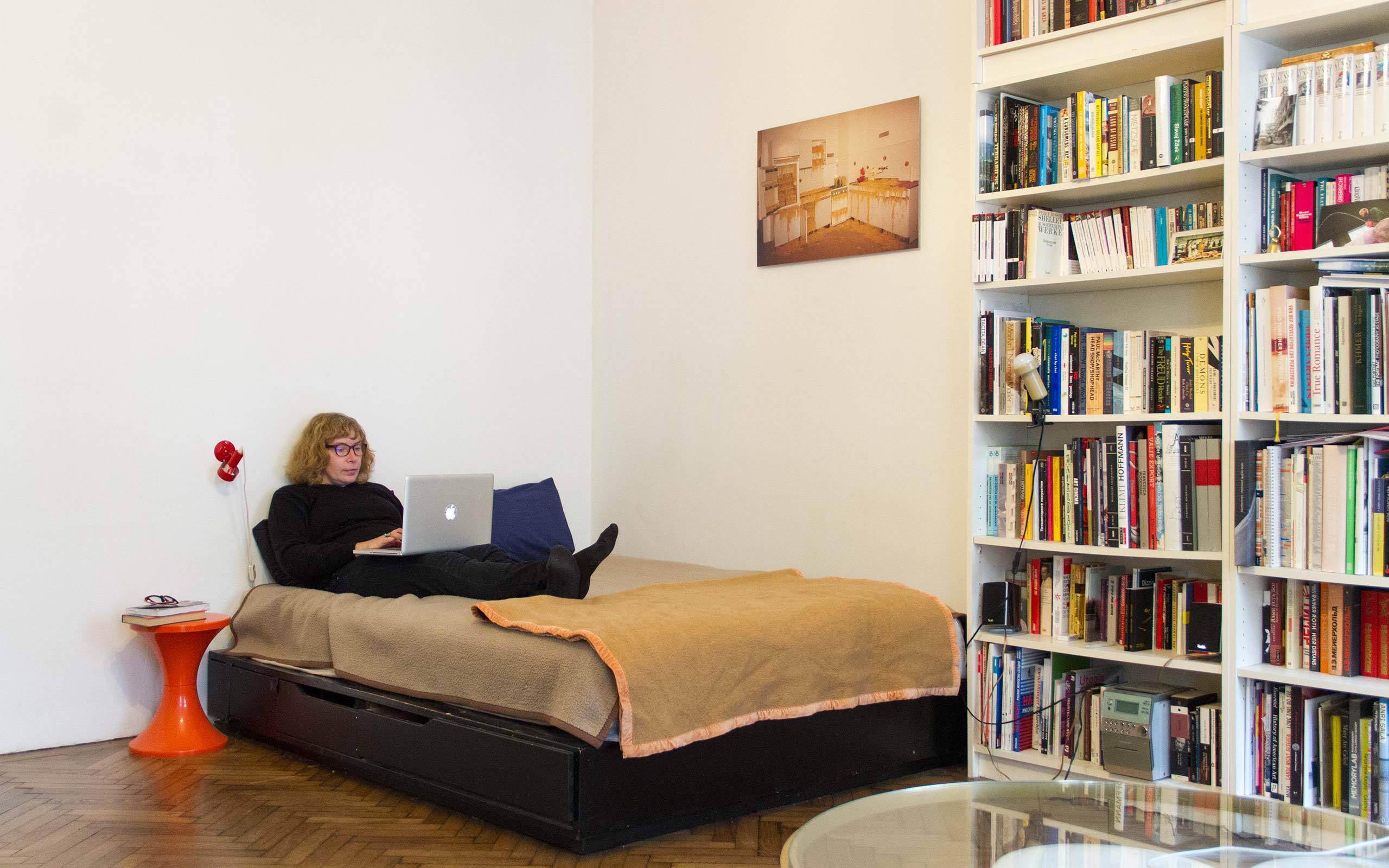 Here is a world map with many pins indicating places you have visited. Is traveling inspirational to you?
It is totally important to me to travel. I would go so far as to say that my ideal work situation is actually the hotel room. In a hotel there is no day-to-day life. There I can think well. My idol in this respect is Vladimir Nabokov, who spent a large part of his life in hotel rooms. Perhaps my love for travel has to do with the fact that until my escape I could not imagine being able to see any country outside the Soviet Union.
One cannot always be on the move. Where and how are you the most productive when you are at home?
Most of the time I can actually be found with my laptop on the bed. I believe that describes my work situation best. Meanwhile I edit entire films on my bed, but I also work on photographs and sometimes I even draw there. Only oil painting is difficult in bed. (laughs) A long time ago, I got into the habit of working from home, because I raised my daughter for the most part alone. It was impossible to disappear for hours into the studio. So I have integrated my work completely into everyday life (or the other way round). In the past, computers were very slow. Rendering took an enormous amount of time, and so one could use the waiting time for doing the laundry or cooking or something like that. And the most beautiful thing is when the cat lies on your lap, but unfortunately it has died.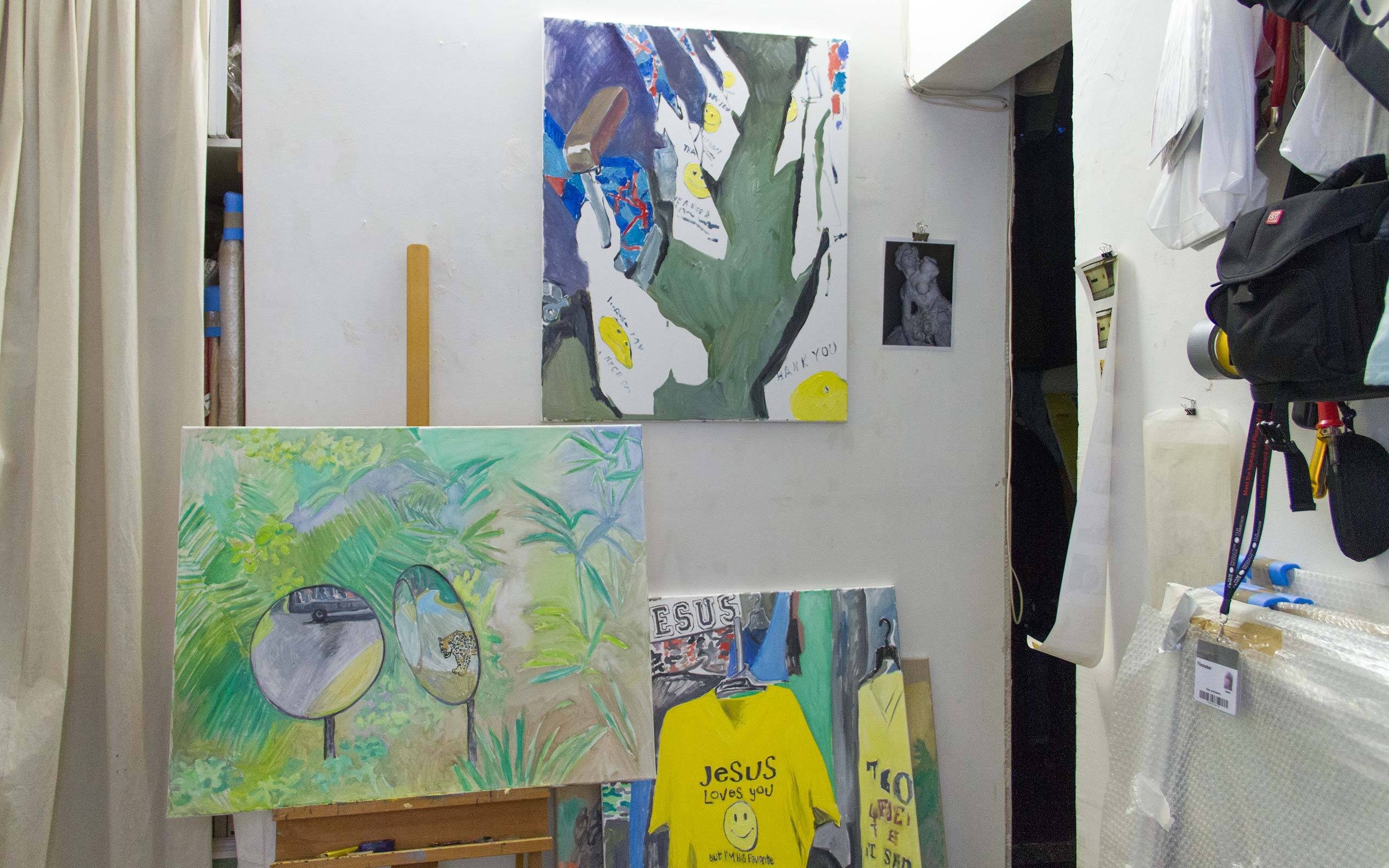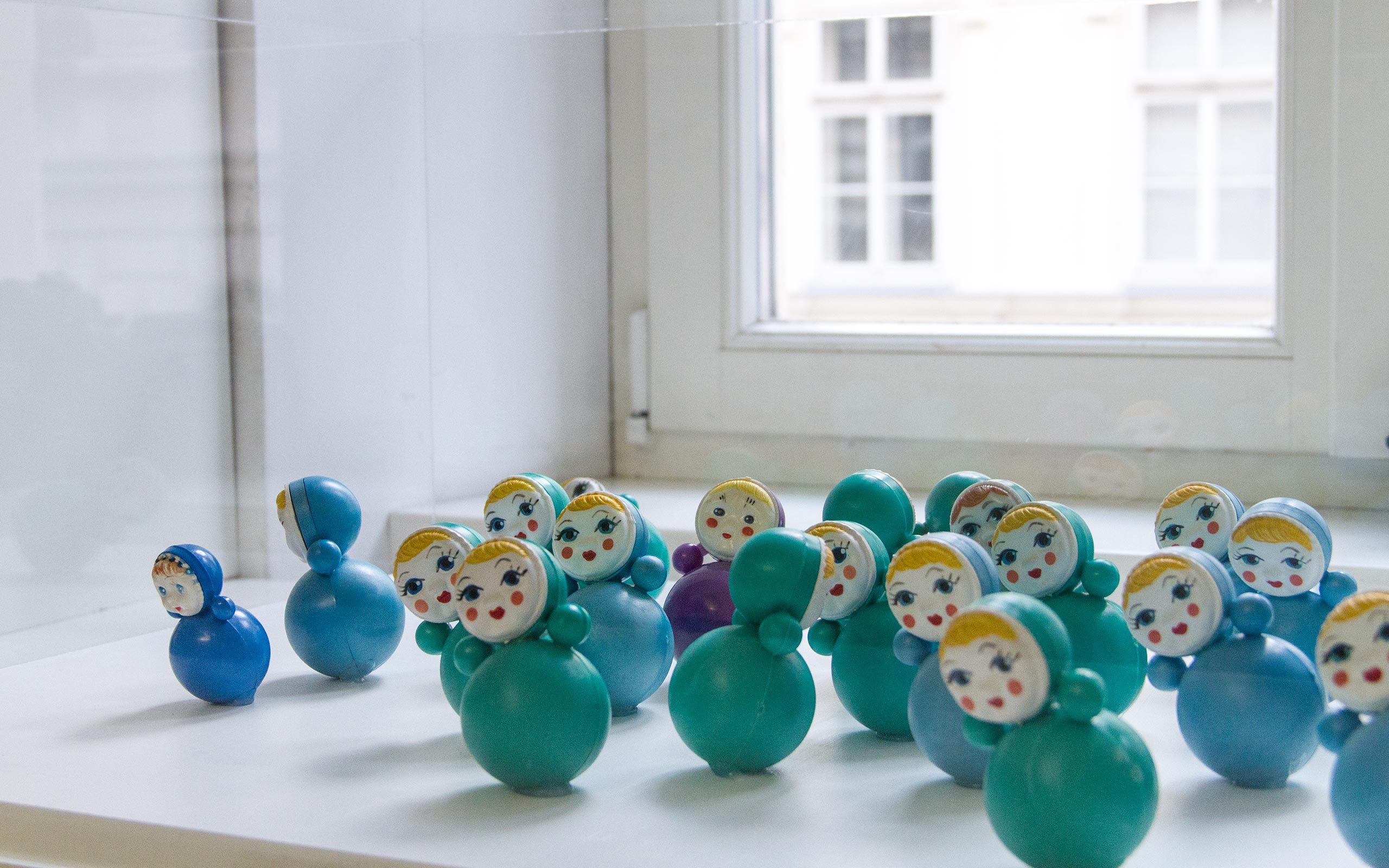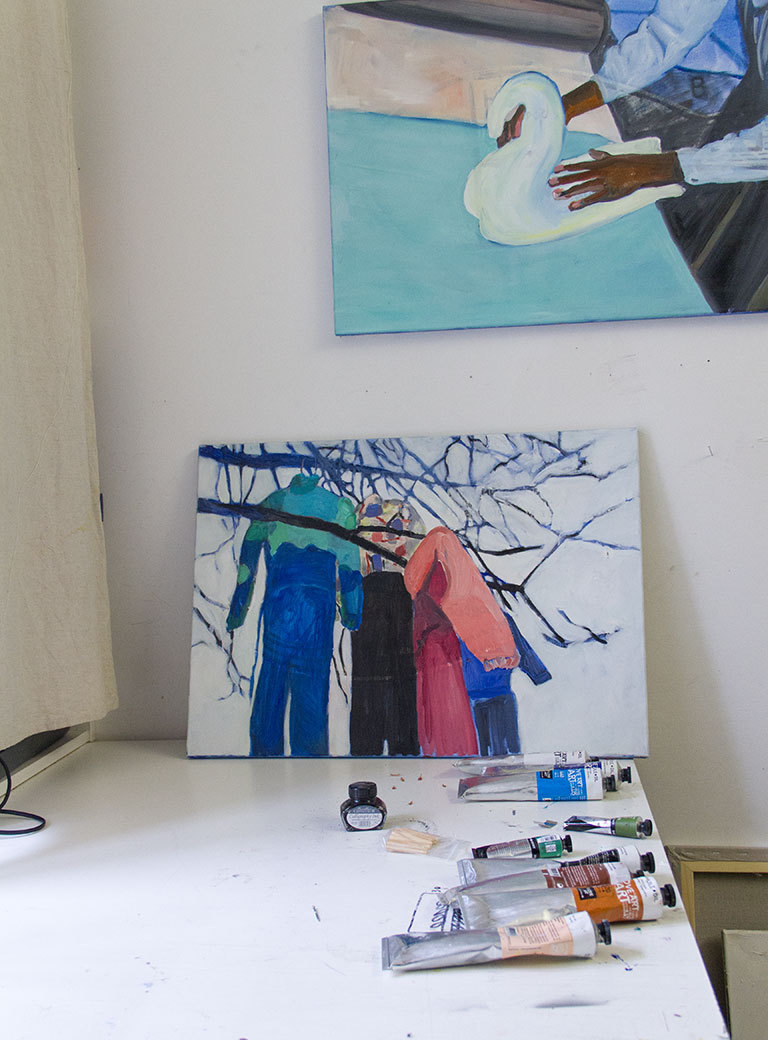 A propos filmmaking! You are just trying to make films.
That's correct. Before I could not imagine producing something for the movie screen. My videos were better fitted to room installations, running in a loop. Now I have tried a new format, and my film Leninopad recently premiered at the Rotterdam Film Festival, which I am very proud of.
That's great! Congratulations! Let us go back to traveling for a moment. What kind of power do you actually draw from traveling?
The most beautiful moment for me is to saunter in a place where I have not been before not knowing what one will find around the next corner. In such moments being sensitive to discoveries is much more pronounced. One is awake! One sees things that one would normally pass by. After three days in one place this sensibility dulls again.
Can you give an example of a work that emerged from such a discovery?
I don't look out for exotic things – quite the contrary. One work quite at the beginning of my career materialized like this and is very important to me: Hendl Triptychon. For this work I filmed three ways of grilling chicken in Acapulco. Harald Szeemann saw the work and that is how I became in my second study year, represented at the Venice Biennale. And the basis for this work was the alertness which lets one see things while traveling that are actually not bound to a place but are omnipresent.
Here hangs a picture that seems to capture a situation from a safari in Africa. A woman observes a giraffe. Both the giraffe and the woman wear striking patterns.
This picture for example materialized on my latest journey. It was a cruise to the Bahamas with the extended family. Following the cruise we were in Florida, in Disney World and in the Universal Film Studios. This was definitely a way of traveling that I normally don't undertake. But in any case it was an interesting study. So it is not a safari in Africa but a safari in Disney World, Orlando. It is actually a completely fake situation, and that interested me, an entirely constructed situation of a natural event. The picture could stand for the beginning of a new work cycle. I am working on it at the moment. In 2016, I realized a work in Disneyland in Anaheim, near Los Angeles that also explored this fake world.
Besides the fact that you are just discovering painting again, have you any other plans?
Some time ago, I traveled in the Western US states extensively. Further inland I was particularly impressed with the landscape of Utah. Never in my life have I seen something so spacious. And very unexpected meetings happened there, which brought an idea for a film. Together with my partner Scott I plan to realize a large film project there to which I am looking forward to.
Interview: Gabriel Roland
Photos: Florian Langhammer