The London-based art duo Revital Cohen and Tuur Van Balen are occupied with broad meanings of material and production. They work with objects, installation, film and photography to explore manmade production processes as cultural, ethical and political practices. Whether they are growing a genetically-modified goldfish or examining the gambling industry, their work always stands out. Their experimental projects traverse the worlds of design, film, science, sociology and politics, and have been snapped up by MoMa and Hong Kong's M+ Museum.
Revital, Tuur, what led you both to creating art?
R: As a small child, I already knew I wanted to become an artist, but my parents were not encouraging and at some point, I oriented myself more towards design and architecture. When I started making art, I was mostly into painting but couldn't quite see myself as a painter. As much as I love the practice of painting, I wasn't so inspired about what to paint. So, I got into design, but very much in the setting of conceptual design, things that were meaningful as part of life, mostly objects. Then I went to study at the RCA in London (Royal College of Art), which is where I met Tuur. I've never in my life worked as a designer, nor made anything of use to anybody (laughs). But after we both graduated and started our own practice, we felt that the discourse was shifting us more towards the art world. We met peers, curators, and writers who really inspired us and it was a really natural progression.
T: For me it wasn't that dissimilar. Growing up in Belgium as a teenager I was doing a lot of things like working with video, photography and performance, and also dance. It was the 1990s and there was all this contemporary dance and I was really influenced by it. At the same time I was always quite good at science and mathematics as a kid. So I ended up studying industrial design and took a technical degree, maybe thinking it was some way of combining these things. During my studies I found myself drifting towards more research-based processes and conceptual work, which is why I went to study at the RCA in the first place. It was there that I found a more autonomous way of practicing, yet for a long time I resisted calling it art.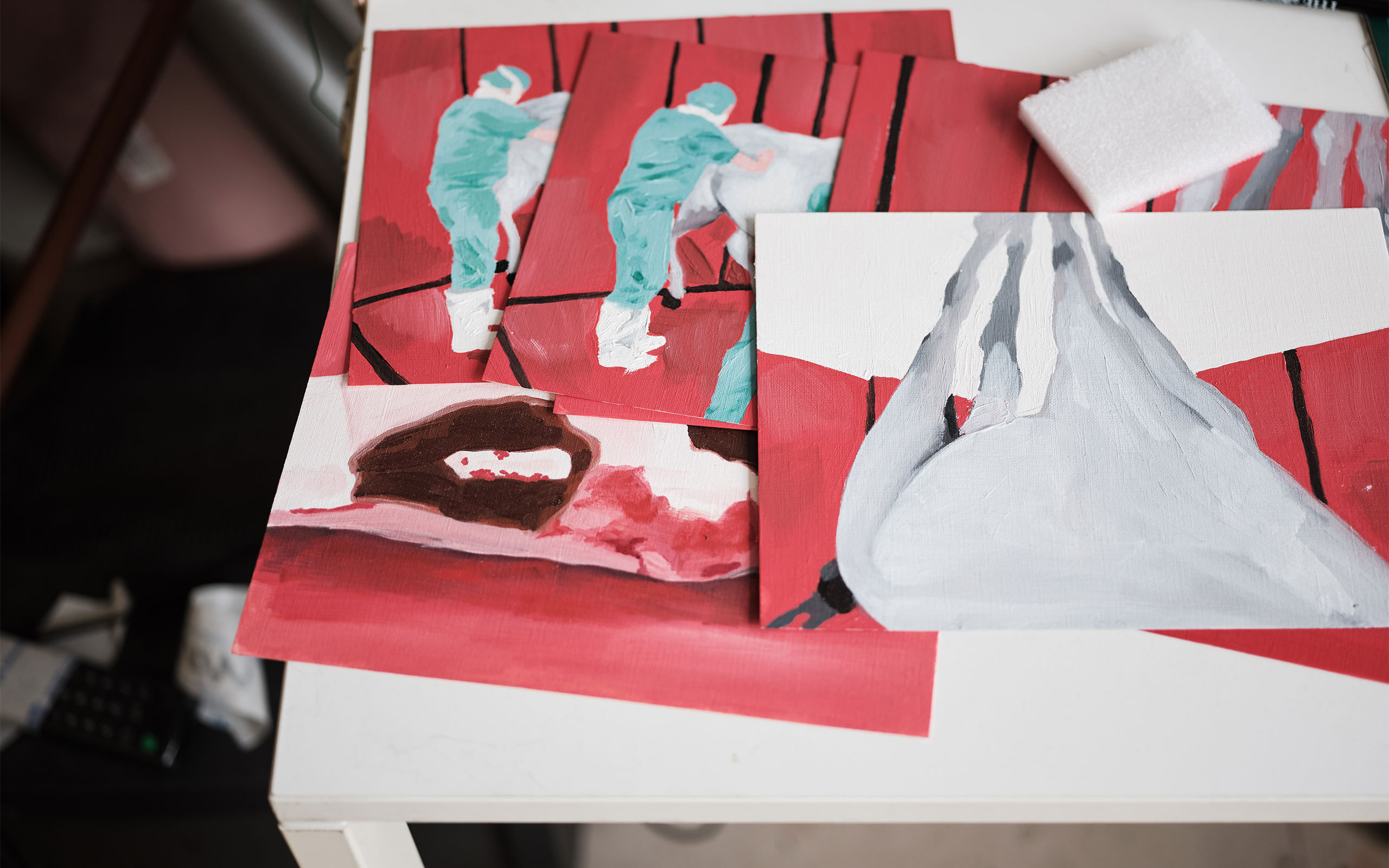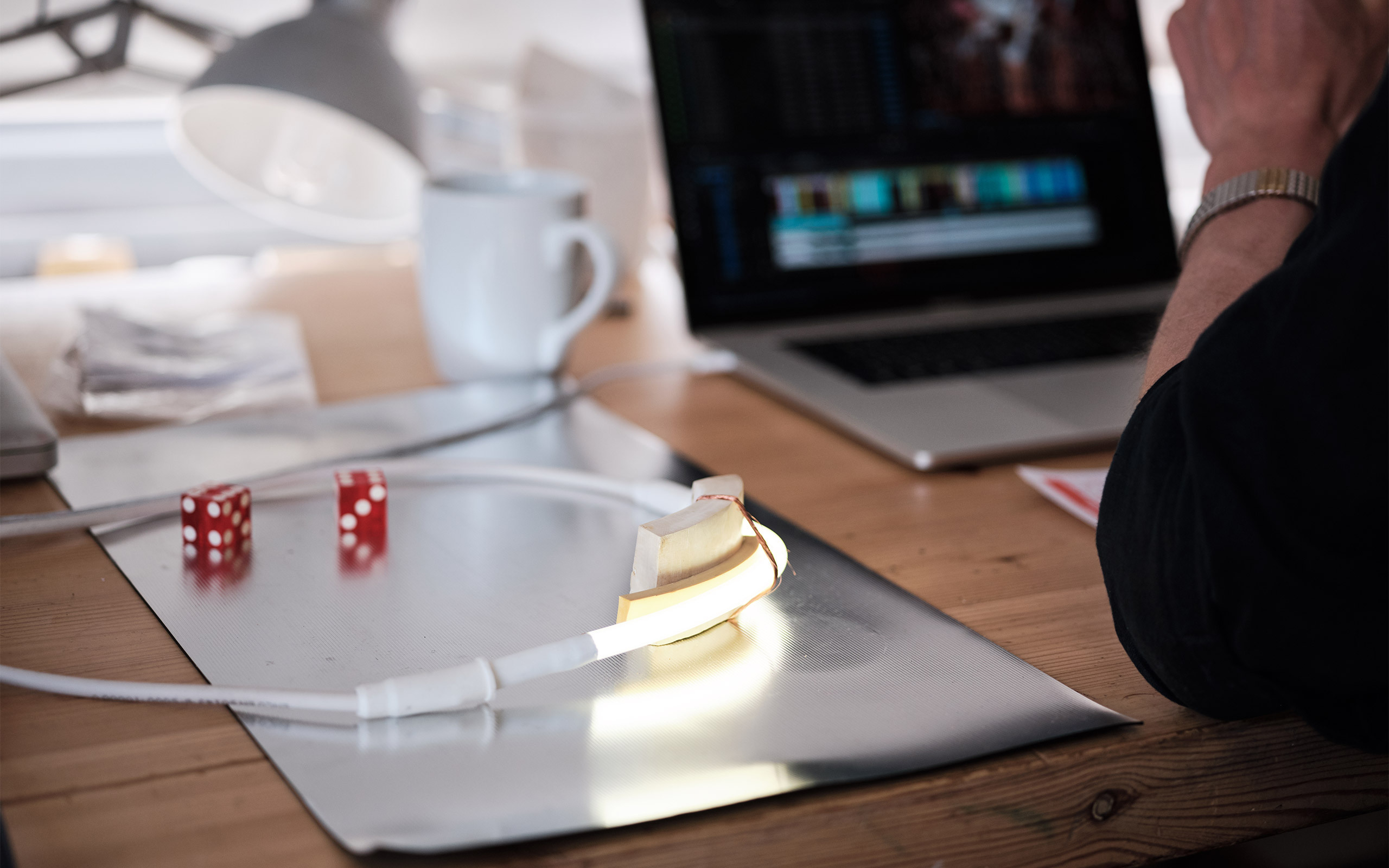 Do you have a way of describing your work in your own words?
R: We make installations, sculpture and film that look into systems of production. We look for the social, political and cultural veins within the existing capitalist system. Our work tries to show the processes that make the work and we always use very different materials to do this.
T: We make sculpture and film that comes out of processes that take us into certain places. The process of making a sculpture or film is almost as important as the resulting film or sculpture. So, for one of our projects we made a goldfish in Japan with a scientist who genetically modified it for us; it took five or six years and we were very much involved in the process.
An iconic work of yours is Leopard, Impala, which shows the skeleton of a leopard, produced from rare earth, neon, mammoth ivory, and natural rubber. Using this piece of work as an example, can you explain how your artistic practice concretely manifested itself here?
T: This work started with taking examples of historical taxidermy from the Royal Museum for Central Africa in Tervuren (Belgium) to be X-rayed at a local hospital. The steel structures that the radiography revealed inside the tableau vivant of a leopard killing an impala were recreated in rare earth, neon, mammoth ivory, and natural rubber; reconstructing an imaginary interaction between two animal skins in materials including those of contemporary mining practices. By exposing the handmade steel rods, the colonial object questions whether what is perceived to be natural history is as much about culture as it is about science. Our practice here can be found in the bringing together of materials from the archives of a historically contested museum, which also holds personal memories, and working with (a team of) medical technicians using radiographic equipment. The work affects and is affected by the sites and people involved in its creation, and carries within it its process of production and its layers of research, logistics, technicalities, form, humor and personal relationships. We chose to translate its sculptural form using materials that have current geopolitical implications and mythologies (rare earth and mammoth ivory) and are themselves full of traces of culture, politics, technology and folklore.

How did you first start working together?
T: We became a couple really quickly after meeting in art school. For about six years we worked separately. We were always really supportive of and involved in each other's work. When you live together and you share your whole life, and your studio, I think gradually the works start growing towards each other. I felt that the moment at which we decided to start working together, didn't feel like such a big step.
R: You also don't want to be in competition with your partner, and you don't always want to be travelling alone for work. We weren't able to see each other as much before we started working together. But since then, we've had the possibility to do all these amazing things together. It's not always easy, we're not natural collaborators, but in terms of our lives as a couple it's worth it.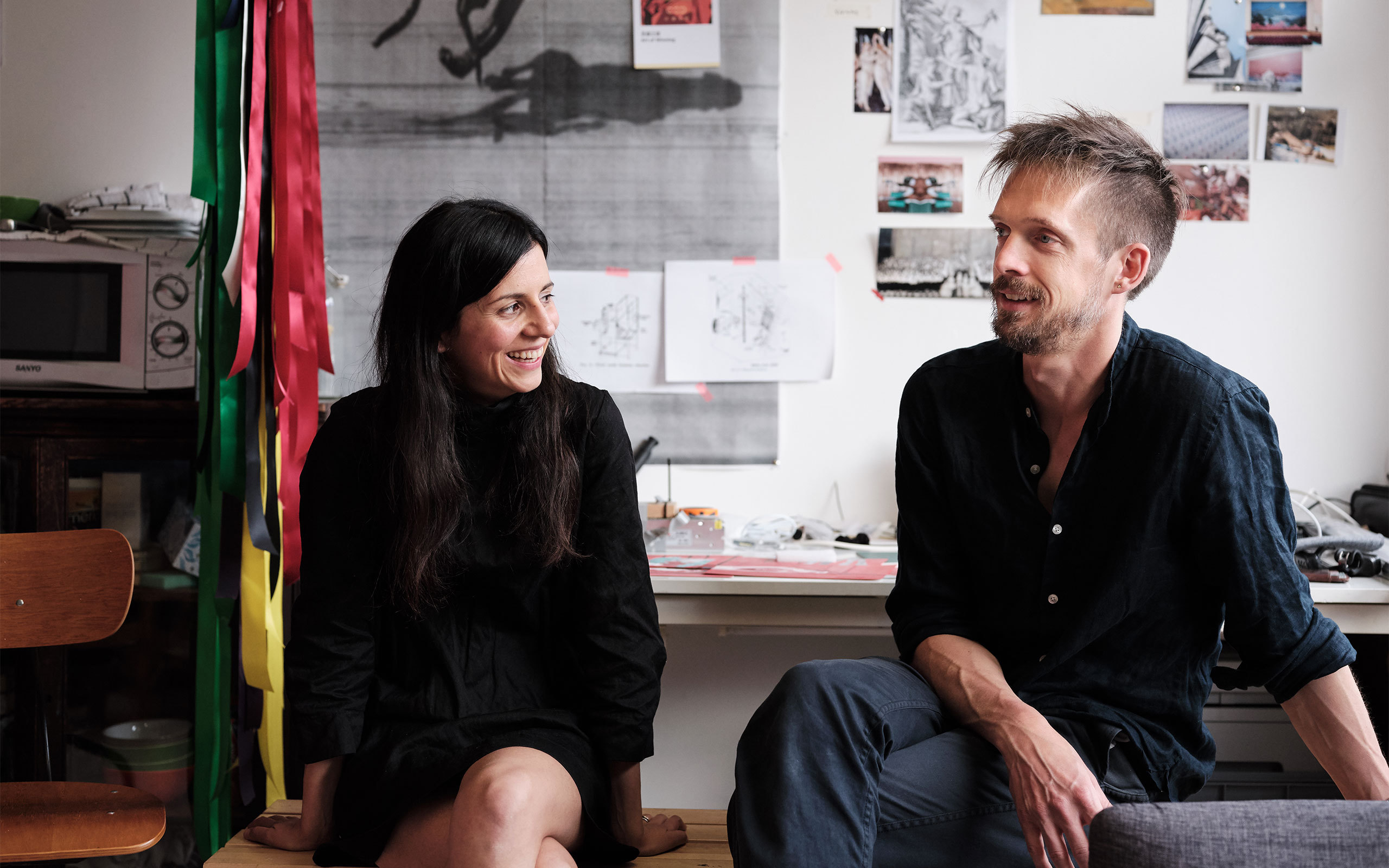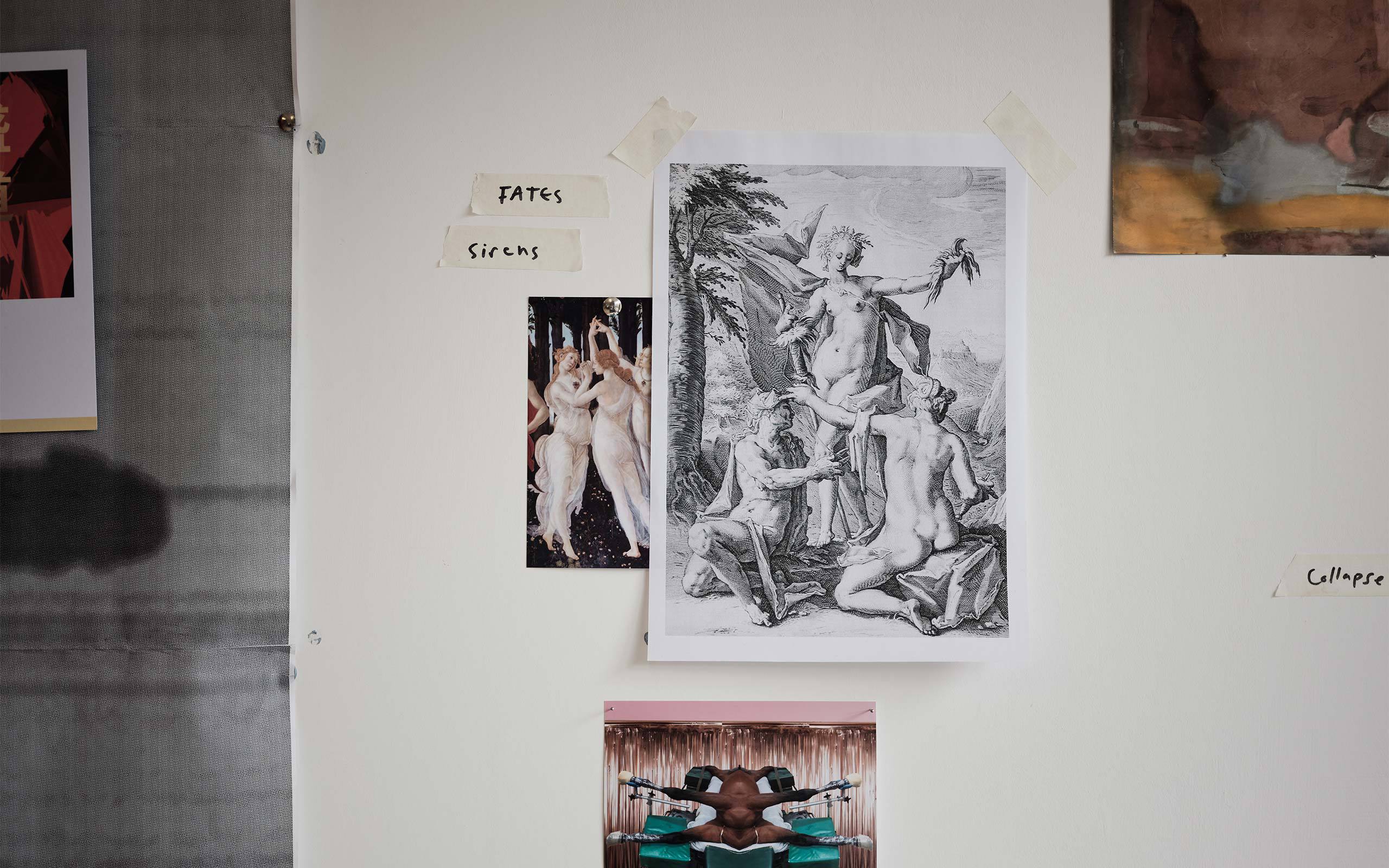 You just mentioned that your works started growing towards each other. Did you ever feel a loss of identity from both living and working together?
R: I don't think so, no, because our skills are complementary yet very different. We would also help each other out when we weren't working together. I would do a lot of art direction for you, Tuur, and you'd do other things for me. After seeing our show, a critic once wrote that she now understood we were not a collective but two very individual artists who work together. Each of us has a very particular way of working.
T: And we both speak about the work very differently. My work includes bits of me. The same goes for Revital. And we see and respect that. Sometimes it means we have to say: "Okay, I'm going to give you all of this space, because I think I shouldn't tinker with this." But it's never a loss of individuality, it's almost the opposite. Sometimes it's getting to know each other better through making work.
Is there anyone in particular who inspires your art?
Both: Many!
R: Of course Pierre Huyghe, it's unavoidable. and I really love Sophie Calle. Although our work may not suggest it on the surface, there is still a lot of the personal and the autobiographical in it. Even the fact we started working together and it merged our life completely. There is something I find very interesting and relevant in Sophie Calle's work about the complete disregard for boundaries.
T: We do have many influences outside of art. Growing up in Belgium in the 1990s all the contemporary dance and performance was a big influence for me: The Rosas Dance Group especially and the French choreographer Boris Charmatz who emerged from it. I think our influences extend beyond the art world a lot because of the nature of our practice.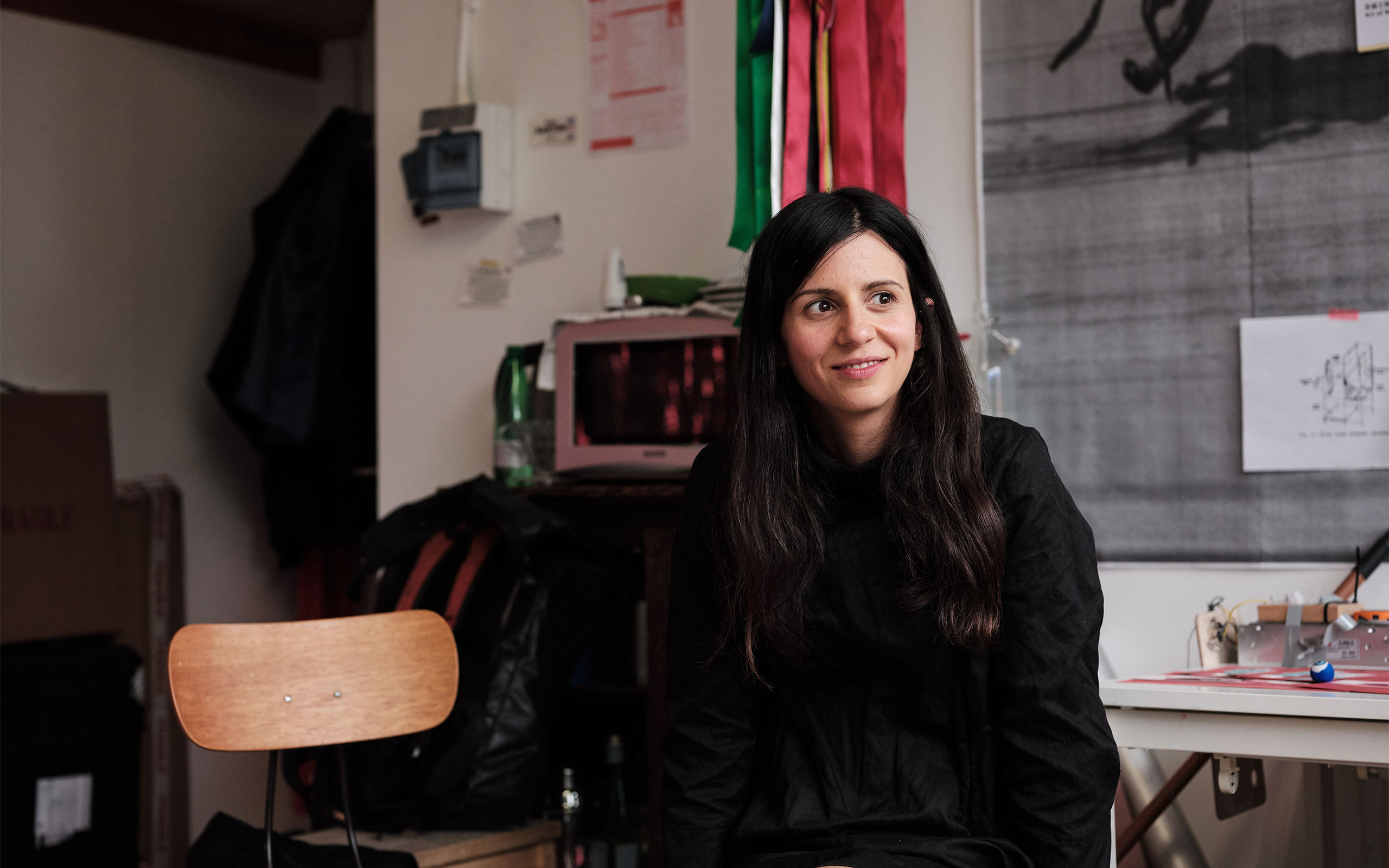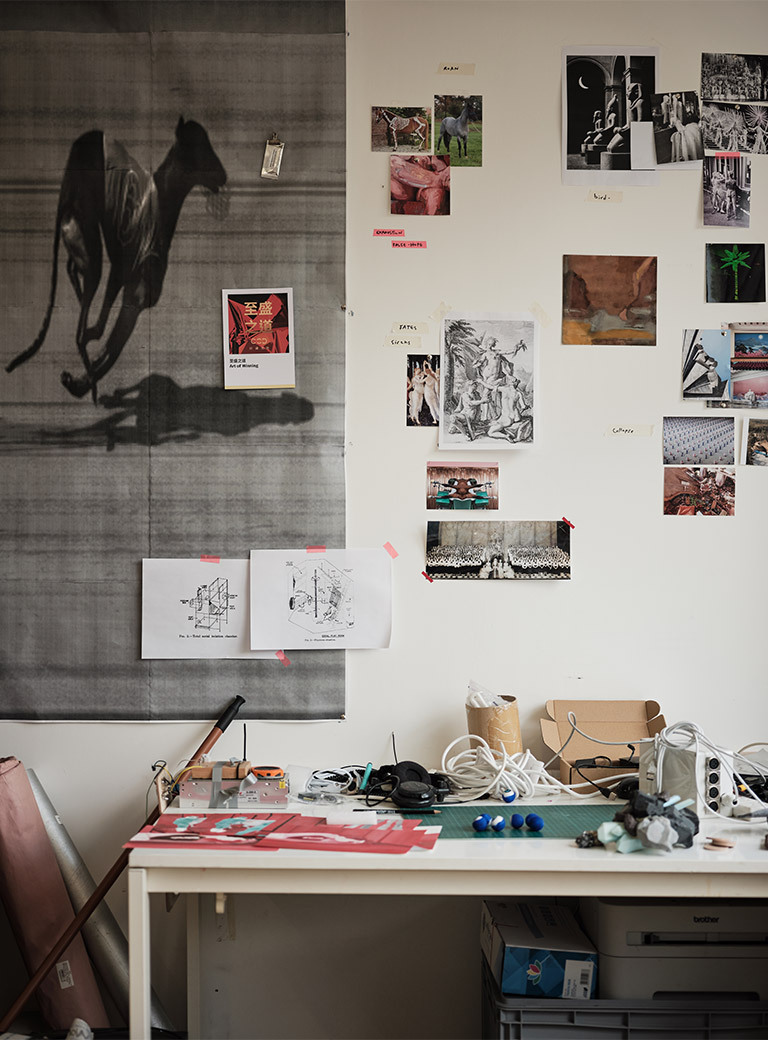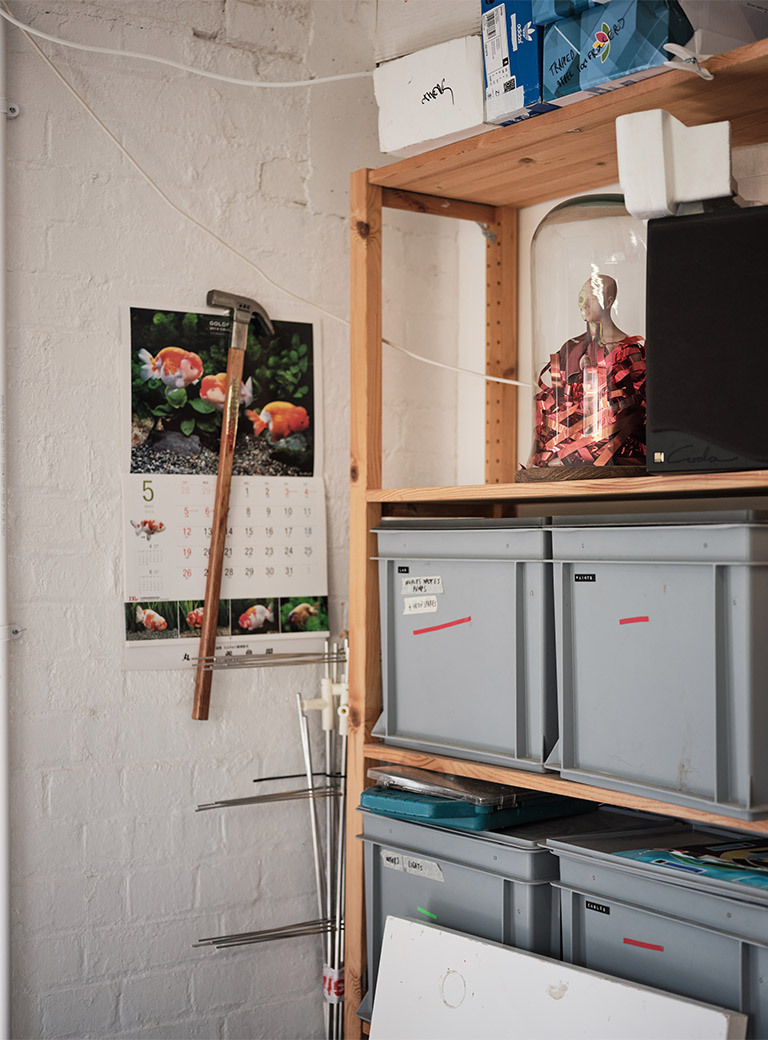 Is there a particular artistic concern that most determines your work?
T: I would say we deconstruct processes of production as cultural, political, and ethical processes. I think our background in design means we look at the processes of production in the broadest sense of the term. So, a lot of our work is around the production of the body of the animal. We really try to question who or what is produced in this process. Furthermore, we frequently like to visit the sites where these processes are undertaken, because this gives us cause to examine them in a different way.
Can you give an example of this?
T: For example 75 Watt, a piece we made a few years ago in China when we appropriated a factory assembly line to produce an item that had no intrinsic function other than to record the choreography of the movements of the workers assembling it. It was important to us that all the components were made in China and that we actually went to the factory there to film the actions of the assembly line workers – this enabled the work to become situated.
So is your work motivated by a wish to make people more aware of these processes?
R: I would say our work comes from a desire to find ourselves within these entanglements. To reflect on and really think about the way we operate in the world. We are critiquing these processes while acknowledging our own role in them. We don't want to be didactic, but we are also doing more than just observing.
T: Our work comes from curiosity, which has extended into finding ourselves. Whether we're talking about factories in China or mines in East Congo, or goldfish created in a laboratory in Japan. These processes that exist are so incredibly entangled within the framework of global capitalism that we must also include ourselves as part of that, as artists or whatever. We assess processes in the sense of critical deconstruction rather than wagging the finger of censoriousness.
A growing number of people are waking up to the damaging effects manmade processes have on the planet. Is the growing activism around climate change impacting your work in any way?
R: It's incredibly encouraging to see this shift because we've been thinking about these things for a long time. I think Extinction Rebellion is a wonderful, inspired thing but although it's an amazing example of activism from an artistic perspective it doesn't really inspire an interesting piece of art. So while we can engage with activism outside our practice we always try to bring a more complex view to our work. It's not black and white. With activism you can have a really simple message like 'use less plastic' but I wouldn't take it into my work because I wouldn't be able to make it more interesting than that.
T: Societal shifts or zeitgeist movements are really important, but for our work focusing on them would be destructive because they are too reductive.
You talk about your work very politically. Do you want it to incite political change with your practice?
T: Our work is political because these processes are inherently part of the system of which we are a part. The production of an object is not presented to us as political but there are so many layers: from trade deals down to where it is made – everything. I wouldn't say we want to cause political change in the same way an activist would. I don't think there is such a clear purpose to what we do. Political change relies on answers and we don't aim to provide certain answers. But I imagine some people who look at our work may ask themselves a whole set of questions. And maybe walking away with these questions can in some way provoke change.
R: I feel like the way we work is to try and sense undercurrents in society, a bit like seismographs. We try to sense things that are important to think about and important to explore. But we don't have a master plan for solving them.