Thilo Jenssen's works incorporate sign structures, pop culture, and physical states of emergency. Existing material is subject to a degree of preparation to the point where a fragile perfection is attained requiring the necessity for protective and supporting brackets. The studied sculptor experiments with thermo-active and other techniques plus a variety of media, yet employs a painterly approach that may result in what may be perceived as an installation.
Thilo, you studied art and philosophy in Kassel and after your move to Vienna registered in the painting class of Daniel Richter. What motivated you to register for an additional study in art?
Although I had already studied sculpture at the Art Academy Kassel with Florian Slotawa and Christian Phillip Müller and graduated in art and philosophy, my artistic focus was always in painting. In Vienna I felt the need to register for a pure painting class, in order to further deepen my painterly practice in a new city and a different context.
Despite your focus in painting, at first glance your works appear like installations and sculptures.
I have repeatedly worked and experimented with a variety of media and my work processes often suggest a sculptural approach. Frequently I produce brackets or "displays" for the images which become an integral part of the work and enable me to treat them differently in space. This may suggest an installation, but I understand these elements as painterly expansion and in turn they create further references. According to the positioning of the works or their reflective as well as thermo-active picture surface, the space and the immediate environment for that matter, receive further meaning.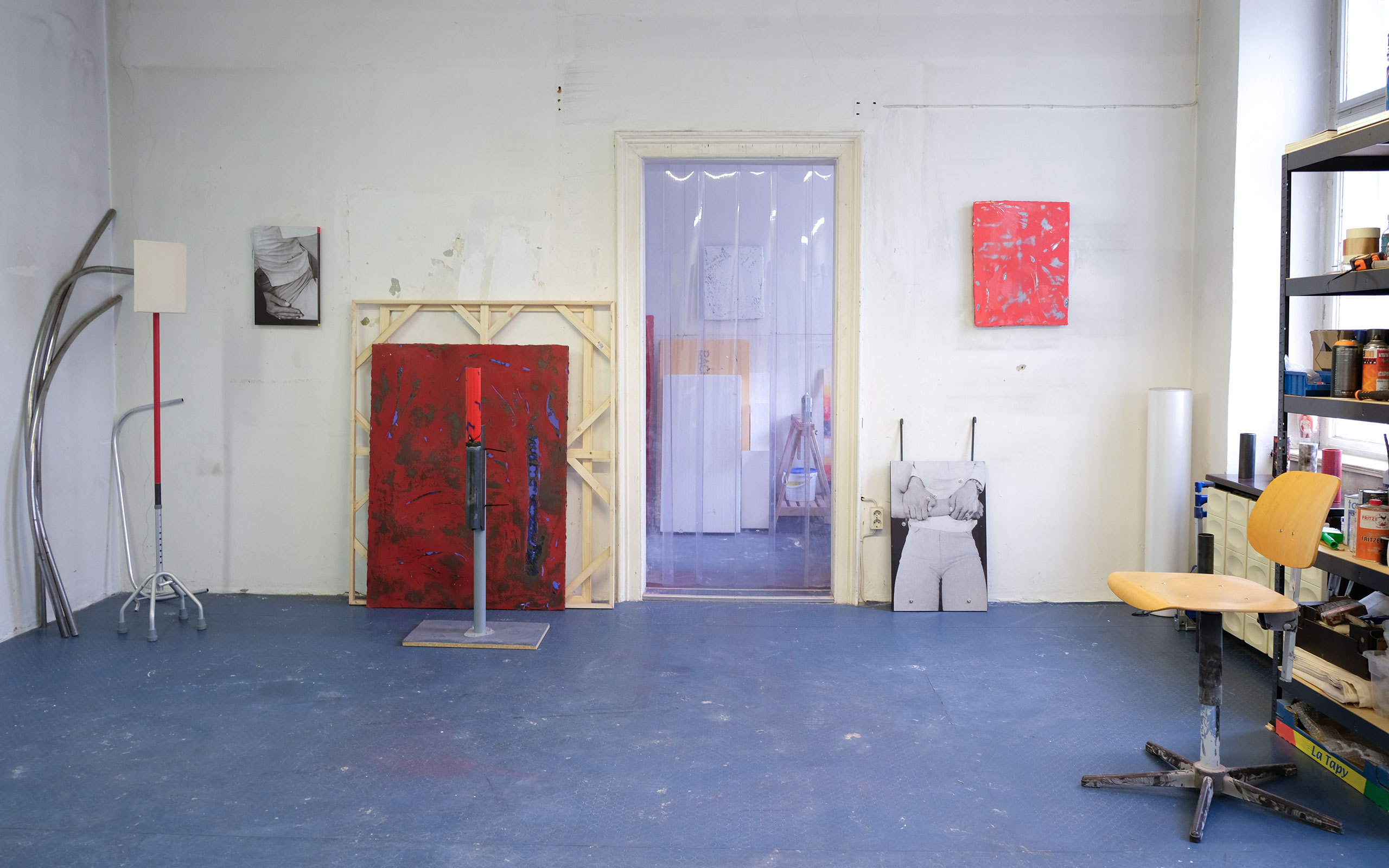 Can you describe how the work process generates the sculptural approach in your painting?
My paintings develop in a very processual way. I follow a special procedure which actually generates the painting. I sand, fill, and varnish the layers repeatedly until a "sleek" surface is obtained which appears almost "like a screen". The application of the paint and the sanding and filling, creates an archeological access that constantly exposes underlying color surfaces. The images take on something physical, and fine cracks and tears and other unplanned things appear that cohere the production process making it visible. These unintended variables and small mistakes in particular I find interesting and they become the reason for further works.
How did this work process develop?
On one hand I wanted to shift the characteristics of painting and include visual impressions of presence. A significant influence was the "Finish Fetish" movement of the 1960s in Los Angeles where a group of artists around John McCracken used a variety of materials and techniques borrowed from the industrial world, especially the automotive industry, to produce objects inspired by Californian culture. I too use lacquers and industrial paint to make shimmering object paintings that may refer to the sub- and pop culture of my generation or are simply based on everyday observations.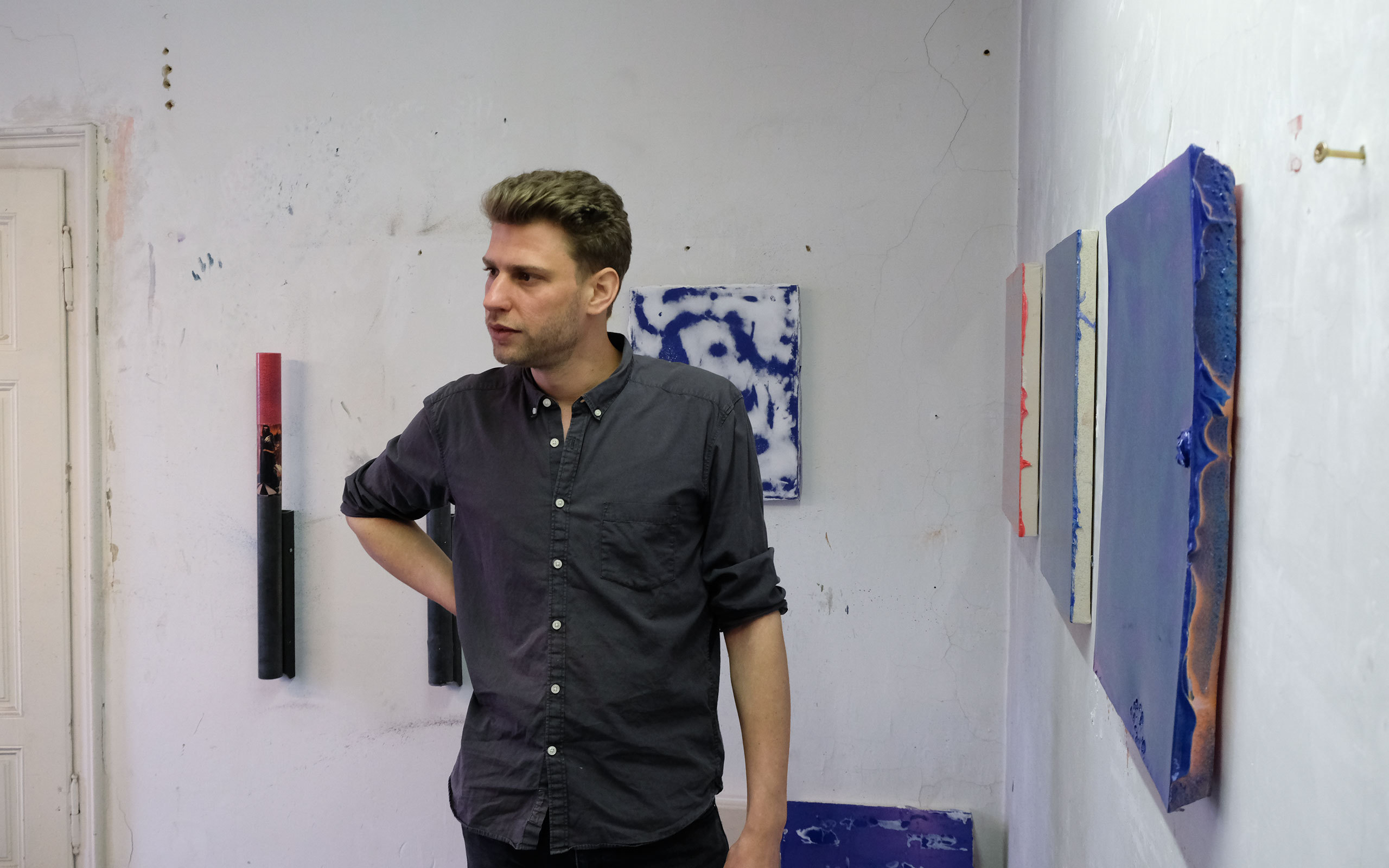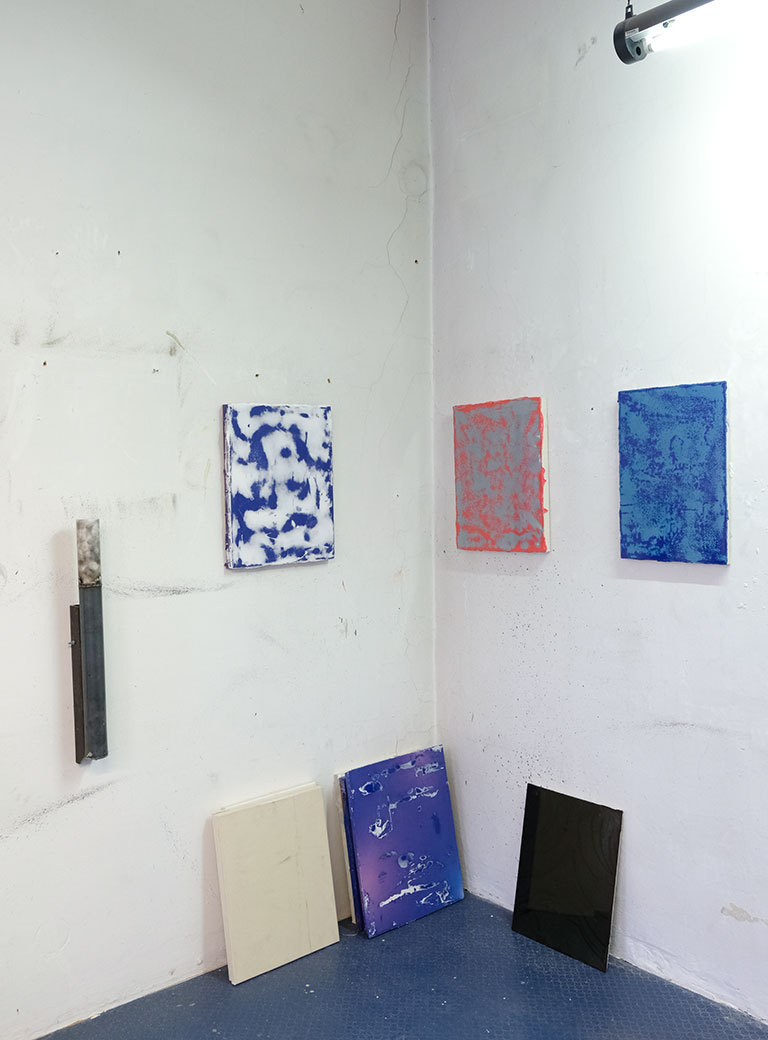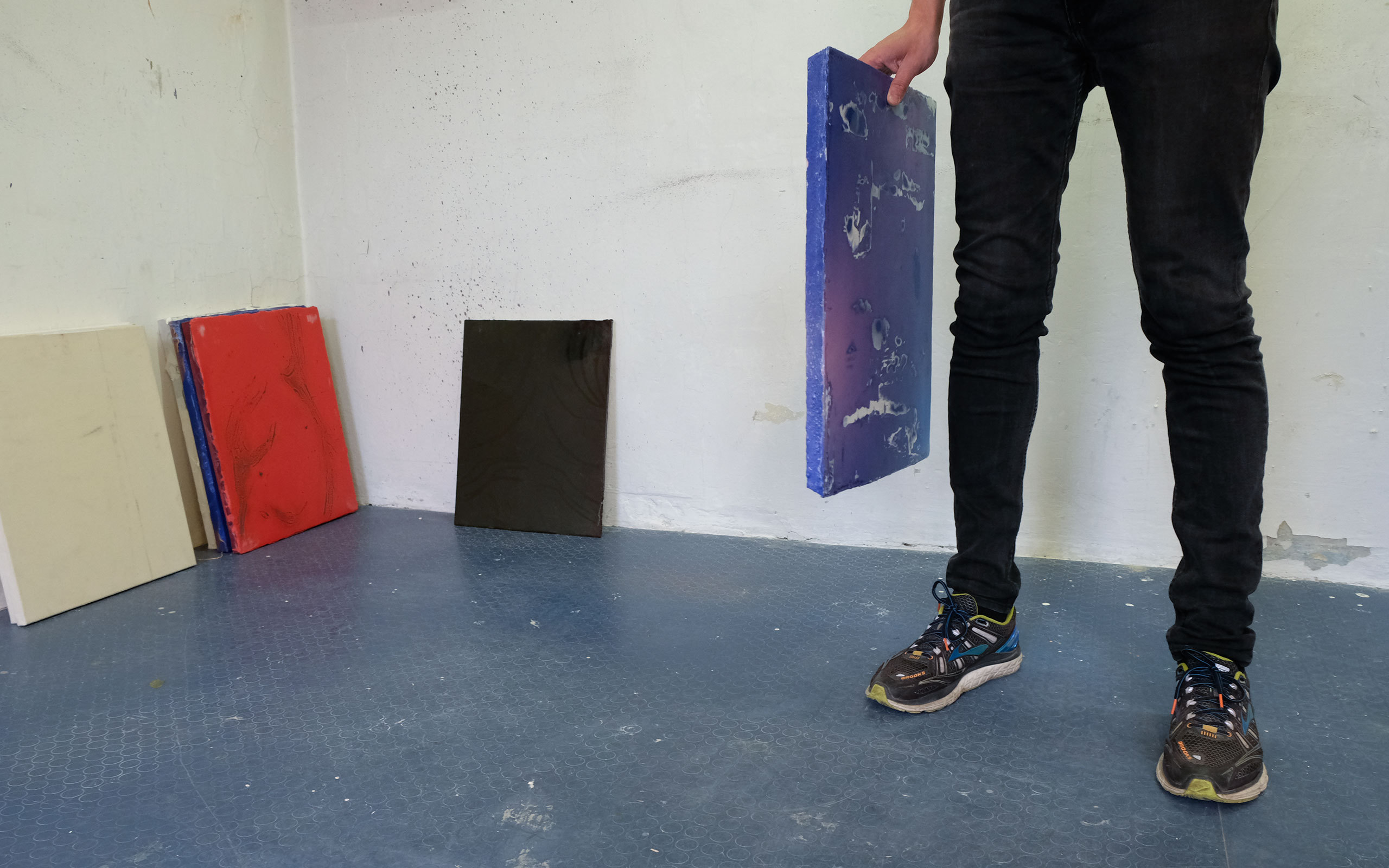 How exactly are you incorporating pop culture and everyday phenomena in your work?
I work a lot with "found elements". In pop- and sub culture, I refer to linguistic sign systems, which I combine with everyday events, which I have experienced. For example, in some of my works I used lyrics by Bonnie Tyler and record covers by Iron Maiden. Art historical references such as the work of Blinky Palermo or Henri Matisse can also play a role. The urban public space is important to me, and in that context I am interested in the reexamination of public architecture and other structures in terms of graffiti or skateboarding. This is a context in which the playful access to systems and to forms of action I find very exciting.
Philosophical trains of thought like those of Michel Foucault can also be discovered in your works. How do you deal with these philosophical theories?
I don't incorporate complex, philosophical theories in my works, but I do use ideas which I consider exciting and to which I want to add further considerations. In my work Stabile Zustände from 2014, in which I extensively examined the human figure at rest in the stable lateral position, I referred to Michel Foucault and his ideas concerning subjectivization and how biopolitics govern mentality and personal physical discipline. These references function as subtexts flowing throughout my work.
In addition, you have a special interest in photographic illustrations concerning First Aid measures. How do you approach these images, and what is it about them that fascinates you? I have always been interested in illustrations of First Aid measures, because taken from their original context they can inspire other associations which can be very disturbing. I use details of these images and concentrate on the choreography of the depicted bodies, which may in turn appear at least in part as either invasive, ritualistic, sexual, or tender. I am interested in the ambivalence of the content as well as the resulting moments of "stop" and "restriction". The depiction of the bodies is arranged, they are controlled yet at the same time they intertwine and become a collaboration. It is about stabilization in an exceptional and emergency situation that has to be created again and again through human action.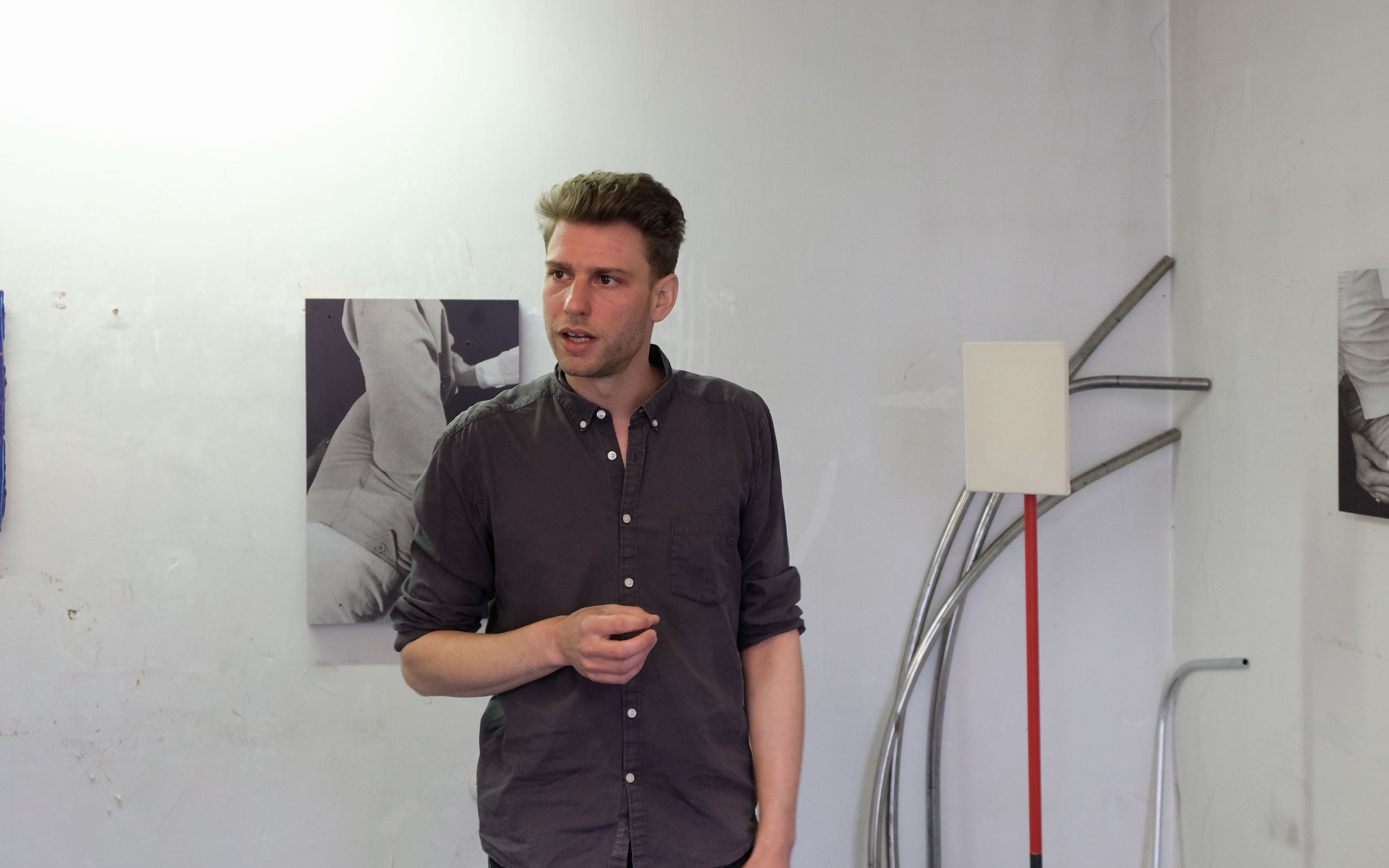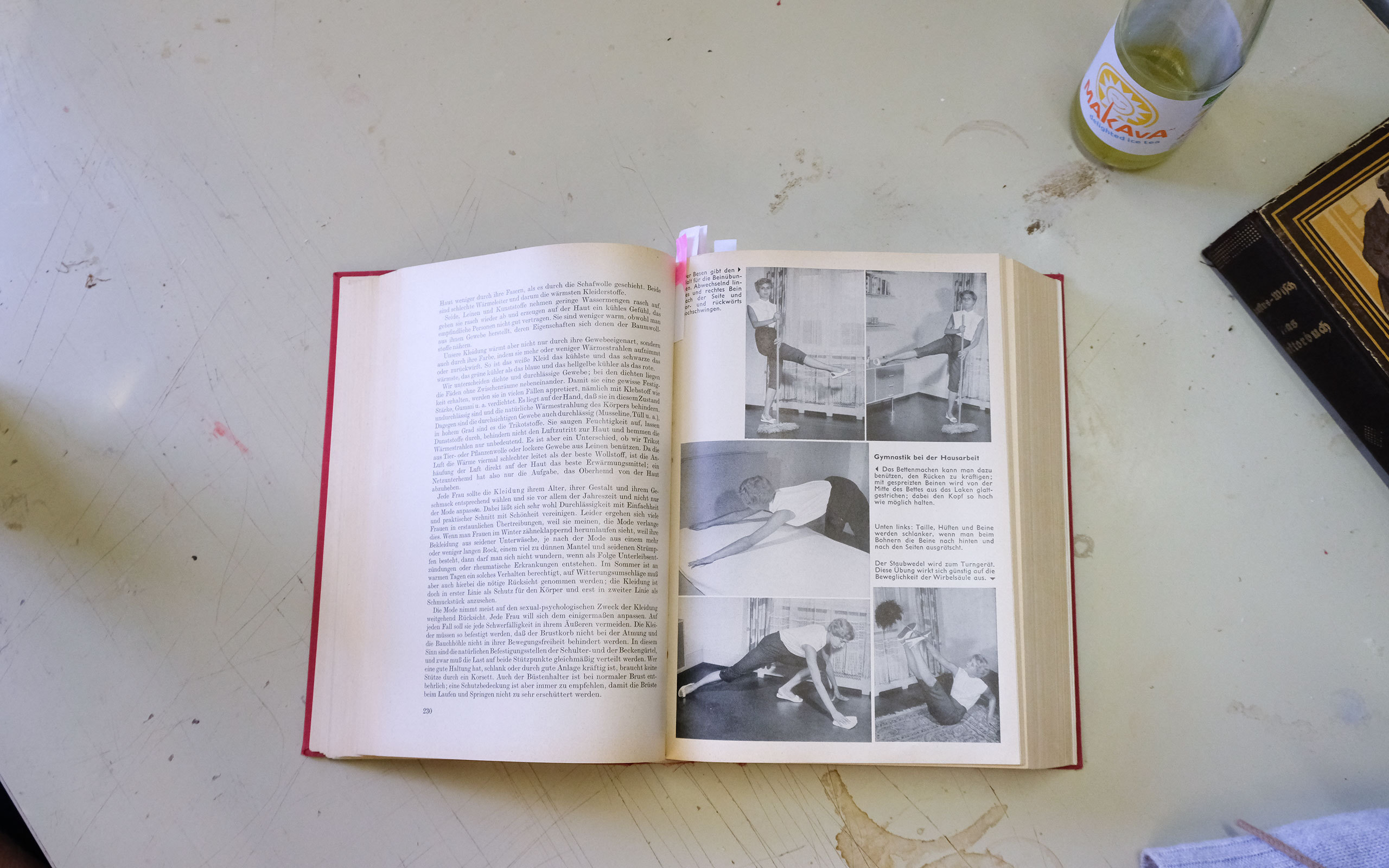 Besides First Aid are you also interested in "emotional" support measures?
My work deals with different levels that are intertwined. Stable states which nevertheless collapse and have constantly to be recreated and rebuilt certainly also exist in emotional and existential areas. However, it is important to me that my works don't become plaintive. I therefore handle the emotional aspects of my work with physical components seeing the human being more as one that is always dependent upon support.
Many references in your work, regardless of whether in a pop cultural or a more general context, appear to be context- or site-specific. What role do these two components play?
The current environment and everyday experiences always have a great influence on my work. That is especially evident in my exhibitions New Energy and Restless Legs. Both shows have the same point of departure, but they differ in the changed context and settings. In Restless Legs I began with a series of sculptures, the Cigarettes from 2017, which allude to the characteristic Viennese ashtrays one finds in the public space. This way the objects are read differently depending on whether one has visited Vienna or not. The specific configurations or solutions of structures and phenomena say a lot about their context and often generate very different or even contradictory associations. Hospitals, automobile tune-ups, and nail design are also areas that have their own codes, rules, and logic. It is very interesting to deal with it playfully, to shift them in one's own practice.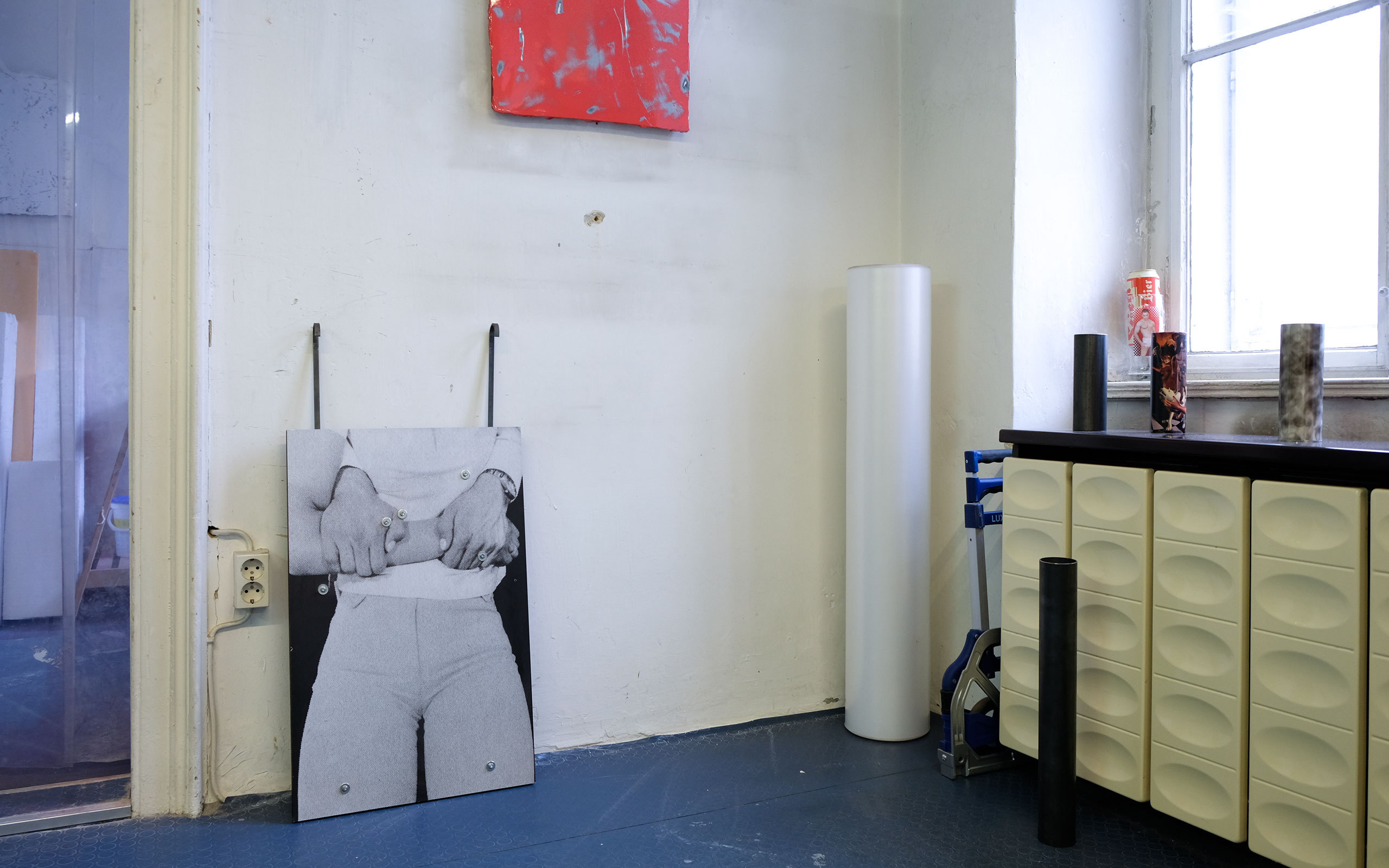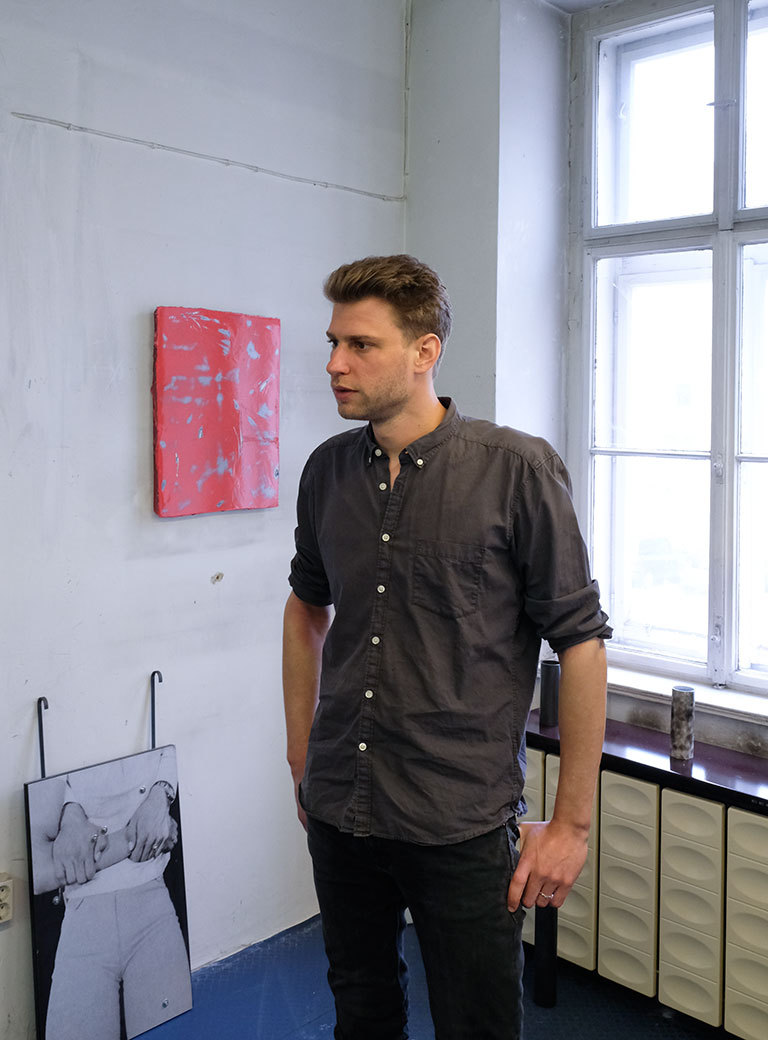 Before beginning your residency at Willingshausen, you were the recipient of First Aid yourself. The experience was incorporated in your art. Can you talk about it?
A few weeks before my residency was to begin, I broke my leg badly during a walk in the Vienna Central Cemetery. By an unfortunate coincidence an obelisk weighing 250 kilos fell on me. After initial first aid, a hospital stay resulted in my residency at Willingshausen beginning slightly late. I refer to this accident thematically in my work series New Energy, which evolved on site in 2016, inspired by my need for quiet and rest during my recovery period.
Exactly how did you realize it?
I arrived on crutches at Willingshausen and found myself in a spring-like idyllic period, which reminded me of a commercial image of nature and genesis. With the aid of my crutches I went for long walks and felt as if on a rehabilitation stay during which both colorful and monochrome "landscape paintings" evolved. I converted my crutches into supports for my paintings. Some had been painted with thermo-active color and through exposure to sunlight and other sources of heat; they constantly changed their appearance. In addition to this I showed banally sweet photographs reminiscent of stock photography of green meadows and bright yellow fields of rapeseed, which I had taken on my walks. New Energy was arranged as a productive and ironical handling of my accident. For my exhibition Restless Legs with König2, I expanded the theme to elaborate upon the theme of recovery in the urban space. When I was back in Vienna and surrounded by very different things, I had the image of a smoking area in the hospital complex in my mind that was used by strange crutch-like beings in a strange social constellation.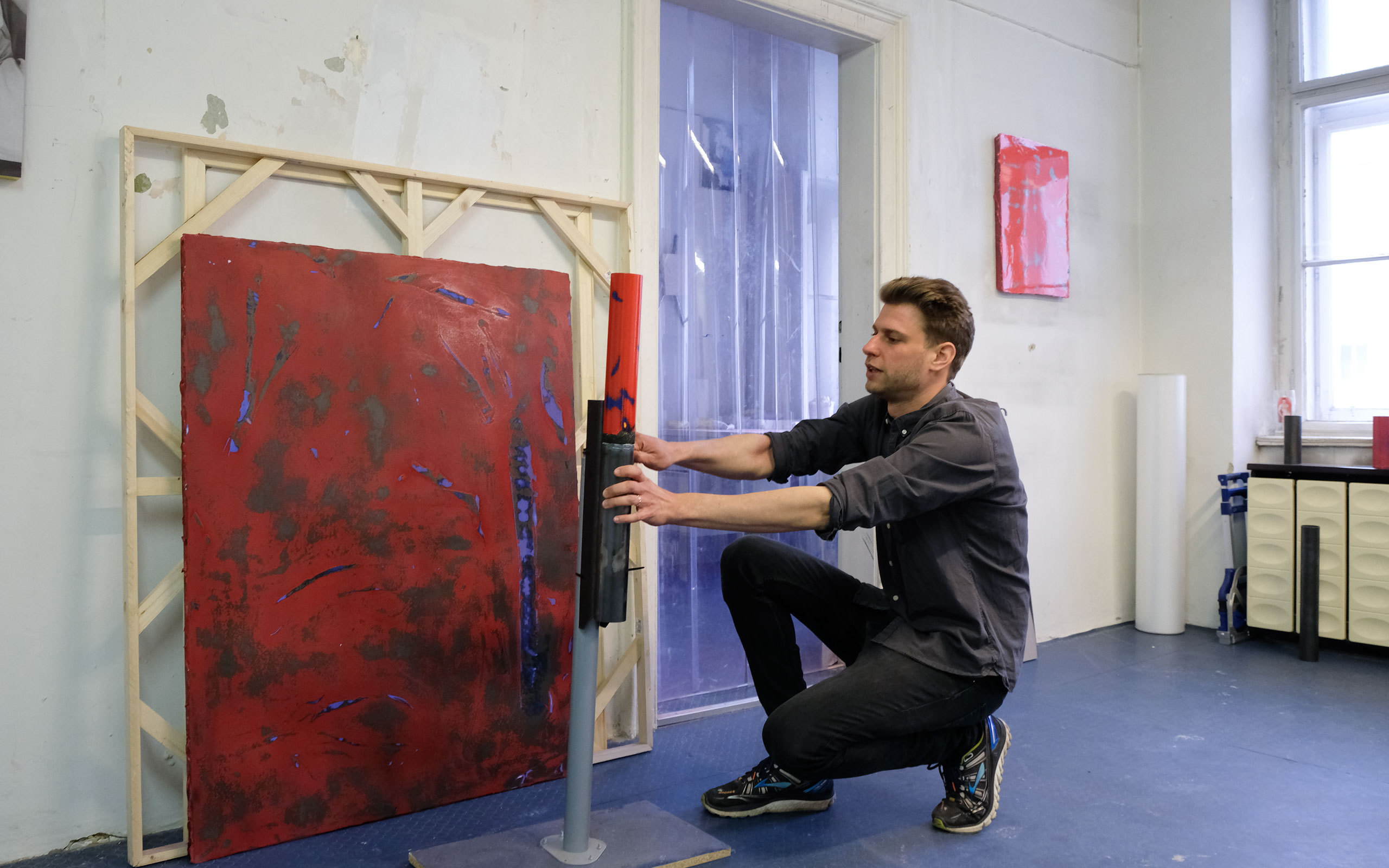 Your paintings are of a consistent and convenient size, are there inhibitions regarding their becoming "larger"?
At the moment I work a lot with one format in which I can work fast and can quickly experiment with new ideas. That way I can realize observations and approaches directly and pursue them. Because of elaborate processes large formats have a long preparation time that can also be inhibitive in allowing for serendipitous mistakes and surprises, nevertheless, I do also work on larger paintings. Often the paintings mounted on support brackets appear as figures or caricature-like beings. Here the format plays an important role in stressing the feature of physicality.
Are you working on a new project, and if so, can you discuss it?
At the moment I am preparing several projects, because I participate in several group exhibitions, including a show in Los Angeles with the American artist Hannah Boone, which is planned for the beginning of 2019. Supports and locking mechanisms will continue to play a role, but there will also be more representational elements. In addition, I will curate along with the artists Anna Schachinger and Michaela Schweighofer the exhibition SEASONS. This is an exhibition to which four times a year, a different young artist distinguished by an unusual artistic practice who has not previously exhibited in Vienna, is invited.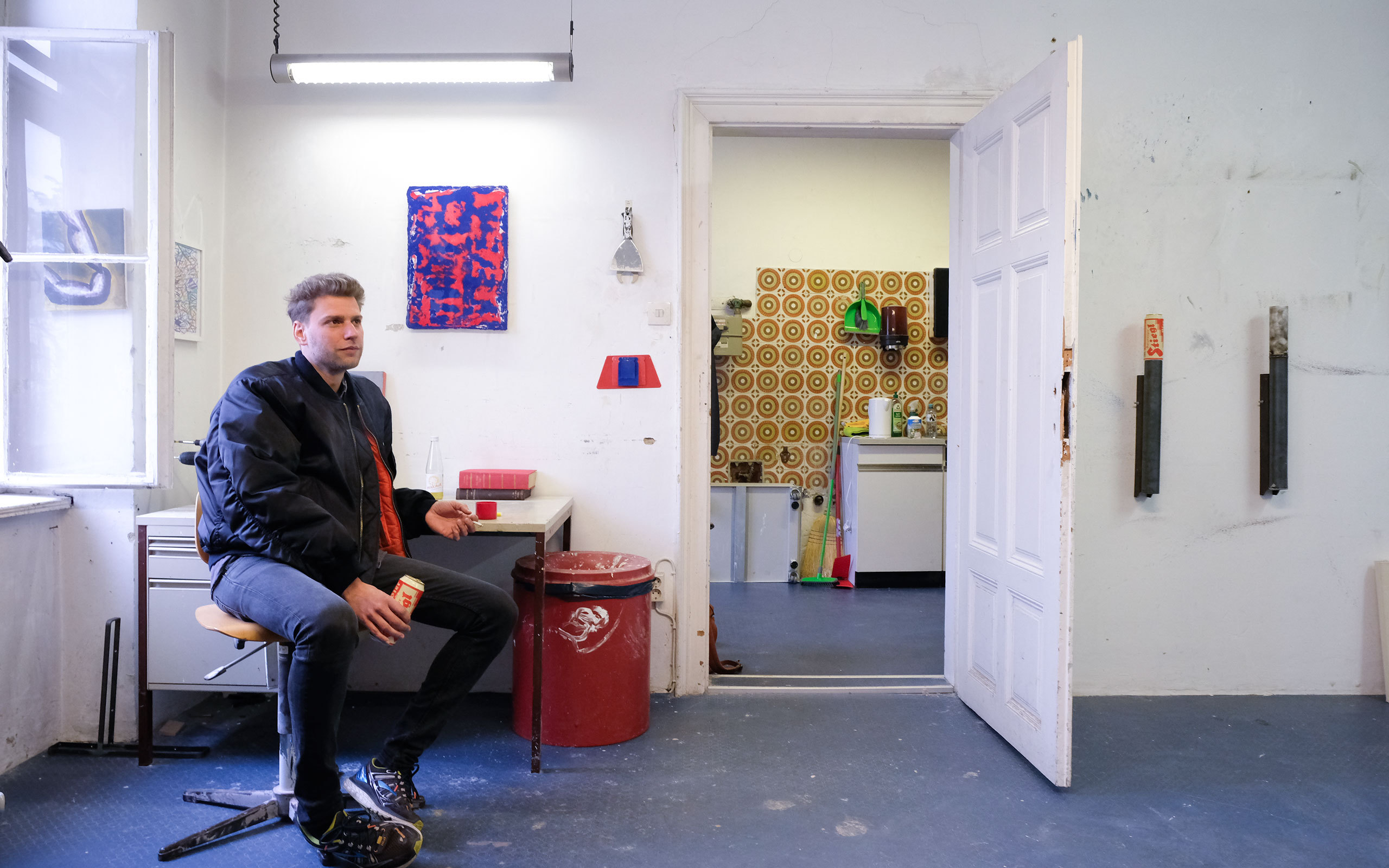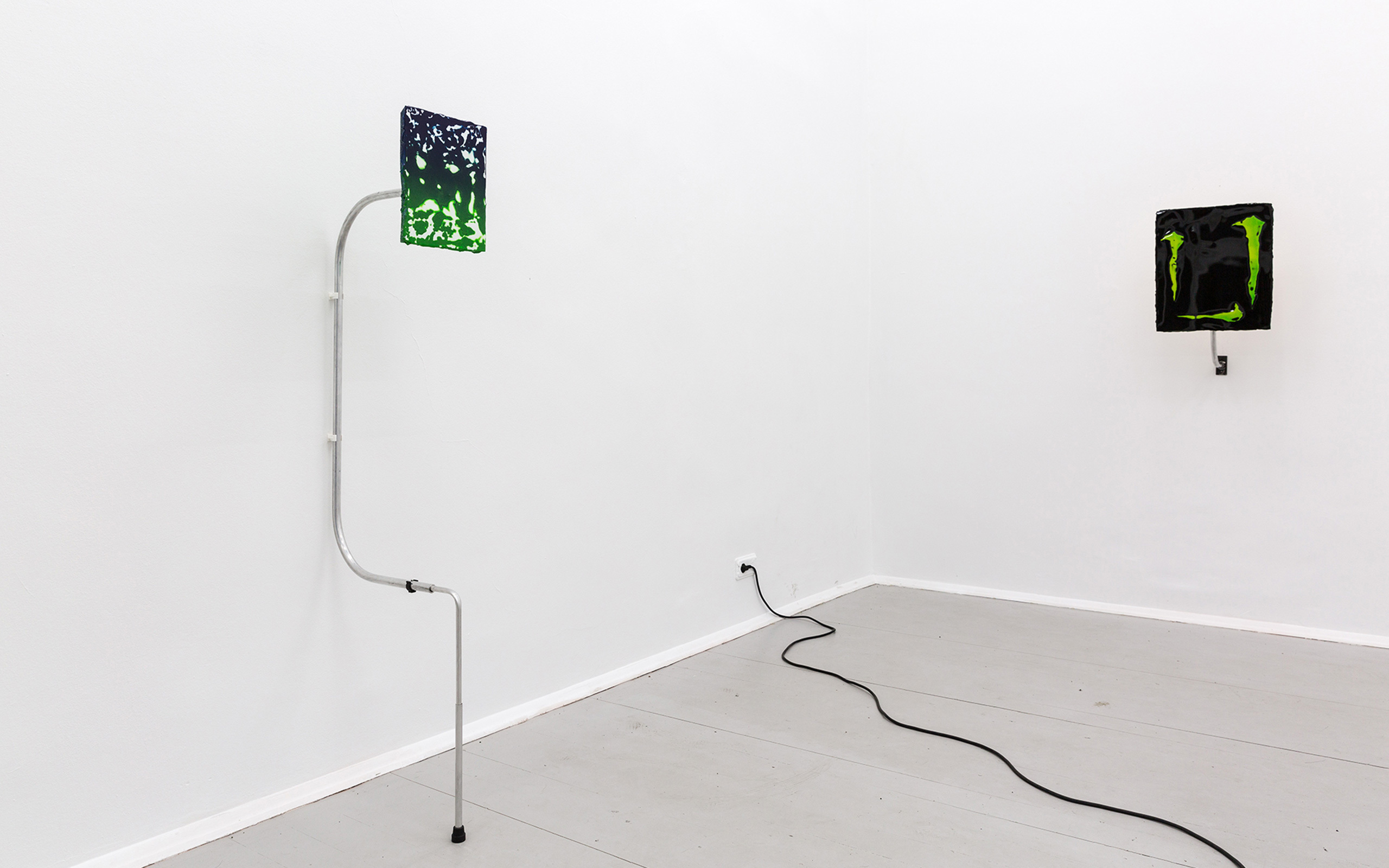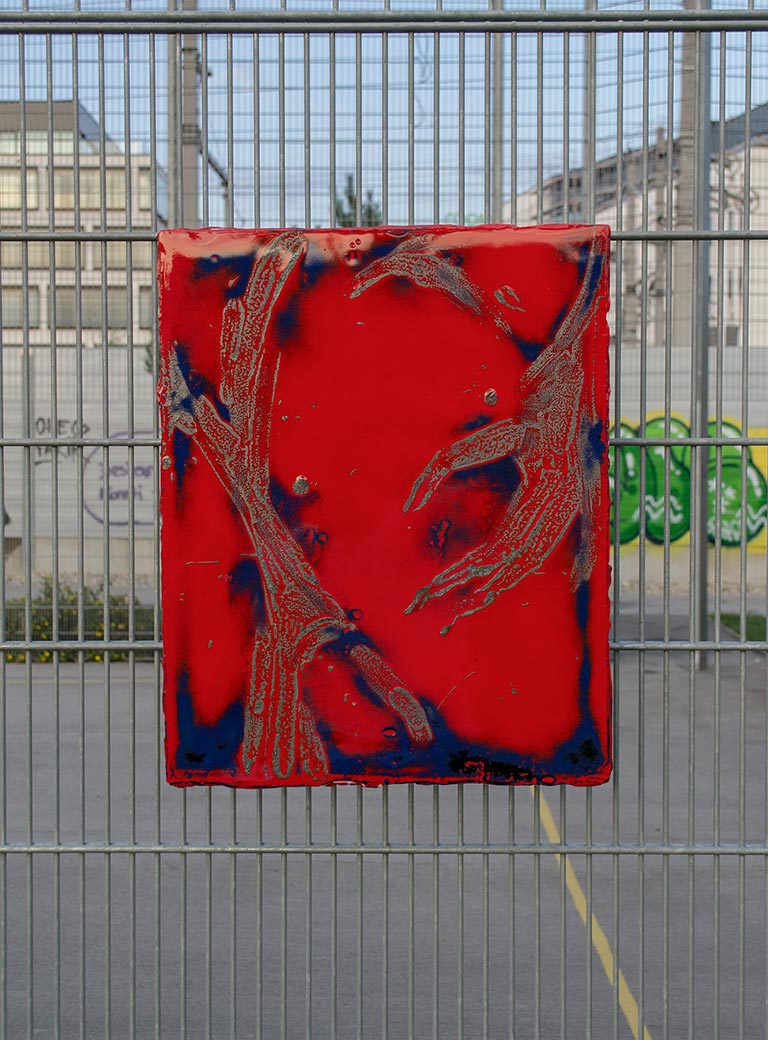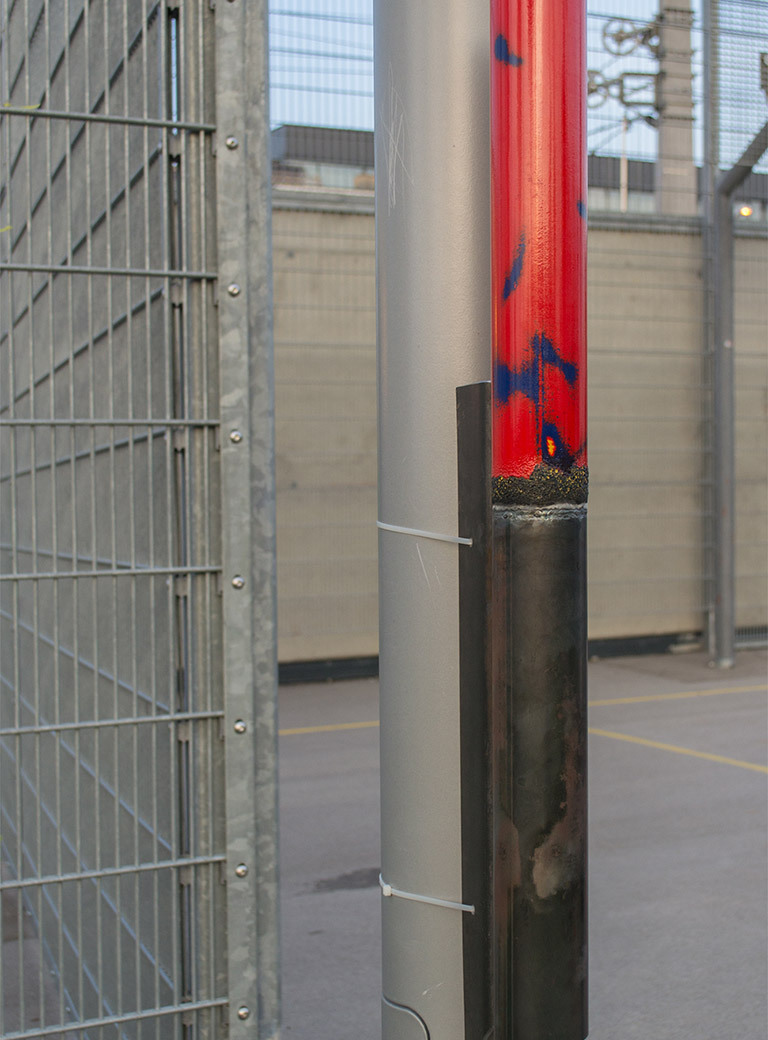 Interview: Alexandra-Maria Toth
Photos: Florian Langhammer