Inspired by her surroundings, Elisa Alberti composes using just a few delicately nuanced colors along with black and white, shiny and matt contrasting forms forming geometric compositions. The artist, who grew up in Bruneck in the South Tyrol lives and works in Vienna and uses a minimalist formal language. Elisa spoke with Collectors Agenda about the tranquility in her studio and how the irrepressible urge to exclusively make art has changed her life.
Elisa, at what point in your life did you know that you wanted to become an artist?
There wasn't this one specific moment. It was more of a natural process. I grew up in an artistic family, both of my parents are artists, and for me it was more of a question of whether I too wanted to make art, or whether I wanted to detach myself from it. As a teenager there is often the tendency to deviate from what one's parents are doing, and that was my case when I was younger. In the end however, to become an artist was a natural process from which I didn't escape.
Did your parents encourage your career choice as an artist?
They encouraged me in many things: I learned to play musical instruments, tried theater and many other things and I drew, painted, and took photographs. Towards the end of school, the question arose: how seriously should I pursue this? That was the point when it became clear to me that I couldn't avoid it. Beginning my studies at the Vienna Academy of Fine Arts Vienna was an important moment, although initially, I didn't have a concrete idea which direction I wanted to take. When applying for admission, you could specify two to three classes, but the decision on whether you were accepted and if so which class you would major in, was made on the basis of one's portfolio and the results of the entrance examination. My portfolio included monotypes among other things, and I began studying printmaking techniques under Gunther Damisch; later I attended a class in graphics and printmaking techniques, which was taken over by Christian Schwarzwald in my final two years of study.
Could you explain monotypes, please?
Monotype is a one-time printing process, that is, it's a technique with which one can only make a single or very few prints compared to screen printing and other techniques. Only one or a very limited number of prints can be made from a plate, as the colors fade with each subsequent print.
Do you have a plan B for your life as an artist?
I haven't had time to think about it. Everything has happened so quickly in the last few years and it seems to have developed quite naturally. While studying, I also worked part-time as a receptionist or in the restaurant business. It was always overwhelming for me to have to do that to earn a few hundred euros to supplement my student grant. At a certain point I found it too confusing: two days in the studio, then two days of part-time work, so four years ago, I decided I could no longer do it. I needed to quit this routine and try another way. I developed a strong determination to concentrate on my art and to abstain from part-time jobs, and it worked, I used the time I had freed up intensively in the studio.
How would you describe your work in a few words?
I work two-dimensionally in a rather reduced, abstract formal language, partly tone within tone, partly in monochrome. Sometimes I set a strong contrast with black. The forms influence each other. Surface texture is very important to me, so I ponder questions like: What will I render matt and what glossy and how do the surfaces relate to each other? Can one recognize the background, can one see the structure of the canvas, or is it smooth?
You studied with Gunther Damisch. As an important Austrian representative of the "Neue Wilde", he cultivated an expressive style. In the 1980s, the "Neue Wilde" understood themselves as a counter-movement to the Neo-Geos. At first glance, however, your works are more reminiscent of those of the Neo-Geos. How did that come about?
In the early days of my studies, my work was a quite wild. By contrast, it now tends towards accuracy, it's precise and clean. Back then, I worked only on paper and demanded much from the material, using a lot of water, painting and spackling over it.
Such a complete change of style is interesting. Have you completely broken with your old work?
Not really. It paved the way for my current work. In my earlier work, I combined concrete and abstract motifs. My source of material was both the world of plants and architectural motifs. I grew up in a small town in the South Tyrol, in nature and surrounded by mountains. Before I moved to Vienna, I had never spent very long in a city.
How has Vienna, the city where you live and work, influenced your art?
I have always included my surroundings in my art. Originally the work was more organic and then became increasingly graphic. I observe what structures I discover in my surroundings.
When you look for inspiration, do you go for a walk in the city and look for shapes?
Yes, that happens automatically. I always like to look up.
The colors that we see in the works often occur in Vienna, this gray is a typical base color. Is that a coincidence?
No, it's not a coincidence. At the beginning of my time in Vienna, I only worked in black/white and gray. Currently it's always the same nuances: gray, skin tone, lilac, and blue. I had a few stays abroad, where I would mostly work with colors that I could buy on site. My last trip was to Indonesia, where the colors were stronger.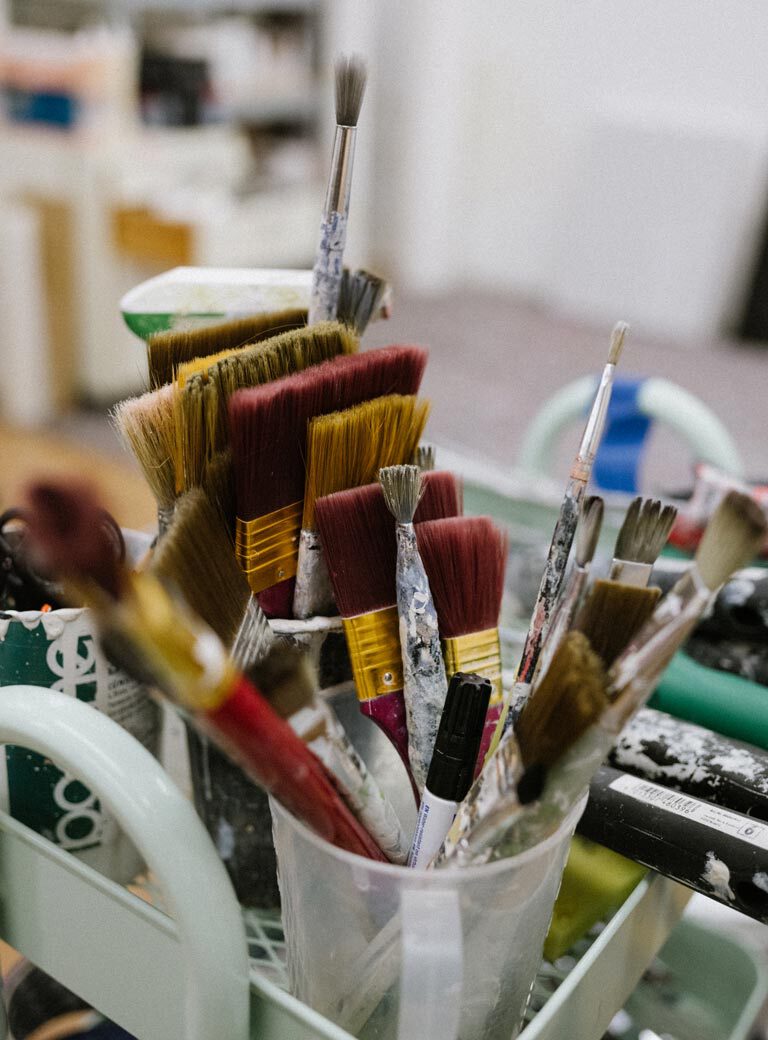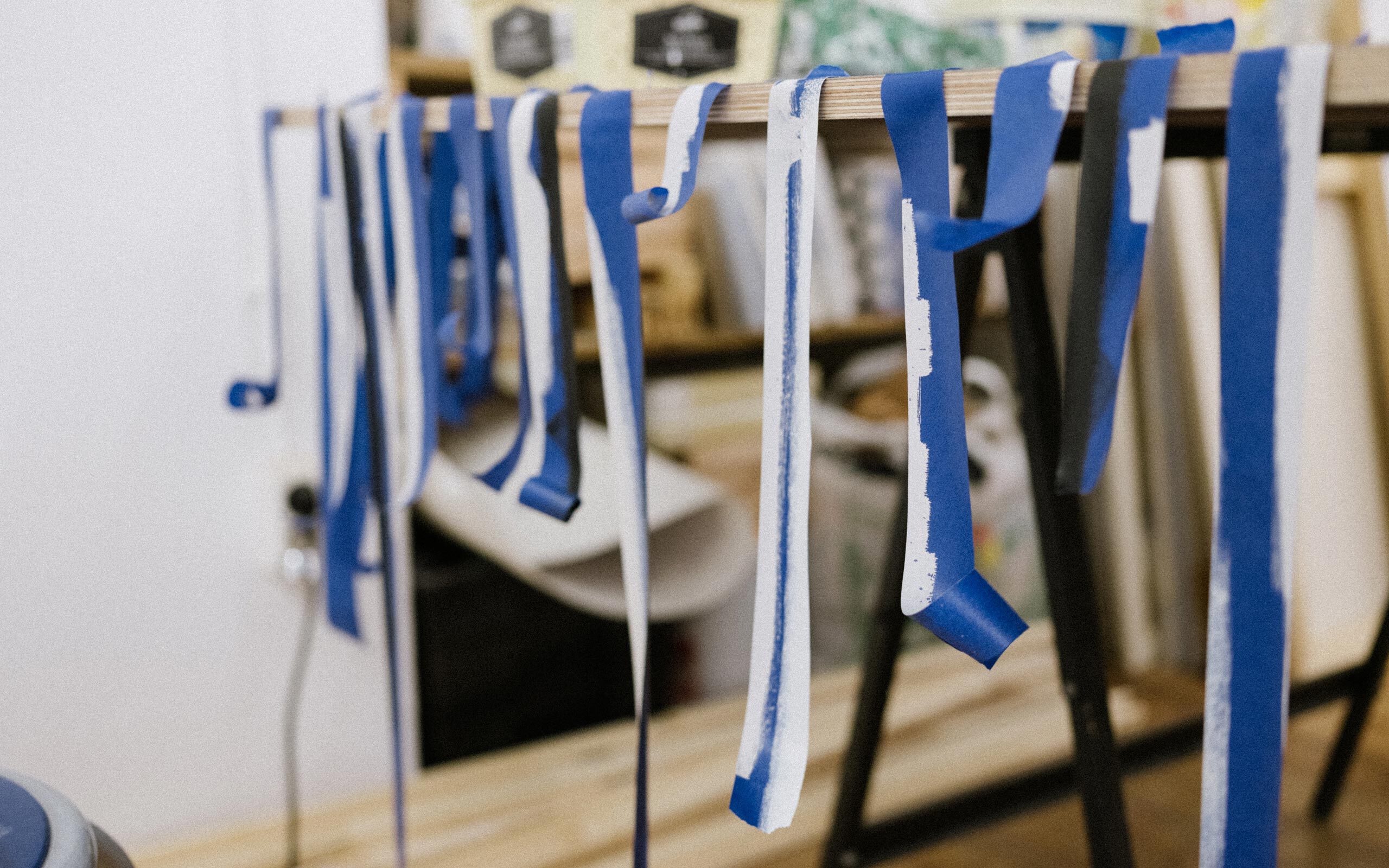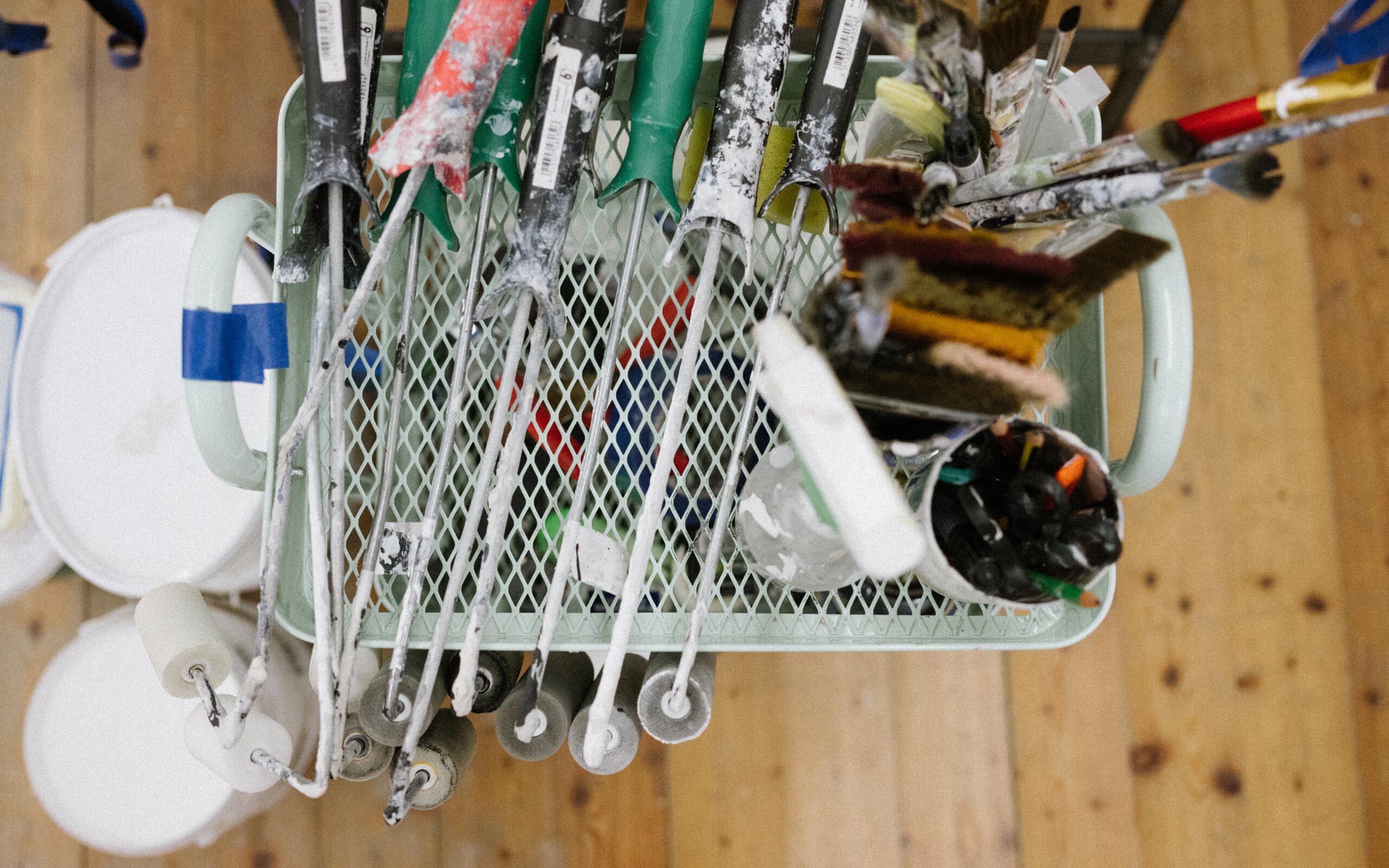 What materials do you use and how do you apply them?
I use acrylic and varnish paints. Currently I work exclusively on canvas and wood. I use rollers and brushes when I apply the paint. I begin with pencil sketches. I am happy to stretch the canvases myself, however, recently I have for the first time, had someone else do this for me.
Do you transfer the sketches freehand onto the painting surface, without using any compasses at all?
Yes, without a compass, but with a ruler. For the round shapes, I use all kinds of things: Lids, pots – whatever comes to mind. I never use the colors straight from the tube, except for black or white. All others I mix to create new, not overly strong color tones. By applying the paint with the roller, acrylic paint usually turns out quite matte, which is the effect I am looking for. For the shiny parts, I apply varnish paint. When I work on wood, I often go for deep wood bodies and paint the edge as well. This gives the works an object character.
Do you work in series?
All my works are actually created in series. Nevertheless, it is important to me that each work can also stand on its own. The smaller works have more of this serial character and also influence each other strongly in the process of creation. They are created as a work cycle, as it were, for which I choose a certain format. While I am working on one work, the idea for the next one often emerges. I even have the impression that you can tell when I interrupt a work cycle. I mix the colors fresh each time. Thus, in the next series, you may perhaps see a difference in the color hues.
In the continuation of the work, is there a logical system, for example, to represent the same shape reversed?
No, there's not a "system" per se. However, I always return to forms that interest me and rearrange them on the background. The more I am involved in a series, the more naturally the design process progresses. It is important that at least two or three works are created in succession in the same format. The small formats are easy to handle on the table. Motif and color behave very differently on a small than on a large canvas. I need more time to get involved with it.
Are there any female artists who particularly inspire you?
I am very impressed by Agnes Martin's work. But I have also studied the work of Tauba Auerbach, Christopher Wool, Sean Scully, Jürgen Partenheimer, and Svenja Deiniger.
Do you think your life as a young mother influences your life as an artist?
At the moment, I have to coordinate my studio time with my boyfriend. It is a new situation. Time has become a new factor; it passes so very quickly and I have to manage it well. I can use my time in the studio well and work super concentrated. I used to come to the studio and have a leisurely coffee first. At the moment, I use my studio time more intensively. This can certainly be a bit stressful, but such a small new creature also gives you an incredible amount of strength!
It sounds like you're in balance.
With enough sleep, which isn't always easy with a baby, everything is fine. What I'm missing at the moment is the exchange with other artists. Actually, I always like to be in company, to cook and to invite people. This exchange with other artists, which is inspiring for me, including the studio visits, is coming up a bit short at the moment.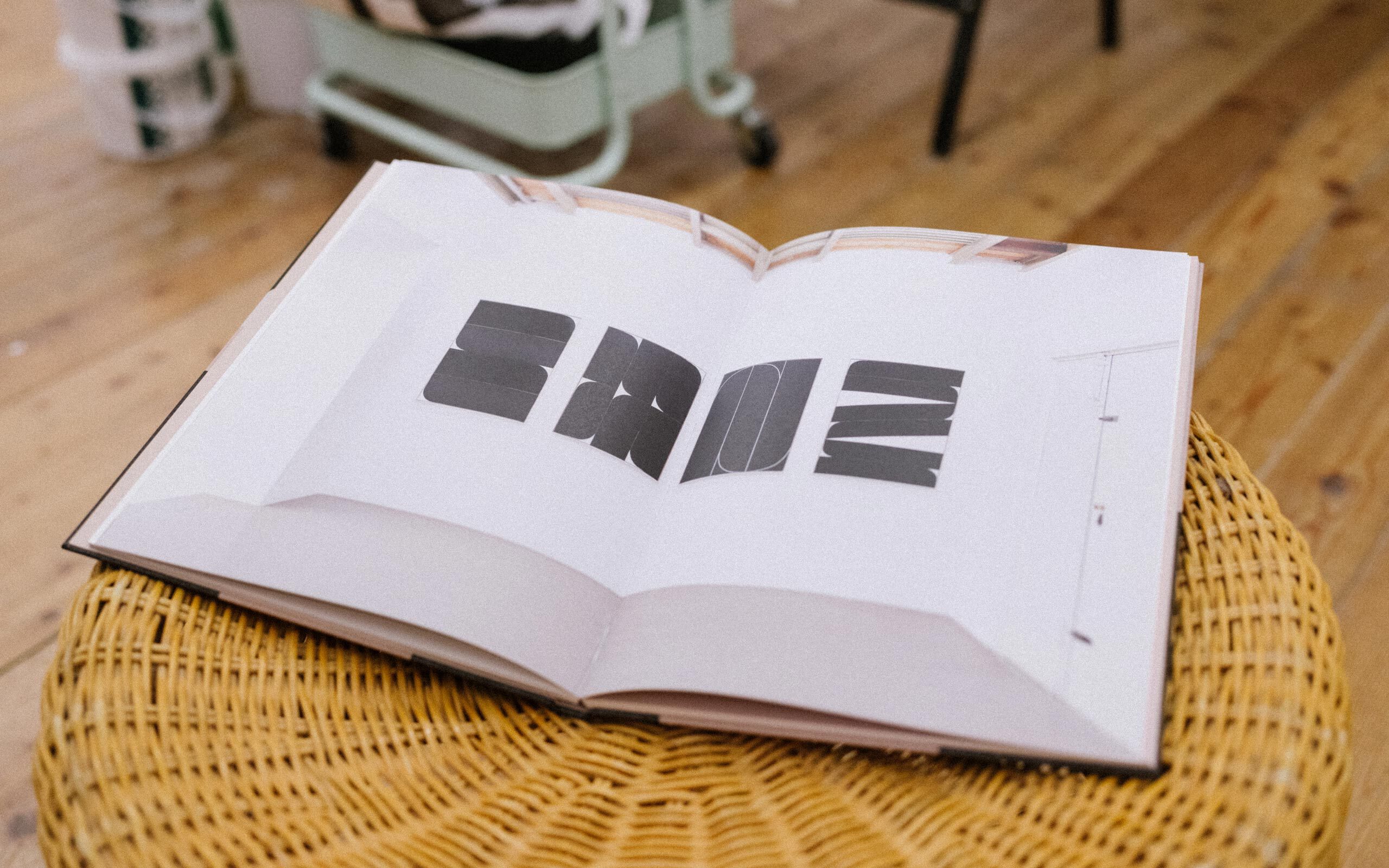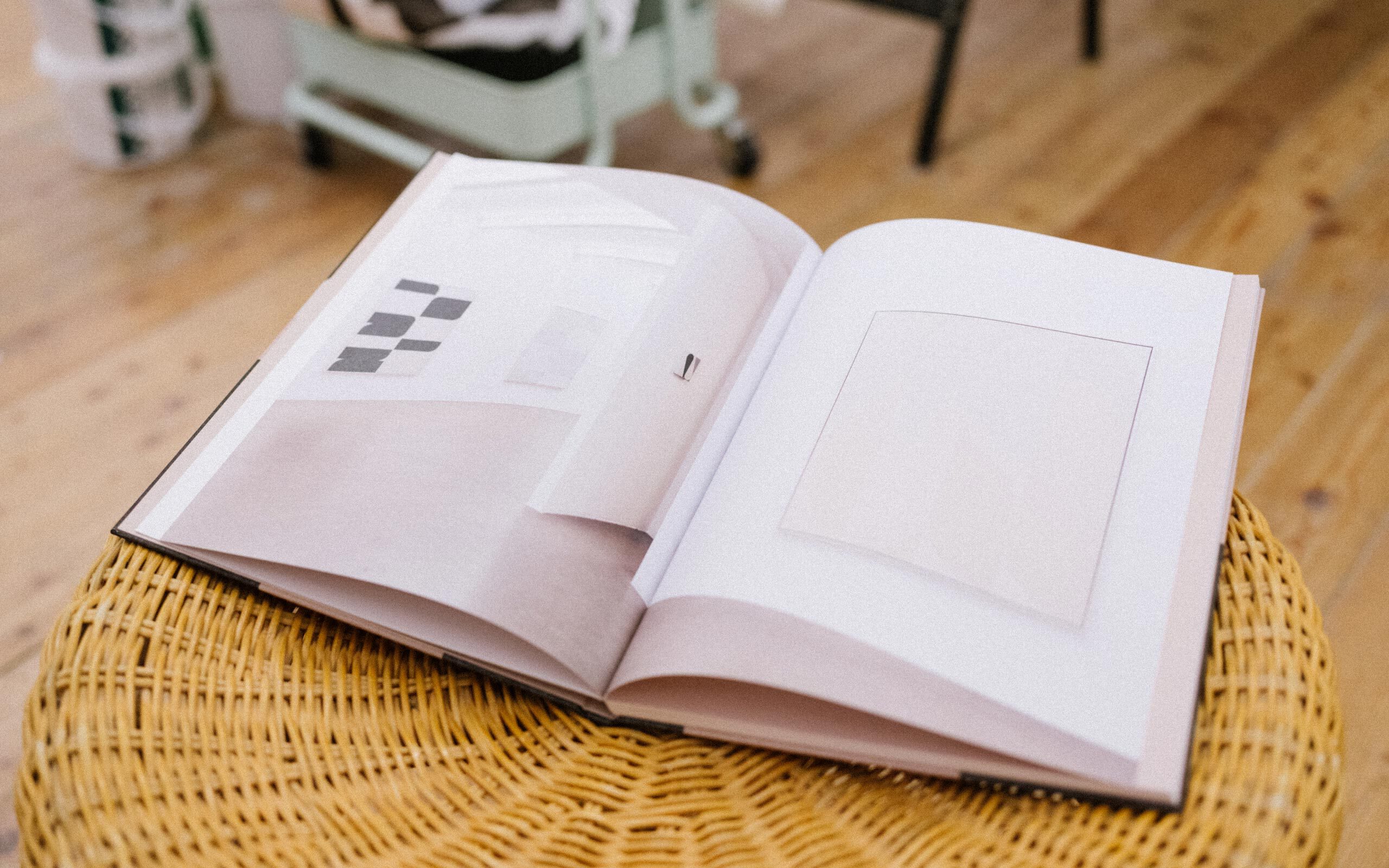 Can you give us some names of artists with whom you are in exchange?
Patrick Roman Scherer, a draftsman I was in class with, has become a good friend. His way of working and this irrepressible urge to do so has inspired me a lot. I also met my friend Frank Maria at the academy.
Has your friend influenced your artistic development?
He works in a completely different way. Nevertheless, from the moment we met, a lot happened in my work. I was very impressed by this ease of his work. He gets things done so quickly, he can make something out of any situation, he doesn't have a studio, he just draws or paints any place.
What reaction would you like to trigger in the viewers of your art?
Perhaps a similar reaction as I personally experience in the studio. When I work, I become very calm and balanced. Sometimes I hear that my dark works are perceived as aggressive. It isn't my intention to be provocative at all, in fact it's important to me to create a balance between inside and outside. For me, the studio is a place of retreat, where I can come to rest, where I do not have to talk or to explain anything. So I like it when the viewers in front of my works have a similar experience.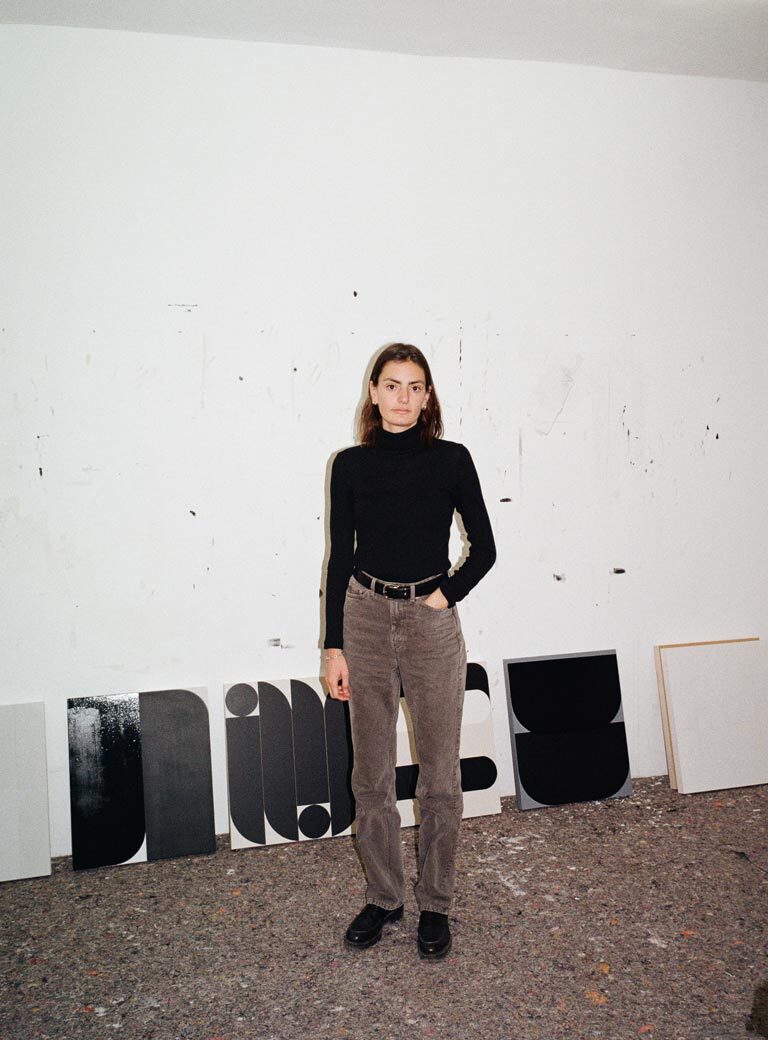 We talked earlier about the inspiration you find on walks through the city. What about in nature?
At the moment, nature is becoming increasingly important to me and my work. For a while, I couldn't imagine living in a rural environment again for any length of time. I regularly drive home to South Tyrol. Coming from the city, I notice the green of nature and the blue of the sky much more intensely than before. Meanwhile, I could imagine spending more time in nature again. Vienna is still a source of inspiration, but particularly in winter it becomes very gray.
What are you working on at the moment?
I have just started works on wood. At the end of March is the Spark Art Fair, where I will show these works with Gallery Krobath.