Kathrin Weber and Axel Anderl, two successful lawyers, share not only a passion for art, but a flat in the attic of a Viennese Gründerzeit house. When the latter became too small for the contemporary art they had collected, the idea for an art space was born.
Kathrin and Axel, what was it that sparked your interest in art?
K: I was fortunate that my mother placed a lot of value on a humanistic education. She took me to museums at a young age and got me excited about art. Axel and I have known each other since we were teenagers, back then Axel's hobby was music.
A: And the (Viennese soccer club) Rapid! (laughs)
K: Axel opened my eyes to the music world, and I in turn introduced him to the art world. It was a gradual mutual assimilation. The fact that Axel had a lot to do with artists professionally through his specialization in copyright law, among other things, meant that he came into contact with artists like Herbert Brandl and Erwin Wurm in addition to various art institutions. So that's when our shared passion for art began.
A: That was a look behind the scenes for me. After being worked on incessantly by Kathi, it was the direct contact with artists that opened my eyes. I could see the effort behind art, the underlying ideas, but also the enthusiasm that many in the art business bring. I am also very enthusiastic in my profession and an extreme service provider. So I understand and appreciate it when someone approaches issues with a similar passion. That's intoxicating.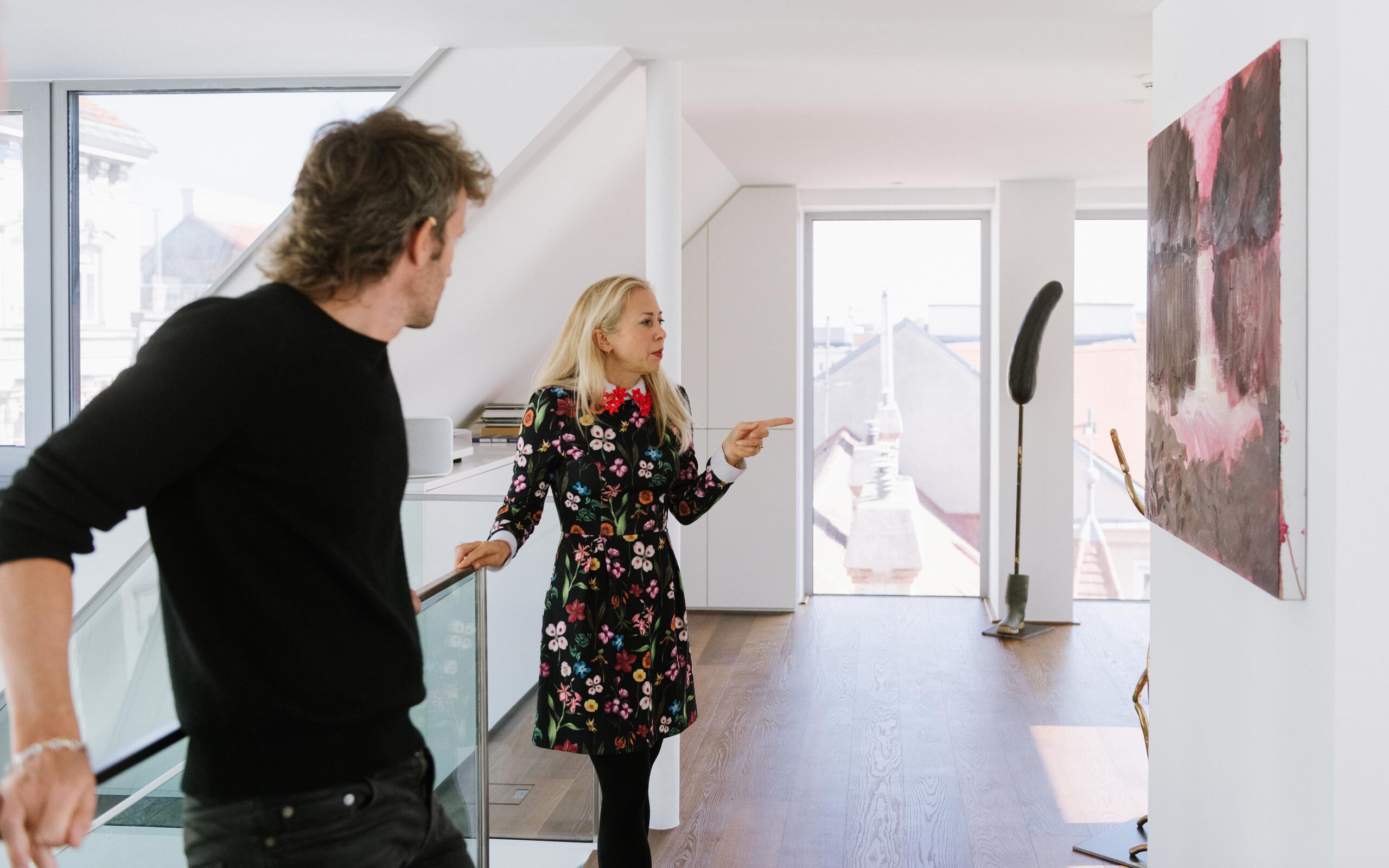 Many aspiring art collectors are unsure of how to get started and what criteria to use in making their first purchases. What helps you decide?
K: We always seek personal access to the artists and in this way try to build up an understanding for the respective work and the person. Artists who are noticeably evolving and not treading water inspire us. One could say Herbert Brandl's work is concerned with mountains. That may be true, but ten years ago he approached the subject quite differently than he does today.
A: In addition, Herbert also deals with a lot of other content... Perhaps to elaborate: For us, at the end of the day, it's about being comfortable with the artist. For me, there are three types of collectors. There are those who put a lot of emphasis on the artist's personality and only collect works by those with whom they are personally comfortable. Then there are collectors who say: I don't want to know the person at all, I like to appreciate the artwork exclusively in its own right. And then there is a collector type who is somewhere in between. We are primarily in the first camp. I have to be convinced by the person as well as by his work. There are certain red lines that can't be crossed, such as artists I don't like or artists whose vita contains incidents that I disapprove of. I would never collect Otto Mühl. I know that in the art business many look past this and judge the work in isolation, but we cannot and do not want to separate this.

Do you cultivate friendships with the artists you collect?
K: Yes, for the most part – with varying degrees of intensity. A very good friendship has developed over the years with Clemens Wolf, but also with Herbert Brandl and Erwin Wurm. I would say that it happens depending on what the artist allows and how it develops.
Some people like to get advice when building a collection. What do you think about that? Do you seek expert opinions before buying art? For example, is the exchange with gallery owners important to you?
A: No, we stand on our own two feet, even though the exchange with galleries is exciting for us and we do buy through galleries. We are open to impulses from all directions. It is important for us to always remain open-minded as people. I have already overcome some mental barriers in my development, I was to give one example, an extreme metalhead, and now David Bowie is also one of my heroes. You have to allow yourself to be open beyond one genre. In this, contact with galleries is helpful, but we receive signals from very many directions and then are independent in collecting in the sense that we know very well what we want.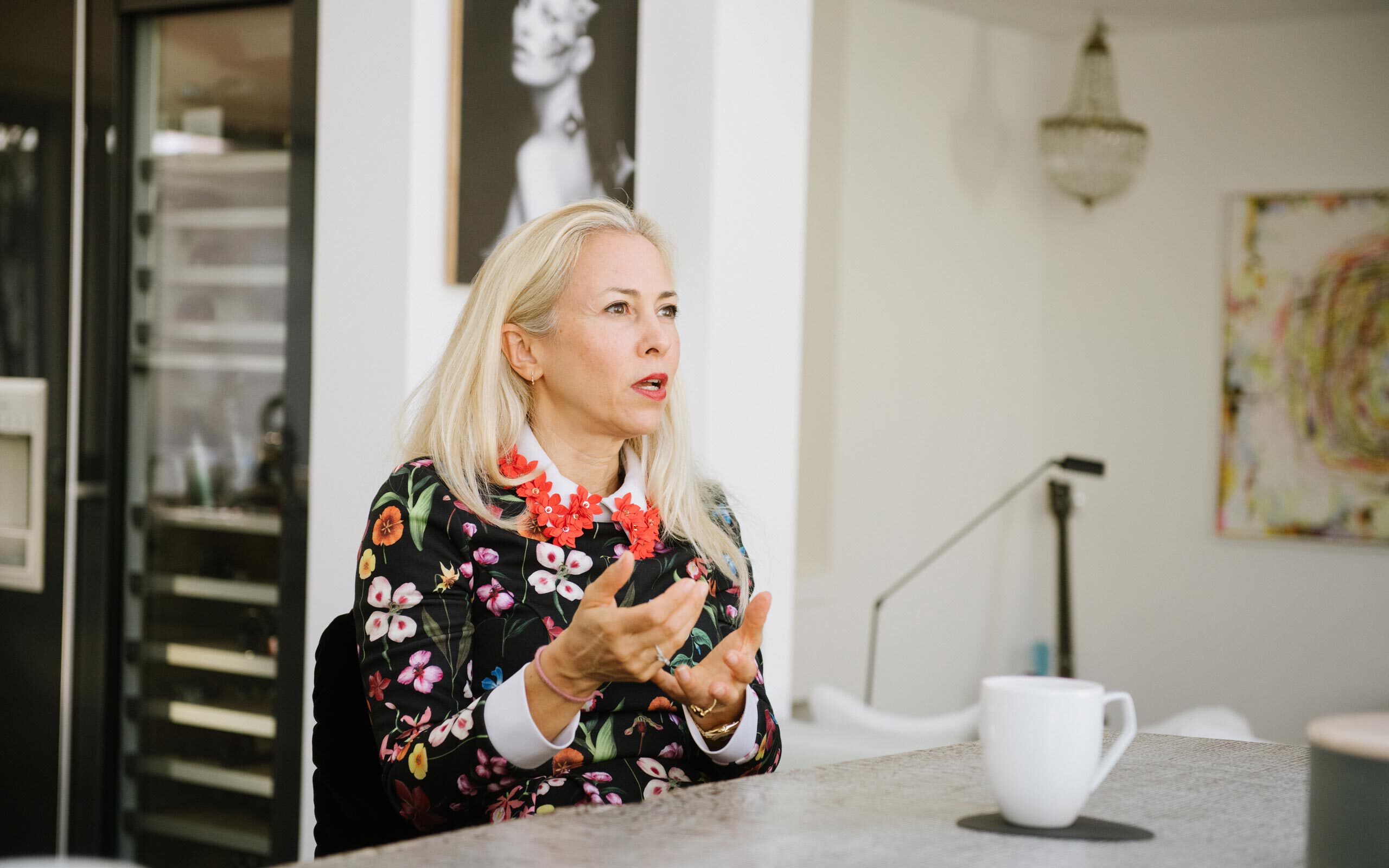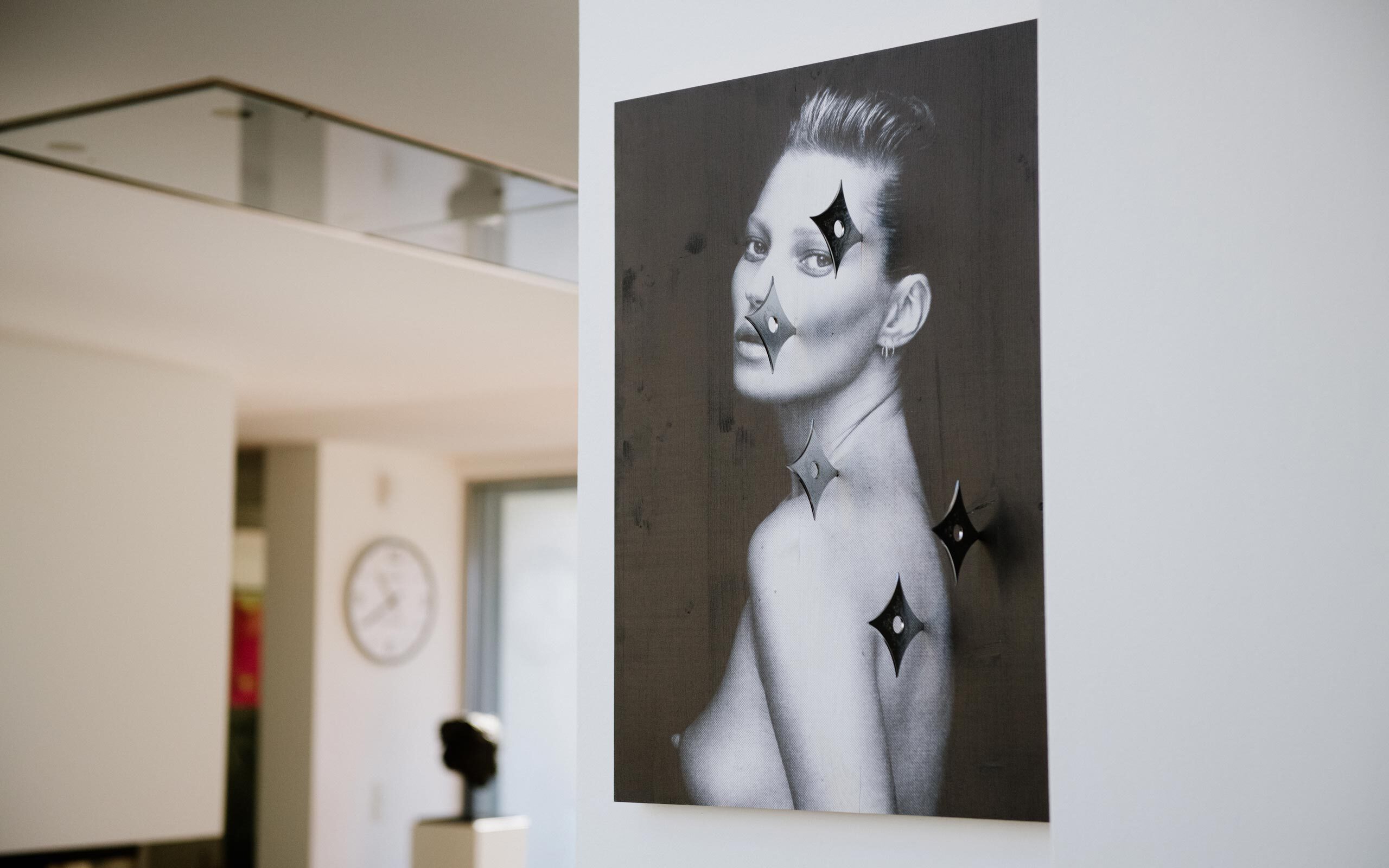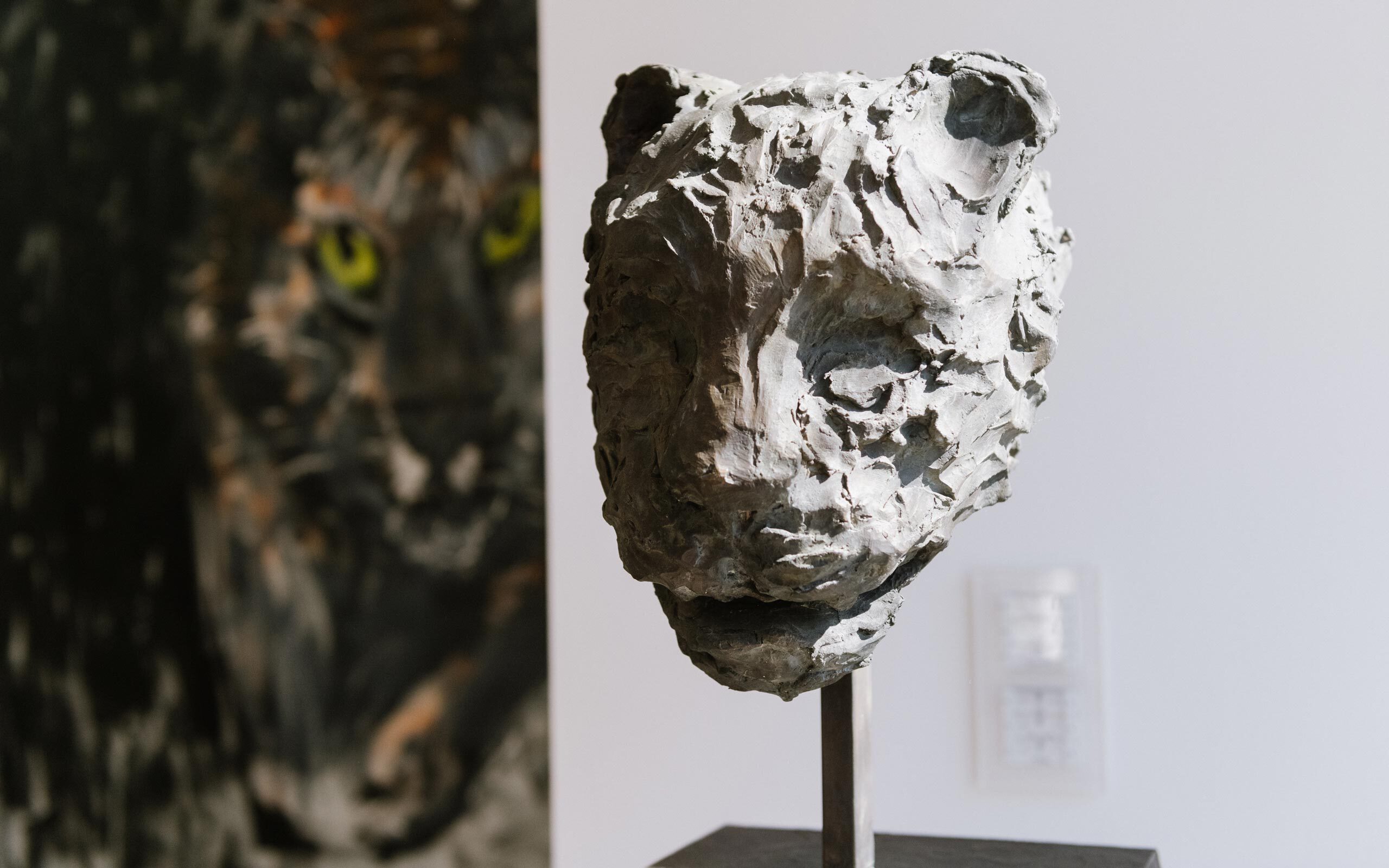 You mentioned taking a position of outside the box. Can you give us an example, such as the purchase of a work that it would have been unthinkable to buy at an earlier time?
A: I almost bought a work by Christian Eisenberger. I appreciate his work very much, but there was a situation resulting in an unfortunate encounter, and since the personal level is very important to us, we haven't collected him yet. I think it would be high time to wipe this slate clean, because I appreciate his work very much.

What was the first purchased work of your collection?
K: A work by Martin Grandits with the title When I came into the World to advertise Yves and it hangs in my office. This was my first art purchase. I bought the work at an auction and although it is in a large format, I wanted to take it right away. Usually when you buy art at an auction, you have it delivered. At the event following the auction, I was already carrying the packaged work around with me.

A: I also remember the first really expensive work: Brandl's Peonies. The work hangs in our bedroom, every day it is the first thing we see in the morning and the last in the evening. The purchase was a big excitement. Since then, as we bought more works the excitement naturally diminished.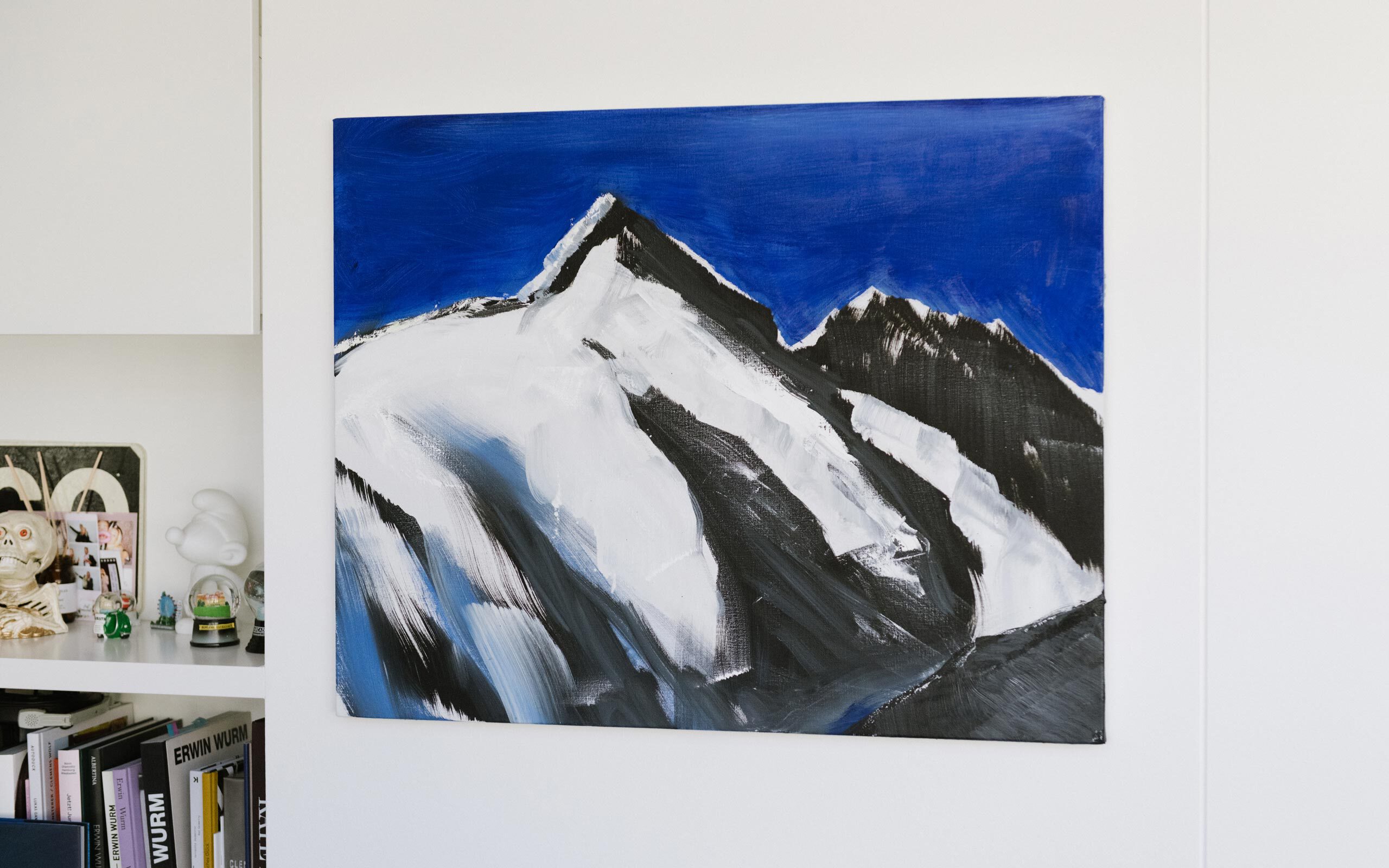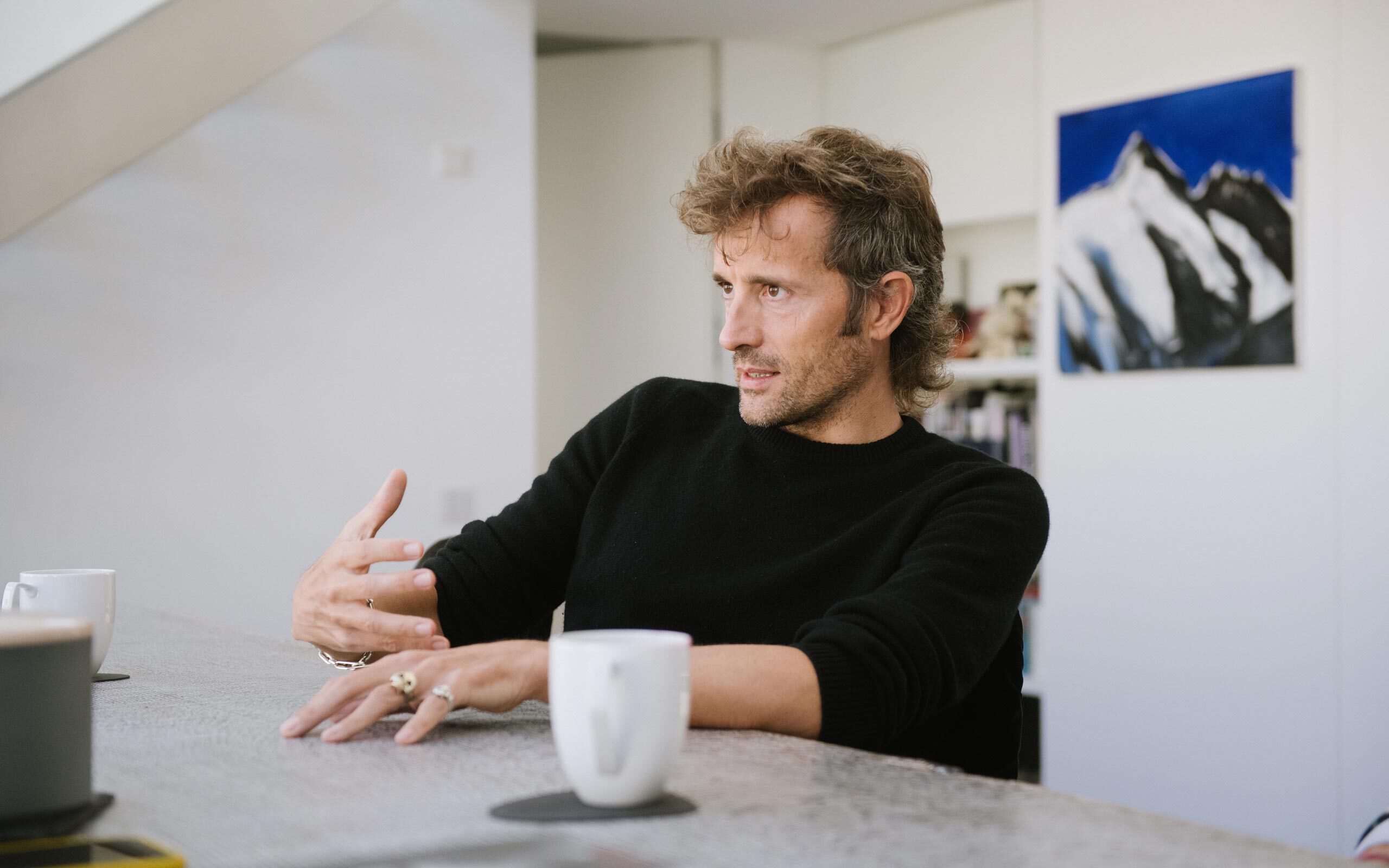 Do you follow a particular collection strategy?
A: We do not buy strategically or as a financial investment, or thoughtlessly. There has to be this special joy that can be felt. Of course, there isn't the same elation as when we first bought. Although it still happens that exactly this excitement is palpable. For example, when we bought a work by Drago Prelog. We had wanted to do that for ages, but missed it during his lifetime. Now we got hold of a work by Prelog. It was one of those moments when you realize a circle is closing. There is this special joy that is palpable.

Do you always agree when it comes to deciding on a piece of art?
K: Interestingly, we are relatively united on the question of whether we want something or not. It rarely happens that one wants a work that the other doesn't want at all.

Do you have a collection emphasis?
K: Yes, ultra-contemporary Austrians – on the one hand, those who have already made it internationally, and on the other hand, those whom we anticipate will develop internationally.

How extensive is your collection?
A: Hard to say, we fill our art loft, apartment and two offices. (laughs)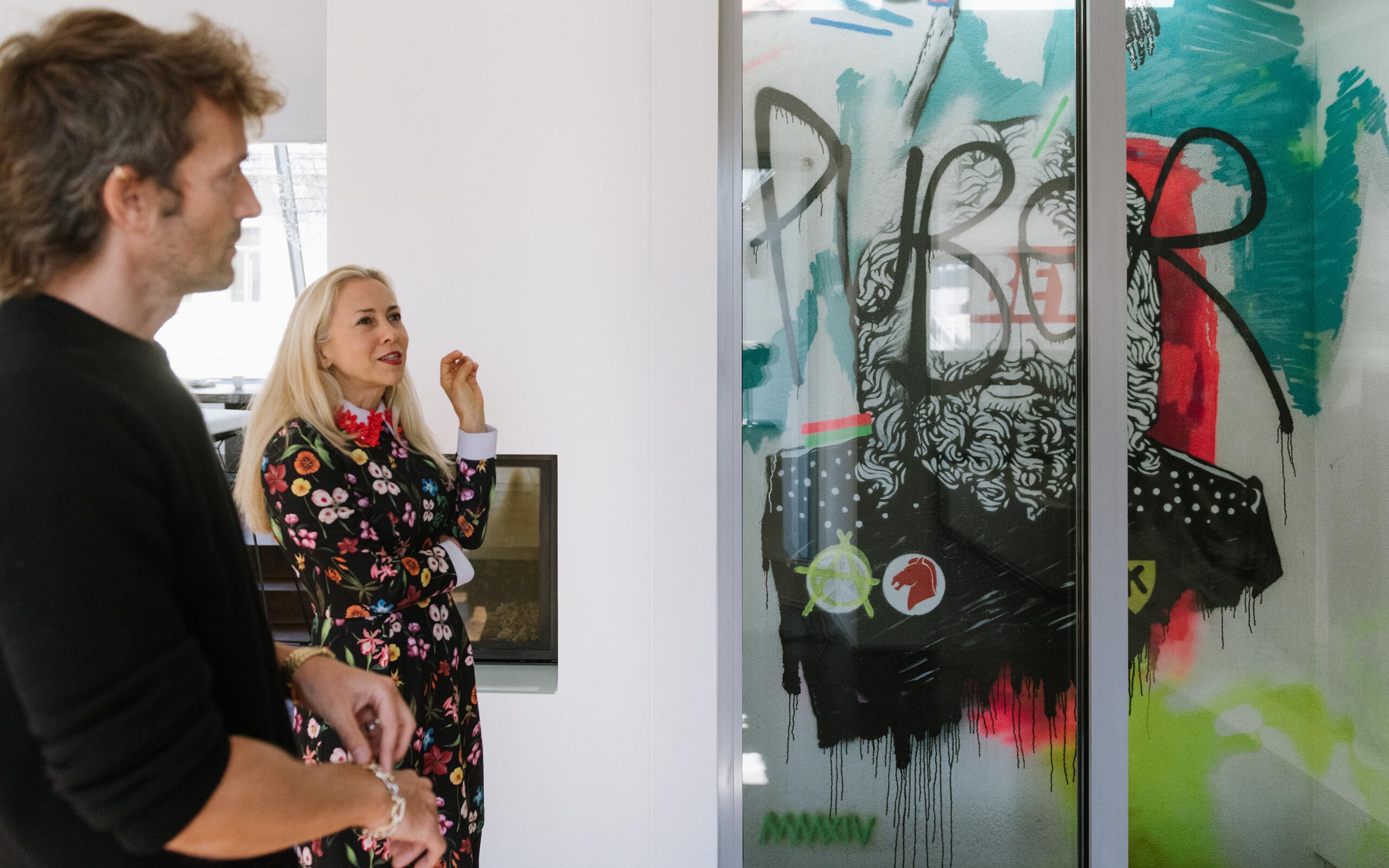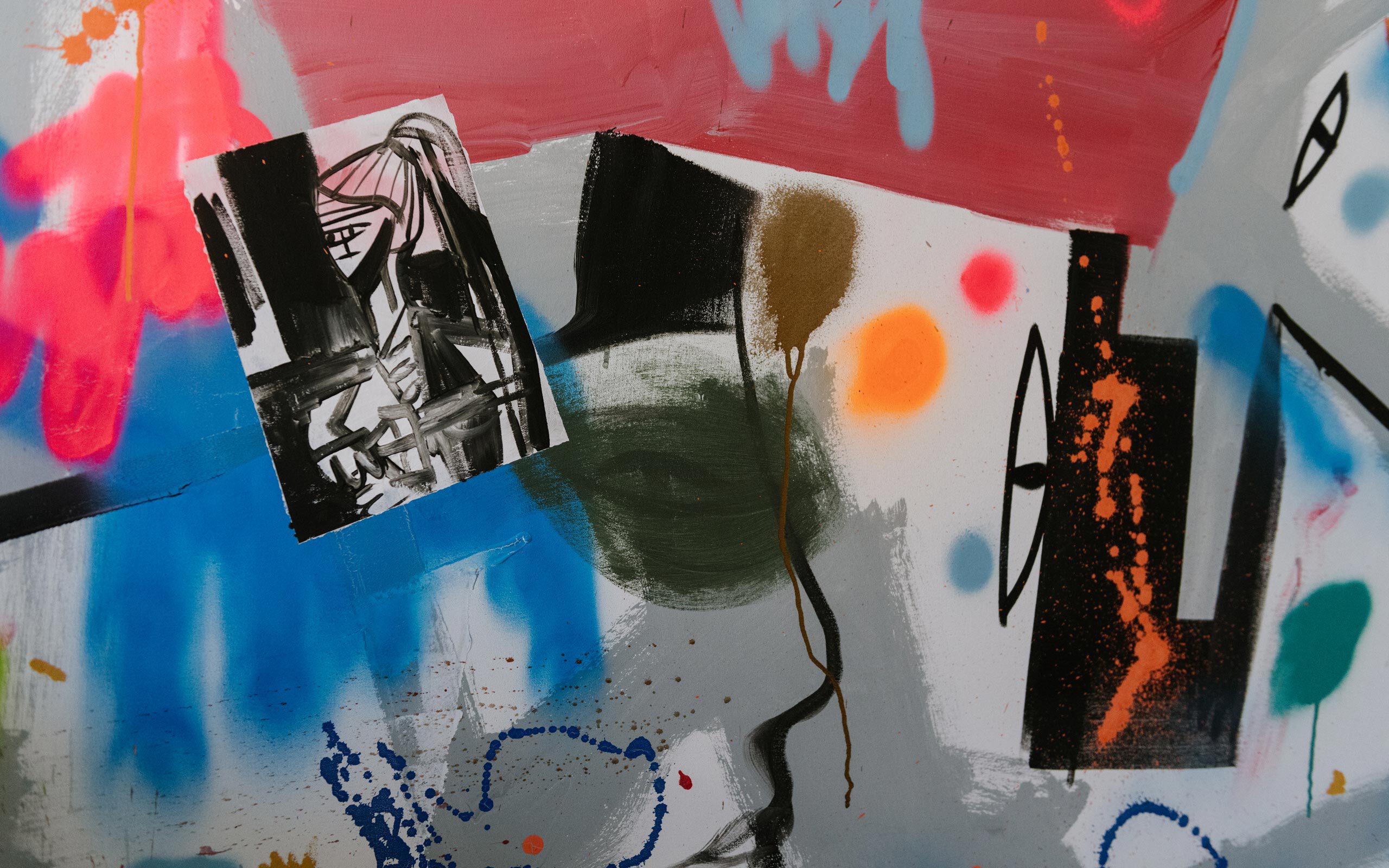 How will the collection continue to develop if all available space is presently filled?
K: We still have reserve space in our Art Loft. We are currently using just under 220 m2, and there is a second space next to it that is still rented out at the moment. The idea is to break through and set up a show depot there.
A: We live with art and for us one credo is: art must be visible. For us it is unthinkable to isolate art from society. The artist has created something and thought about it. I would find it unfair if I now appropriated it for my own sake and perhaps also stored it improperly. For me, there are two aspects to this, the taking away and perhaps the endangering. Art must, in our opinion, be seen!

Is there such a thing as your biggest collector mistake – a missed opportunity or a work you regret buying?
A: There are works that we bought at the beginning of our collecting activity, for which we would perhaps decide differently today. But they were important for our development. Therefore, we have not to this day, sold a single work. Absolutely nothing, because we stand by our decisions and how they affected our development. We always act in a well-considered manner, and never buy on impulse, in that regard we have not experienced buying loyalty. Of course, there are works that we would have liked to have, but could not acquire. That happens again and again. Especially with the more renowned artists, you don't get everything you would like to have. There are always situations where the work has already been promised to someone else or goes to another gallery to which we don't yet have such good access. We also bid at auctions. Of course, it's difficult there when the reasonable limit set in advance is outbid. However, you also have to consider the markups here. Many people make the mistake of only looking at the hammer price and not having the markup in mind. If you are narrowly outbid, you still sometimes think to yourself in retrospect, I could have taken that one more step.
K: One work that unfortunately I failed to get at auction, was at the beginning of our Clemens Wolf liaison. I saw a work by the artist to be auctioned and immediately fell in love and felt attracted to the painting. I decided to bid on it, set myself a limit, and didn't go over it. The disappointment of not getting the work was great. That's when we started to pursue Clemens Wolf. Through another artist, we were able to establish personal access and visit him in his studio.
A: That's a good example of how we function. We told Sebastian Schlager who, with his collective at the time, did the graffiti in the light well above the two floors of our apartment, about our desire to meet Clemens Wolf, and he said, "I know Clemens, I'll introduce you." Just one week later we were sitting with Clemens. Through him, we in turn got to know Peter Jellitsch.
K: And then Esther Stocker via Peter Jellitsch.
A: Esther Stocker is an artist who had been on my radar for a good ten years and whom I had held in high esteem for a long time. I only lacked the personal contact to be able to understand her as a person. When that was given, the circle was closed. I think it's nice that there are connections between the artists we collect. It's actually a kind of network that has been created – a very positive one, not one with jealousy or pushiness. We also intentionally invite artists to our events whose works are not part of our collection. The idea of networking is essential to the idea of Art Space. At the beginning, we only wanted to exhibit our own collection. Then we said to ourselves: let's give the artists we value the opportunity to reach other circles, away from the existing gallery customers. That's how we started our exhibition cycle, in which we showed Clemens Wolf first and now Judith Fegerl together with Christoph Weber. For September, we already have the next high-profile guest.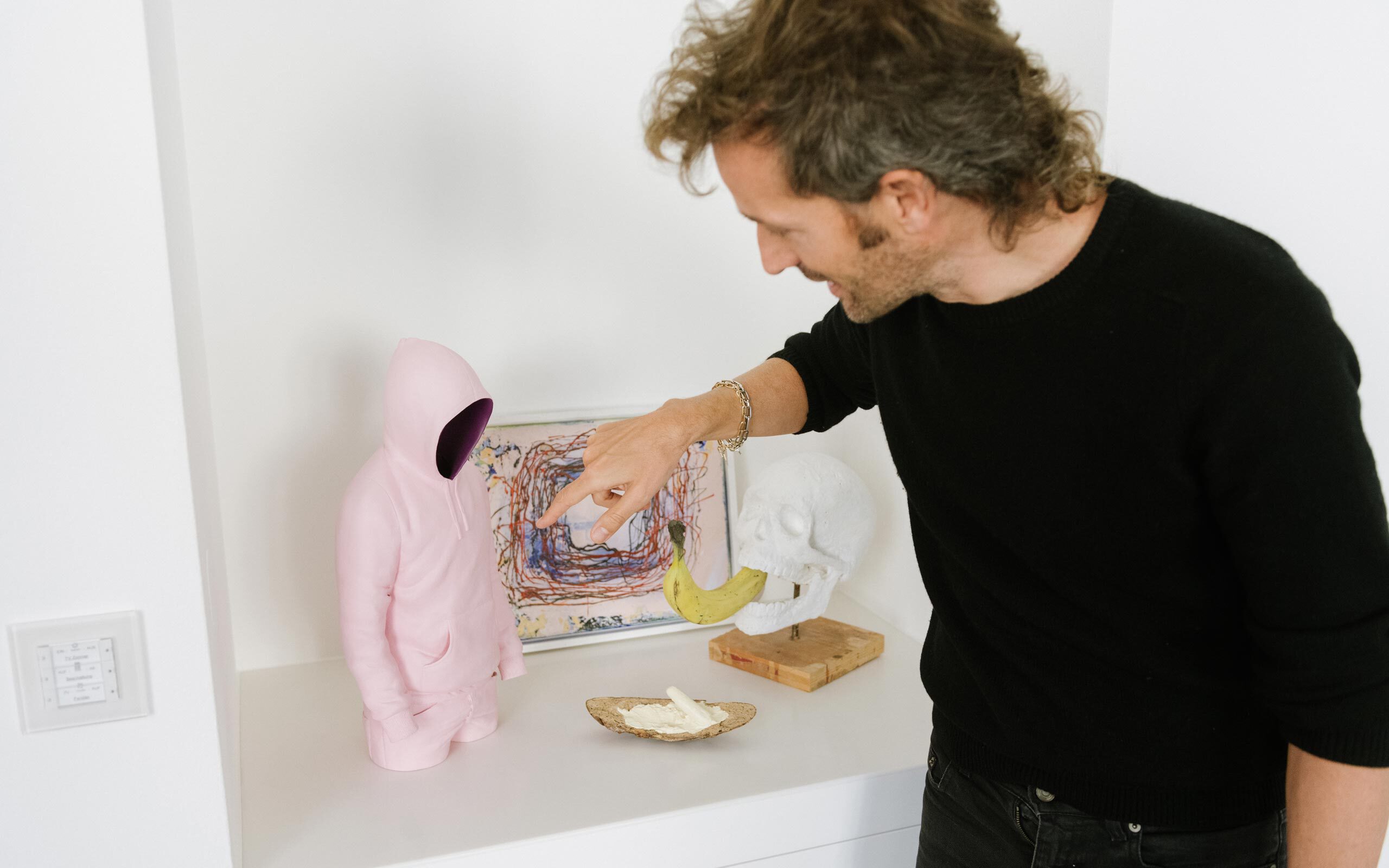 What role do exhibition or fair visits play for you in discovering new artists?
K: They do play a certain role, especially the fair visits because you see a broad spectrum of work there and get newinput. Gallery visits play a rather subordinate role for us in terms of discovering new artists. We tend to see artists there that we already have on our radar, and it's more about immersion.
What was the decisive moment for the foundation of your Art Space?
K: The space was full both here in our home and in our offices, so we were looking for further space in which to hang our artworks. We were always on the lookout for a loft. In Berlin we would have found one right away, but in Vienna that is not the case. So we actually considered setting up our art loft in Berlin. However, it did not seem practical to us both in terms of the events and the fact that we are both very busy with our work. Furthermore, we would have a sense of conflict between the idea of Vienna as a professional city and Berlin as the art and networking city. When we visited the current property, we were overwhelmed by how ideal the beautiful, large space was. The next thought was that this would be a good opportunity to open up a somewhat neutral, not completely private space which would be conducive to the extension of invitations and exchanges about art. This led to the concept of an installation of a kind of modern art salon where we could hang our art and not only invite artists, but also interested people from our network and in this context, we decided to extend exhibition opportunities to all artists in addition to access to our network.
A: Ultimately, we're about exchange and networking on many levels to create an advantageous situation for everyone.We simply have a very large network due to our profession, which doesn't necessarily coincide with the typical gallery visitor. Whether it's because they haven't been in touch with art before, because they don't have the time, or because the inhibition threshold to go to a gallery is too high for them. This gave rise to the idea of bringing these people together with the artists and thus creating a space where people can inspire each other – as an add-on to the existing art scene, so to speak. This is not in opposition to the galleries, we don't sell, but we open up new possibilities. We do networking events and make it possible to get together socially. If this results in a sale for the artist, then it's good. The artist handles such a sale in the regular way through his gallery. Even if the artist doesn't sell, it may have been a good evening for him on other levels – because he had good conversations or increased his profile. Our experience so far is that a lot does come out of it at the end of the day. But that happens precisely because the sale is not the primary purpose, but because of the direct access to the artist and his work. These evenings are also incredibly enriching for us: we love to see how the artists present themselves, the effect they have on the guests and how conversation develops afterwards. Every evening here is unique, because even the obligatory guided tour of the exhibition in dialogue with the artist always turns out differently depending on the situation. For us, the process of jointly designing the exhibition, its realization and the subsequent joint appointments in turn consolidates the relationship with the artist.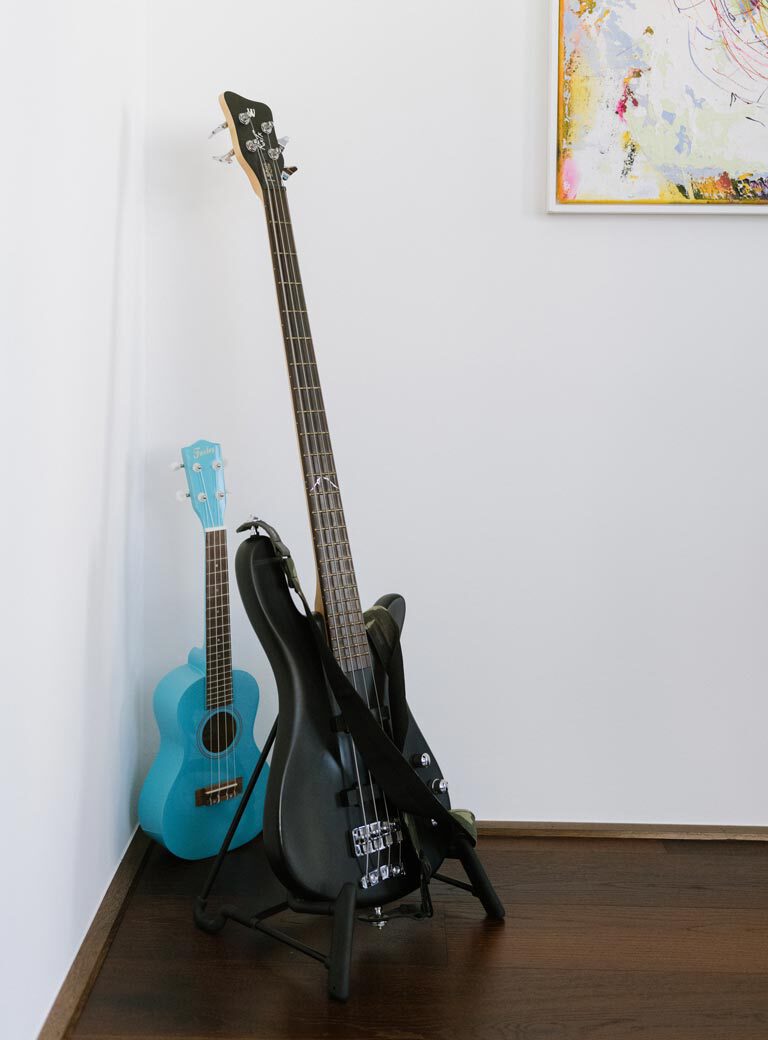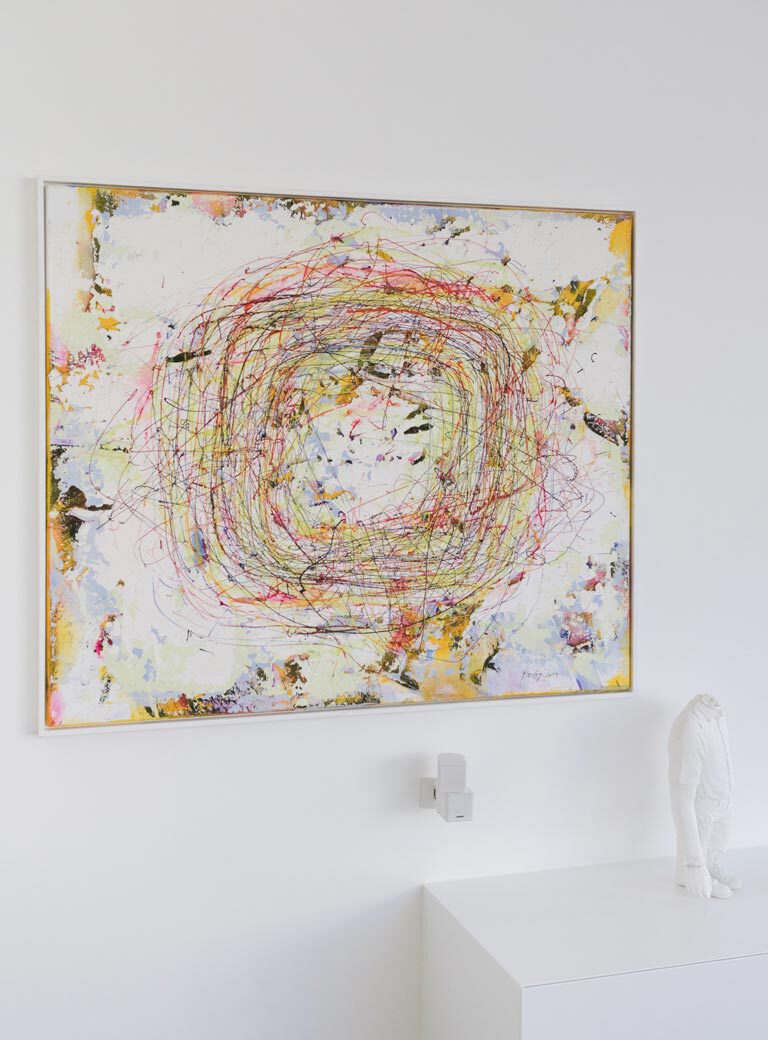 It's interesting that your Kunstloft also confronts people with art who are not primarily interested in art. Have you already experienced that someone found their way to art this way?
K: Yes, again and again. In one case, a guest was not very interested in art, but was struck by the work of Clemens Wolf. He subsequently visited him in his studio and then bought quite large through his gallery. He had an experience where he was just completely taken in by the ambience and the new world. It's nice to see that you can awaken interest and push boundaries in people who previously had no points of contact with art.
Is there any advice you would like to pass on to aspiring art collectors?
A: My advice is to be open and bring some breadth to the collection. I would equally avoid reliance on just one source of inspiration, not just one gallery, art consultant, auction house or whatever. I think it's essential to put your antennae out in many directions.
K: My advice would be to follow the heart. Not the head, but the heart should give the impulse for the collection. Also, not to be unsettled in the sense that you absolutely need a concept. In the beginning, just look at what you like, and if you can afford it, go for it. The red thread arises automatically if you follow your own heart. At least that's how it was with us. And if one follows the heart, then one has at least a joy with the purchased works, regardless of whether or not they gain in value.