As an artist, Sebastian Koch works between the fields of painting, sculpture, and illustration, pushing the boundaries of these media. Classically, but at the same time playfully and often with a humorous touch, figurative lines are applied in paint, and wood and glass are used for sculptural frames. Having grown up in Vorarlberg, the artist, who studied in Vienna, knows how to abstract moods, nostalgia, and a modernist aesthetic with mainly one line. His creative work is wide-ranging, extending from painting and sculpture to music.
Sebastian, what path led you to art?
I grew up in Vorarlberg in a house with a wood workshop. So I had direct access to creative work. As a child I drew a lot. At the same time, I developed a need to achieve professional freedom over time and felt that this might be found in a creative activity. For quite some time I wavered between the media of drawing and illustration, eventually studying printmaking with Gunter Damisch at the Academy in Vienna. During my studies, I moved experimentally from paper to canvas.
What is your relationship to painting today and what role does drawing still play?
I would describe my preoccupation with painting as very classical and the choice of medium as pragmatic, although I also move in a circle – a sort of self-reflexive interplay between drawing and painting, in which my drawings become increasingly painterly while paintings become more graphic over time. I constantly question the concept of painting, exploring the boundaries of the respective artistic media I am dealing with. Also included in this cycle is sculpture, expanding the interaction in both directions and back.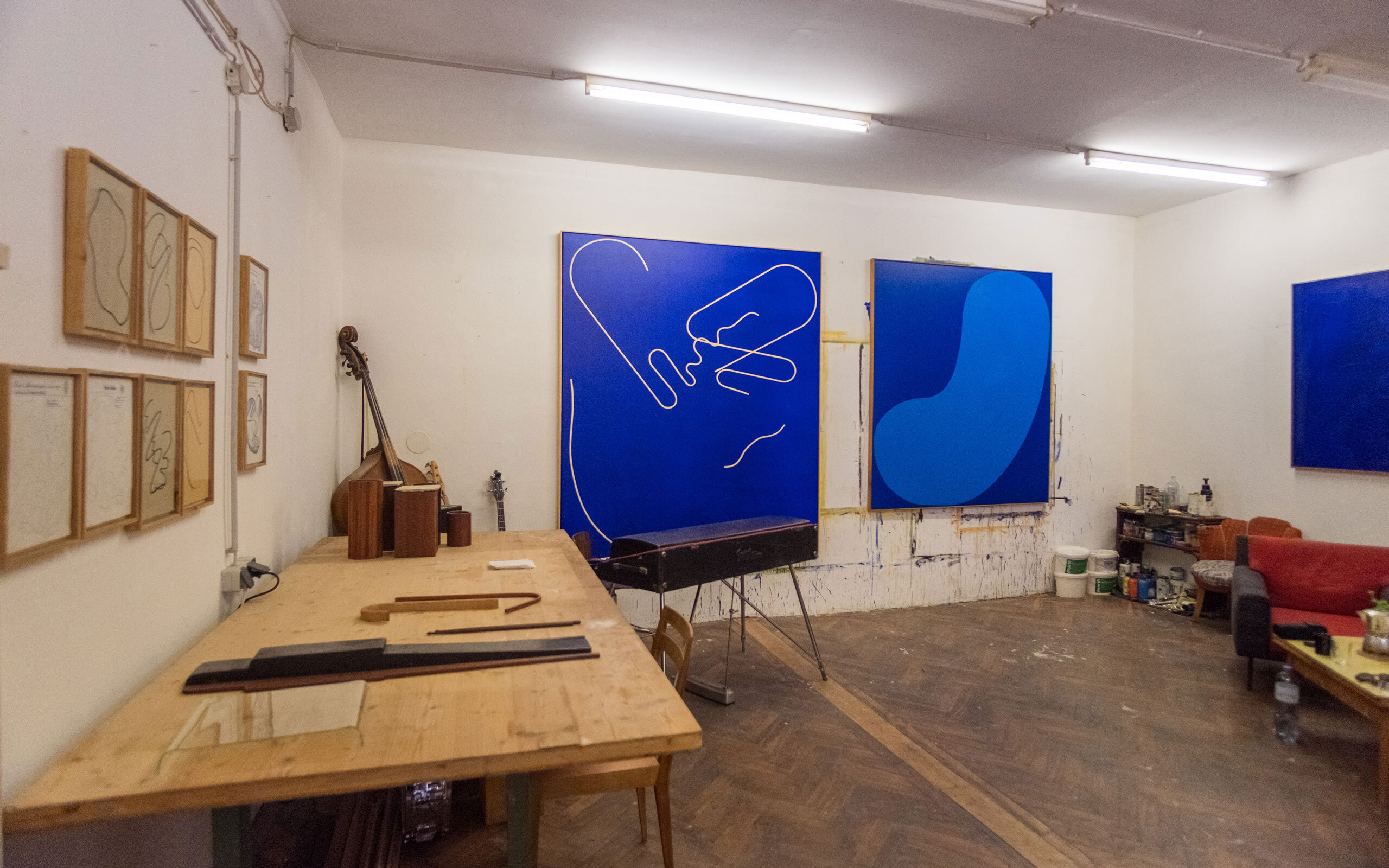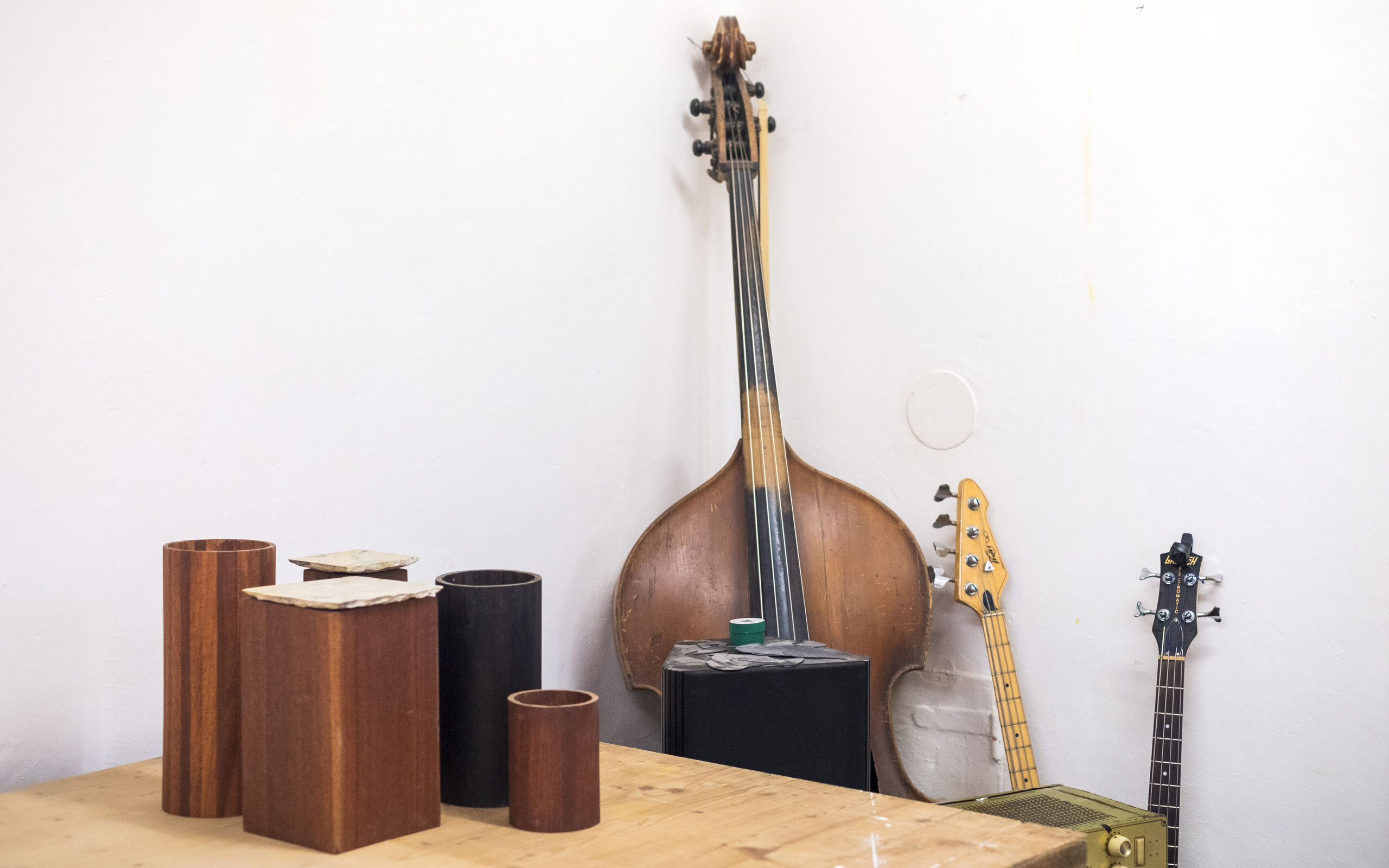 In what extent is sculpture detached from your other work?
My involvement with sculpture began through drawing and painting and through building appropriate frames for my paintings. At first glance, my frames look very classical. It is important to me to build them myself, thus I can deal with both the material and with the question of how a sculptural frame can be combined with my painting – and this is again a question of boundaries. Where does painting end and sculpture begin? One aspect here is economics. Building frames myself is certainly cheaper than having them made. it made. Each of my frames is made with care, so that a purely technical undertaking also becomes a work of art. In an early sculpture group, for example, I deliberately used wood of the same thickness as the frame slats to create drawings in space, which in turn interact as lines with themselves and with the painting. In the course of this work, I began to bend wood for joint elements, which in the next step also had a significant influence on the graphic formulation of my line. Back to the actual picture frames, I then began to work with bent glass and on object-like frames.
Can you describe your work process?
In my work process there is no beginning and no end. A drawing can serve as a sketch for a painting or sculpture or it can become a work of art itself. I often work directly towards an exhibition and so blocks of work cycles are created in a single go. My thoughts arise during the work process; I don't formulate it beforehand. However, I always refer to my own older works, in which I am interested in a certain aspect, in order to explore it more deeply.
How would you explain your technical approach to painting?
At the beginning there is always color, regardless of whether I work with paper, wood, or canvas. I always start with a kind of meditative painting. I apply several layers of paint to the canvas until they condense and a picture emerges that I find appealing. In the further, albeit short process, lines are applied in a direct relationship to color and picture format. I use tape as a tool to determine the direction of a line or to be able to correct it if necessary. I think the most important planning goes into the application of the tape. I see this activity as a painterly gesture and sort of pretence of painting. When I color in the lines with a brush, I jokingly play with the difference and deception of graphics and painting.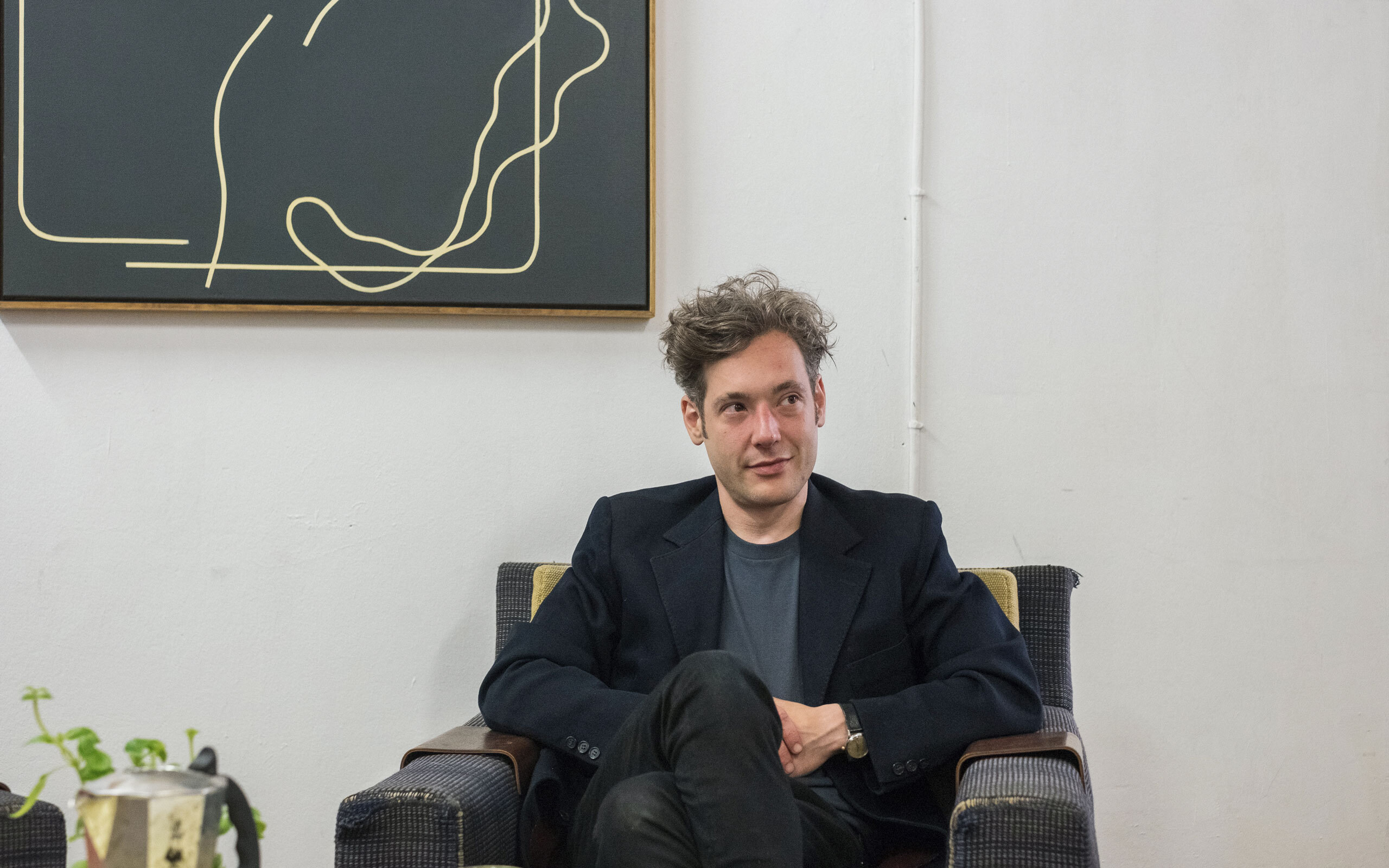 Your paintings seem to reflect moods. What is behind this?
I am often asked what I abstract in my painting, and yes, I would also speak of moods. My work contains both a studied nostalgia and a modernist aesthetic, if you like. I often try to depict a state of feeling. You might say that I rather abstract something already abstract, from which, in the case of the objects, something concretely appealing emerges.
Although your work is considered abstract, the lines of the paintings seem figurative. Where does that come from?
My preoccupation with the line is very much about the line itself, about a gesture that is partly in contradiction to itself, when the line is drawn with a ruler, as it were. In turn, it can come from anywhere, for example, from scribbling by the phone or from signature studies. Sometimes it's very unconscious and free, and in other situations it results from an urge to explore, which opens another door. But I've also done a lot of figurative drawing and I'm part of the collective Franz the Lonely Austrionaut, a magazine for narrative art forms. That's where I jump back and forth between comics and abstraction, which is perhaps reflected in my work overall.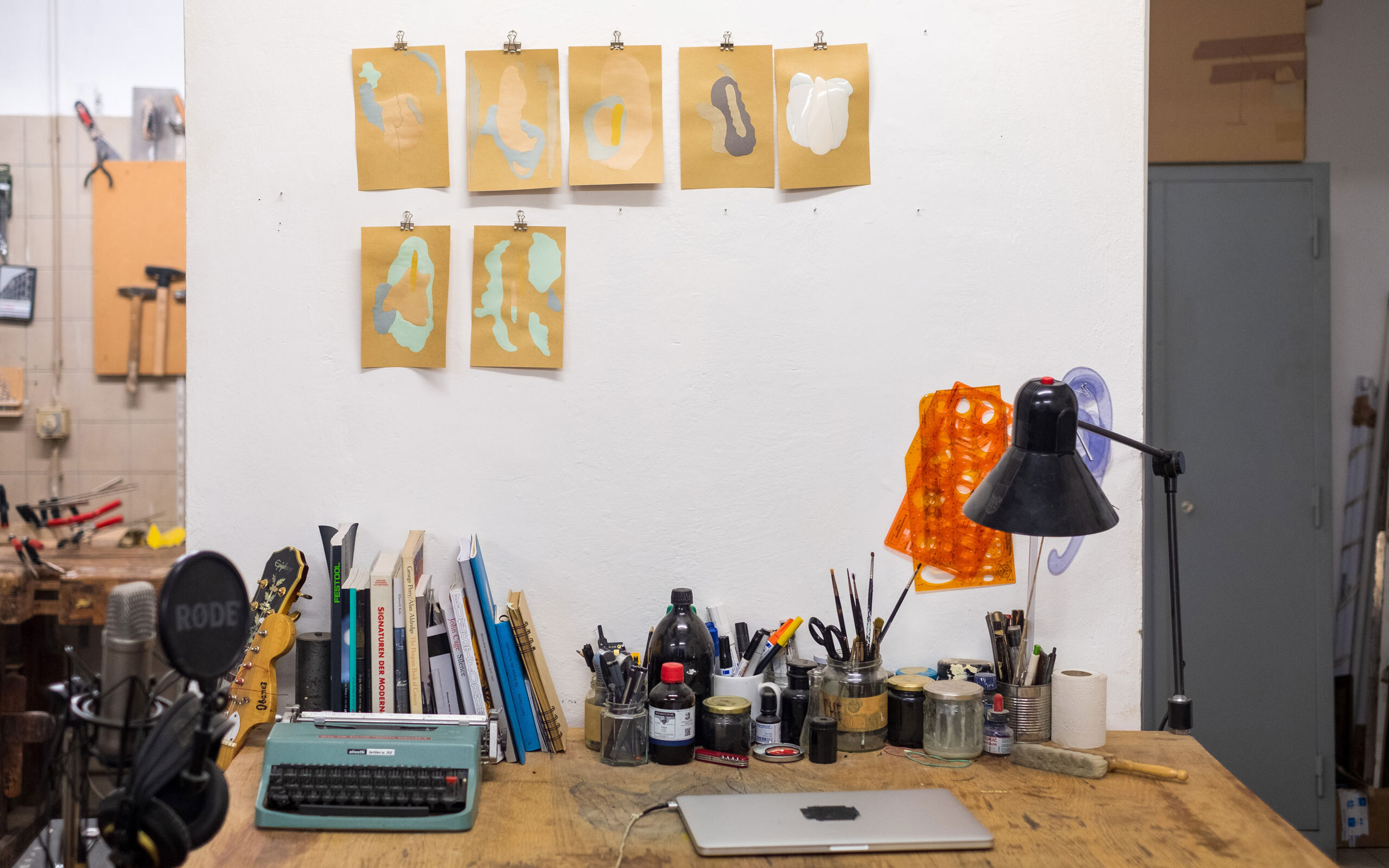 Music also plays a big role in your life. Tell us something about your activity as a musician in a band?
I am part of the band Rambo, Rambo, Rambo and in a way I have always considered my activity as a musician equal to my activity as a visual artist. I currently play bass and sing. I used to play a lot in other bands, never learning an instrument or training to sing. I have acquired these skills rather as an autodidact, similar to painting, which I also never studied technically, but simply developed out of drawing.
Does music influence your artistic work?
Of course, you can't completely prevent that. Sounds, vibrations, and the material from which the instruments are made can be in direct connection with my painting. Perhaps I even move more freely in music, because music, unlike visual art, never asks why. There are no theoretical questions. In addition, the accessibility to music is much more democratic, since it is a collective experience characterized by direct feedback.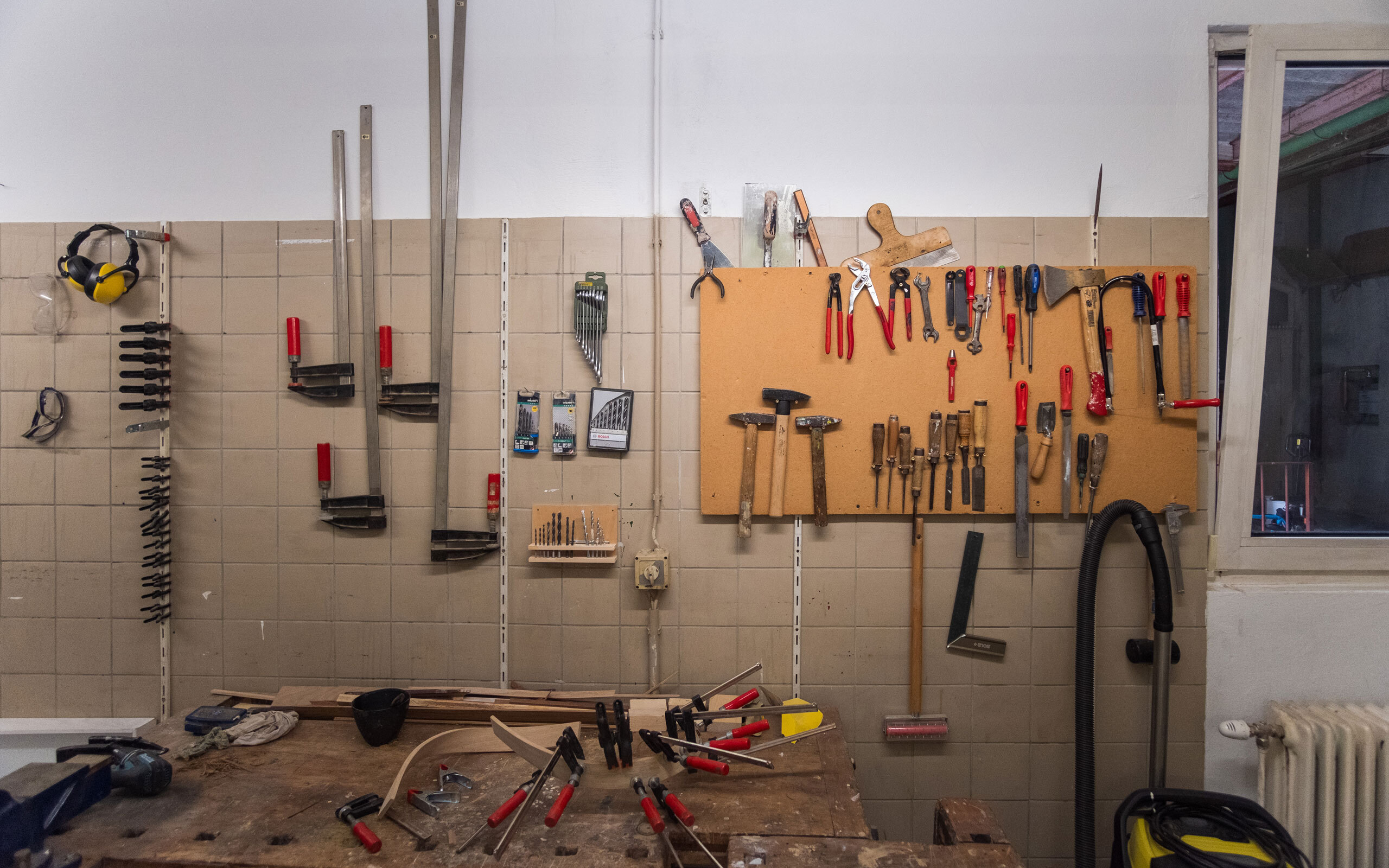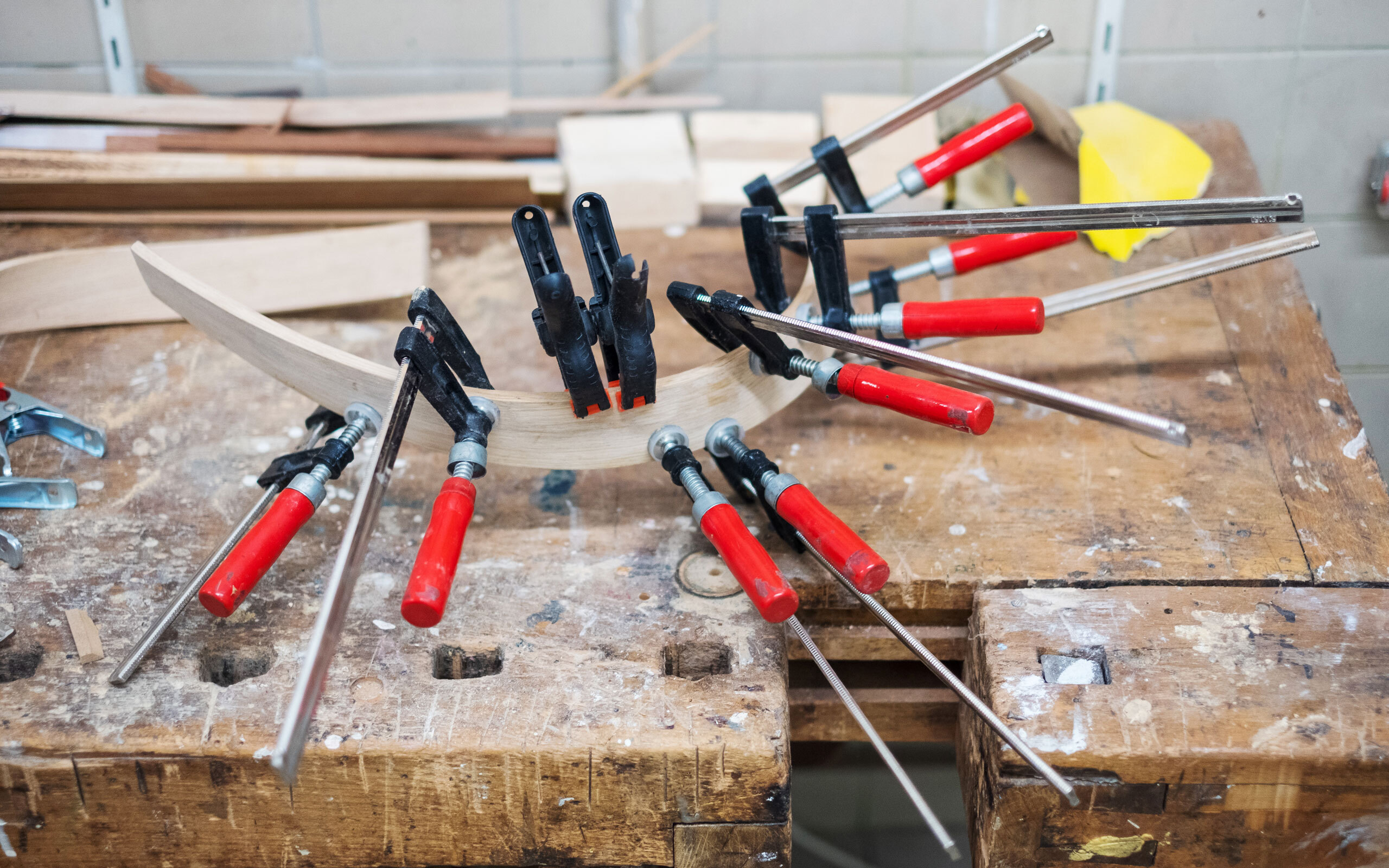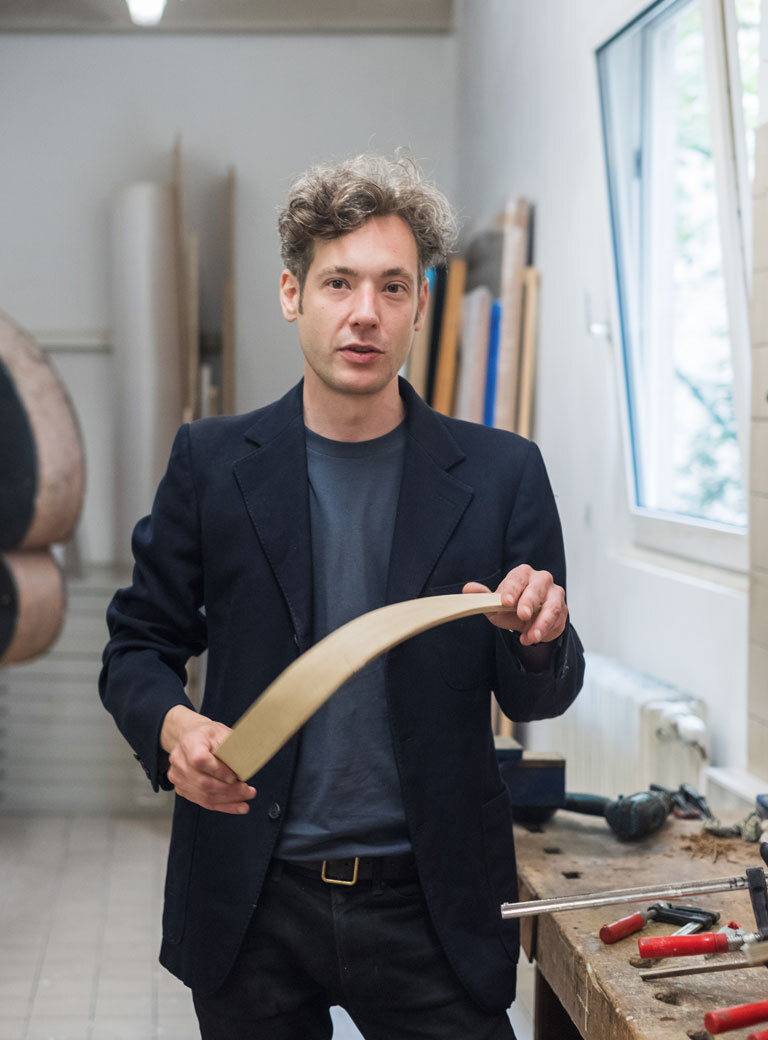 Together with Melanie Ender you recently worked on the exhibition ippst, ippt (see ipst, ipt) at DOCK 20 in Vorarlberg. What can you tell us about that?
Working on this exhibition was a long and special process, because I worked on it together with Melanie and we were looking for juxtapositions and similarities. The title comes from a dictionary of rhymes and plays with the notion of comparison. Melanie and I deal with partly similar questions, even though we work very differently. We both question the boundaries between painting and sculpture and think about frames and pedestals for, as well as art itself. During our collaboration a new, own, and abstract language of and about sculpture has developed. In Melanie's work, the horizontal and vertical planes are suspended. A connection between installation and sculpture occurs.
What new things came out of this collaboration for your art production?
Basically, I came into contact with new materials. For example, we used quite cheap materials such as MDF or hard fiber and enhanced them through various interventions. In addition, we looked for forms of communication that manifested themselves strongly in drawing, from which we developed a mode that we apply both in painting, sculpture, and precisely in drawing, in order to arrive at a result that is as homogeneous-communal as possible.
In 2020 you had a solo exhibition at Galerie Krobath with the title schlingfiester. What inspired you to the title?
For exhibition titles I have often made use of puns, since it seems obvious to me to create new word sequences from combinations of letters, similar to other media in which color, form, material, and the like are constantly recombined. I came to the conclusion that in this way not only art but everything in general would be collage – nothing ever stands completely singularly for itself. A title can therefore always extend a picture or an exhibition by a mood image in its combination. Schlingfiester in particular I did not invent. It comes from the Westmünsterland dialect and means sly/mischievous. I allude both to a kind of pretended painting and simply to the word sling.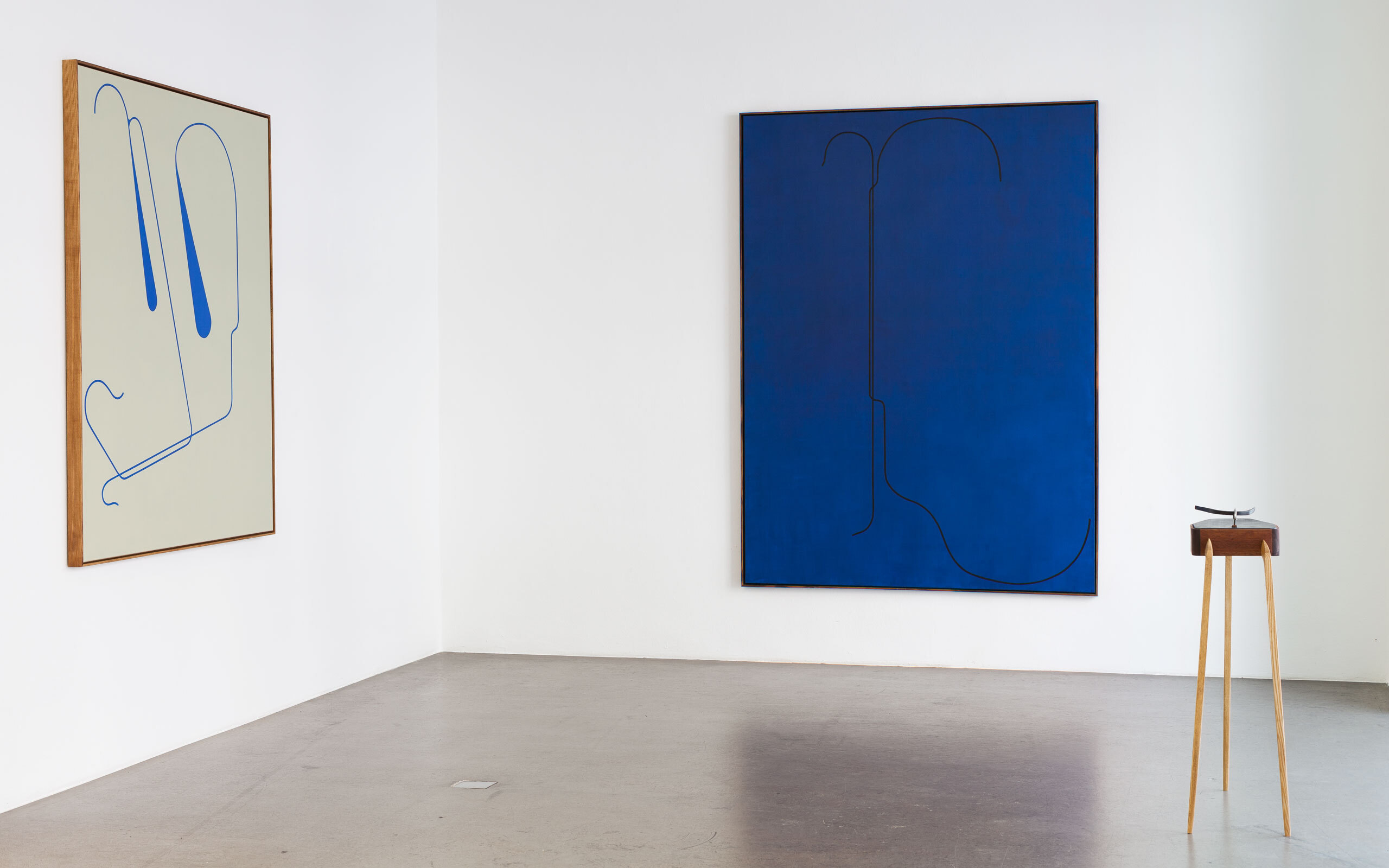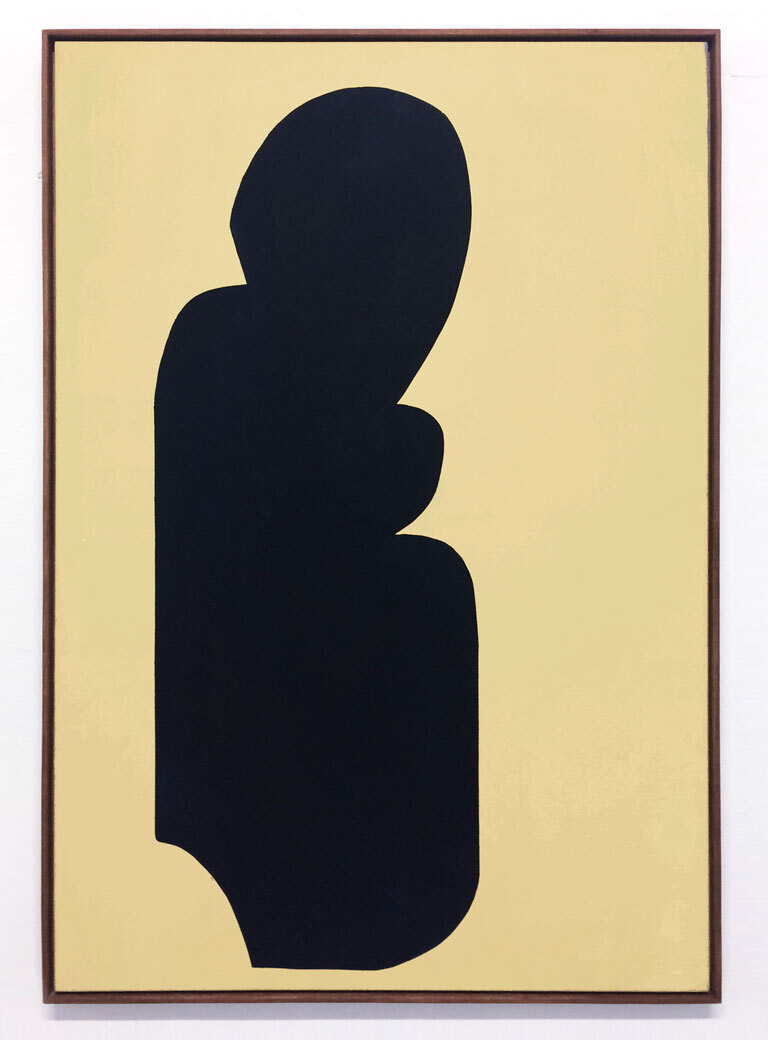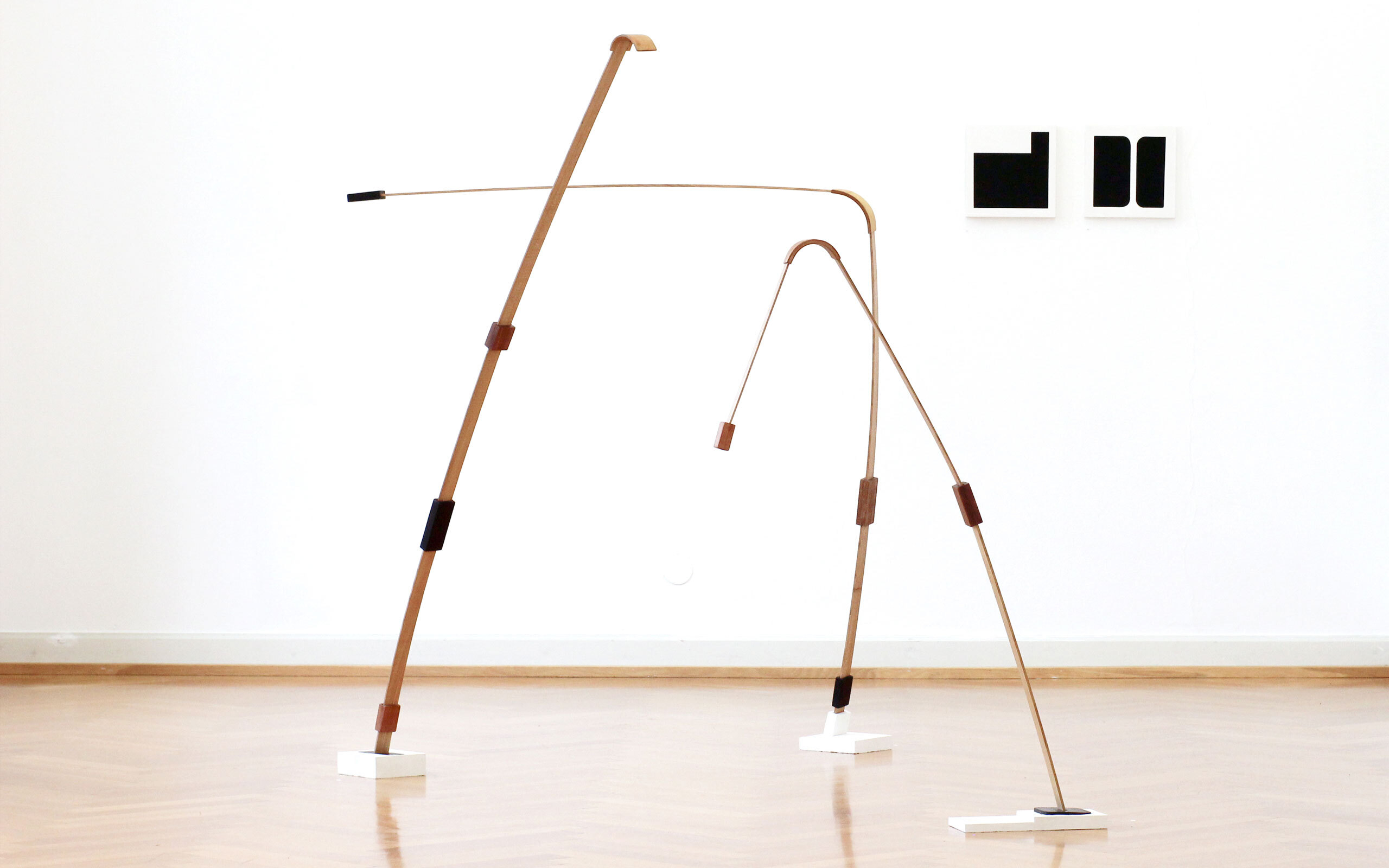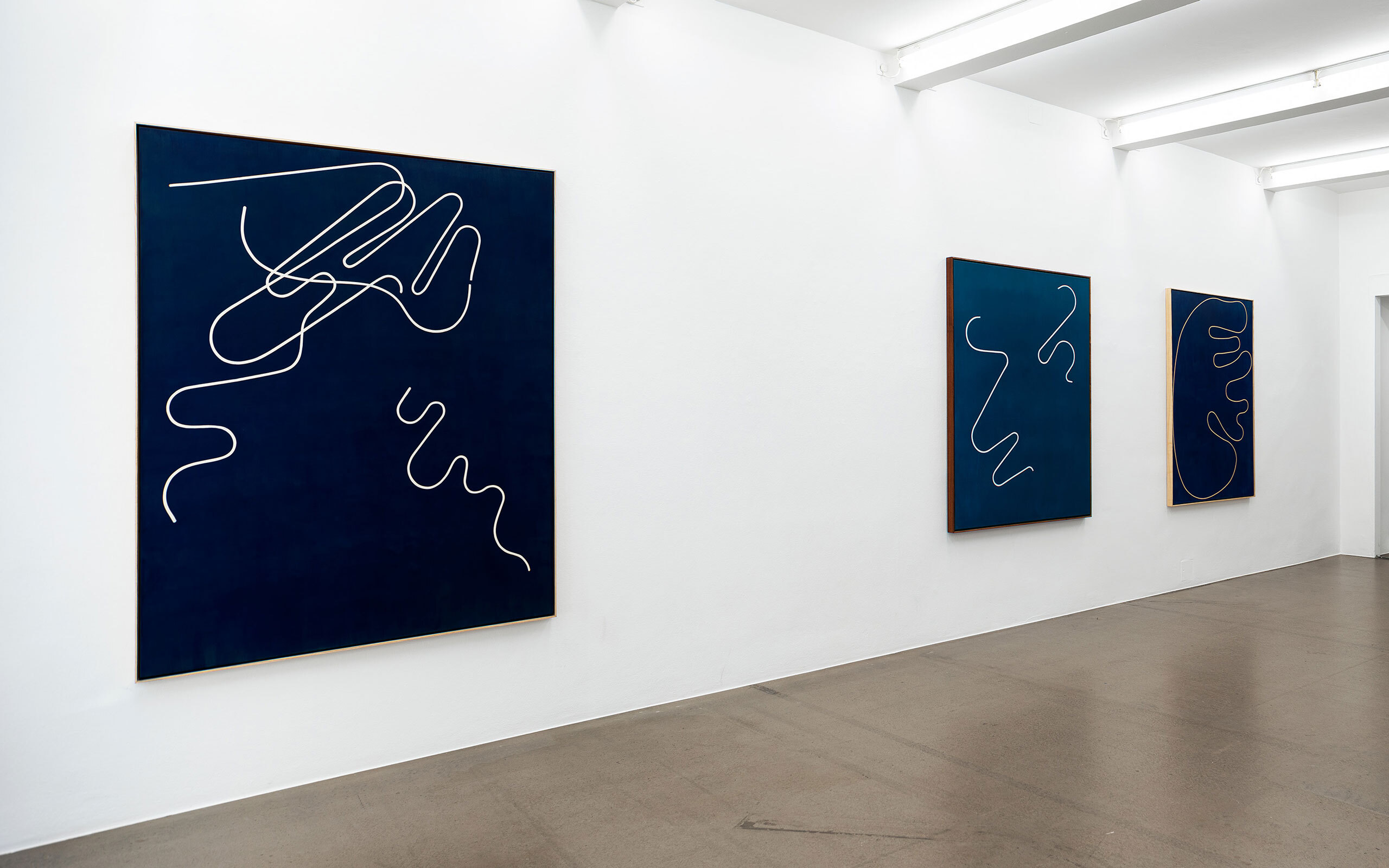 Are there any artistic role models or references that have particularly influenced you?
Perhaps you could say I am strongly influenced both by my contemporaries and by historical role models. Probably my most formative contact growing up was Lucia Lienhard-Giesinger, a friend of my parents. Her watercolors and especially her so-called Bosna Quilts accompany me consciously and unconsciously. In fact, at the beginning of my studies I was more strongly influenced by my fellow students rather than by well-known artists. Later, I found Constructivism and Dadaism exciting, both in terms of approach and aesthetics. A significant experience for me was a visit to the Dia:Beacon collection in Beacon, New York, which I was able to see in 2010 during an artist residency in New York. That was the first time I understood different positions of Minimal Art in such a large context. Artists like Agnes Martin and Robert Ryman have become important and inspiring for my work since then.